The Frank Walker Law/PSN Daily Notebook- July 19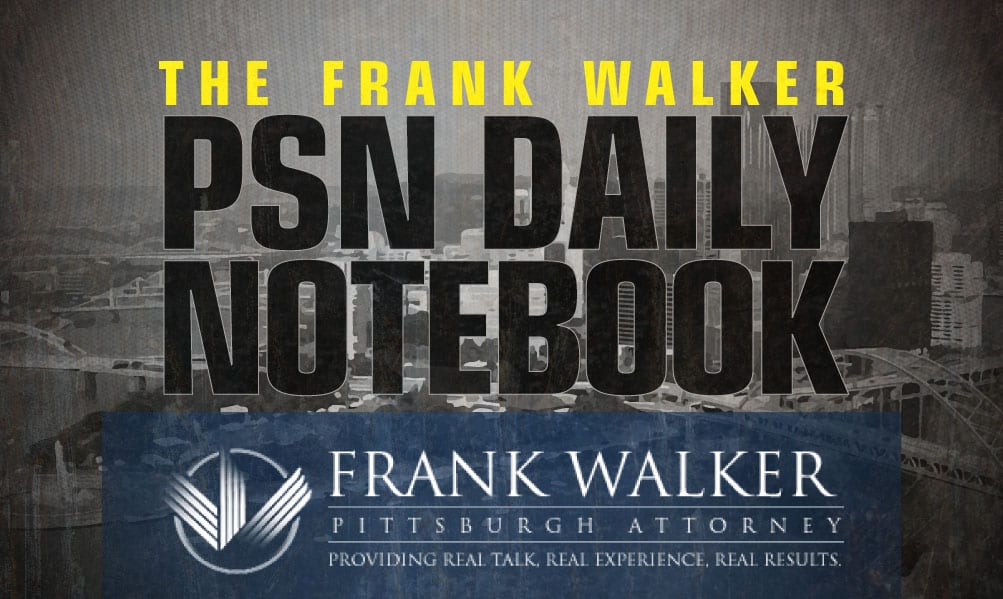 The PSN Daily Notebook is sponsored by Frank Walker, one of Pittsburgh and West Virginia's most respected criminal defense and injury lawyers. Mr. Walker has offices in Pittsburgh and Morgantown and has been named one of Top 100 National Trial Lawyers and is rated a perfect 10.0 Superb by Avvo for ethics, experience and results. To reach Mr. Walker, you can call 412-532-6805 or go to his website frankwalkerlaw.com. For real talk, real experience and real results, contact Frank Walker Law.
Update (2:58 PM)-
Since the moment I found out he would commit to Pitt, it was stressed to me he would be a riser throughout the entire process, especially the Summer.

Carrington is really good. https://t.co/hfckb908SR

— Nick Farabaugh (@Nick_Farabaugh) July 19, 2022
Update (2:56 PM)-
Pitt Baseball pitcher Baron Stuart has signed with the New York Yankees after the 2022 MLB Draft.

He acted as Pitt's closer this past season, racking up 7 saves over 47 innings pitched for Pitt. pic.twitter.com/wxTv13ZQK2

— Nick Farabaugh (@Nick_Farabaugh) July 20, 2022
Update (5:24 PM)-
Blackhawk grad Michael Turconi taken by the Blue Jays in the 15th round of the MLB draft. #WPIAL https://t.co/ynfvyT2Fm5

— Brad Everett (@BREAL412) July 19, 2022
Update (1:54 PM)-
**Pitt women's basketball has extended an offer to 8th grader Jayla Jordan Jackson from Washington DC. Jackson also holds offers from Miami, Kansas, Arizona, Ohio State, Florida State, George Mason, Georgia, St. John's, DePaul, Virginia Tech, Mississippi State and North Carolina.
Class of 2026 Jordyn Jackson at Nike Nationals with Team Takeover! @JaylaJordyn @TeamTakeoverGBB pic.twitter.com/FkJ5mqW5ew

— Courtside Films (@CourtsideFilms) July 13, 2022
Update (12:39 PM)-
"There's only so much money to go around."@AlabamaFTBL Head Coach Nick Saban tells @LateKickJosh how NIL opportunities will effect other college sports 👀 pic.twitter.com/PTuyXEJ4B8

— CBS Sports HQ (@CBSSportsHQ) July 19, 2022
Update (12:16 PM)-
A new name for #Pitt fans. Nesmith is a big, 6-ft-4 inch wide receiver from American Heritage HS in Plantation, FL. A PWO with tremendous potential. https://t.co/rWAvOptS5E

— Harry G. Psaros (@PittGuru) July 19, 2022
Update (12:10 PM)-
1. ???
2. Dawand Jones
3. Jordan McFadden

Ranking the top 25 Offensive Tackles in College Football ahead of the 2022 season👇https://t.co/vuF4LBoXwJ

— PFF College (@PFF_College) July 19, 2022
Update (11:32 AM)-
'He's Going to Make a lot of People Happy': Ta'Mere Robinson's Former, Current Head Coach Elated for Penn State Commit's Future https://t.co/rrvHfJAKbh @Evolve2tenths pic.twitter.com/1yhBjE0mZ3

— Nittany Sports Now (@NittanySN) July 19, 2022
Update (11:25 AM)-
**Pitt women's basketball has extended an offer to 2025 guard Lean Girardi from Westminster Academy in Florida. This past season, Girardi averaged 20.2 points and 8.3 rebounds per game.
#sharkshowdown WA 46 Plant 42

'25 6'0 Lena Girardi @LenaGirardi – she scored on all 3 levels. Played with great patience. Aggressive on both sides of the ball. For a freshman plays super high confidence. Scored 16 points in the first half. She can score in bunches. pic.twitter.com/lRcfj1WZEH

— Scout's Source Hoops (@ScoutsSource) December 12, 2021
Update (11:19 AM)-
Four Panthers Named to NABC Honors Court. 📚🏀🎓

🔗 https://t.co/MLEakaJK7V#H2P pic.twitter.com/PB4wjkUUsA

— Pitt Basketball (@Pitt_MBB) July 19, 2022
Update (9:11 AM)-
Out Walking WWC this morning, Pitt show up early on the Shore today, We Met so many Pitt Fans on vacation! #H2P pic.twitter.com/ZLQfgHgNu2

— Frank Cignetti Jr. (@FrankCignetti) July 19, 2022