The Frank Walker Law/PSN Daily Notebook- July 21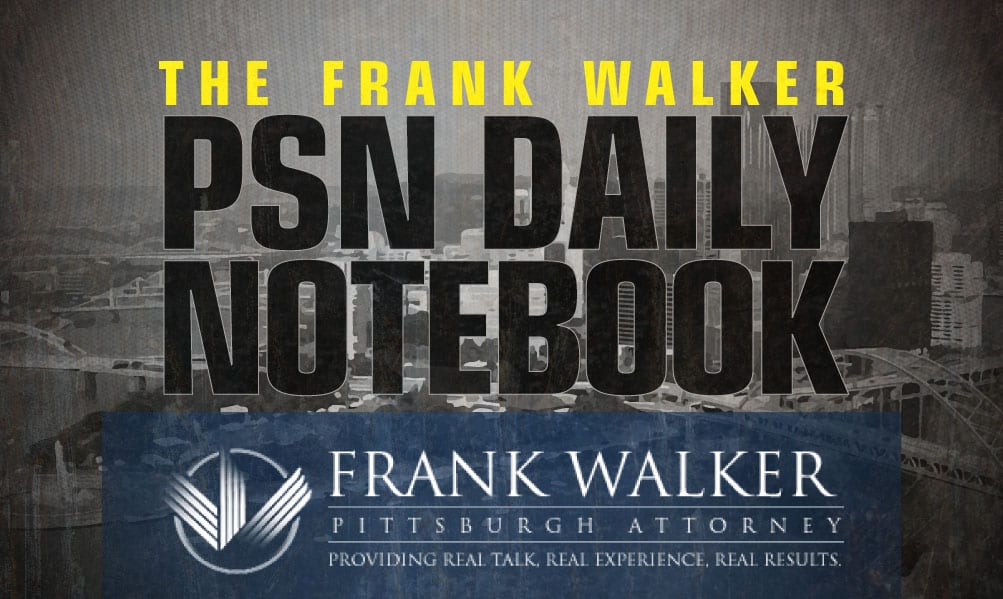 The PSN Daily Notebook is sponsored by Frank Walker, one of Pittsburgh and West Virginia's most respected criminal defense and injury lawyers. Mr. Walker has offices in Pittsburgh and Morgantown and has been named one of Top 100 National Trial Lawyers and is rated a perfect 10.0 Superb by Avvo for ethics, experience and results. To reach Mr. Walker, you can call 412-532-6805 or go to his website frankwalkerlaw.com. For real talk, real experience and real results, contact Frank Walker Law.
Update (8:18PM)-
Narduzzi on Kedon Slovis:
"He was the no. 1 guy we targeted in the portal at quarterback….he loved the people in Pittsburgh. He didn't come for some NIL deal."
👀👀👀

— Amanda Godsey (@AmandaFGodsey) July 21, 2022
Update (8:13 PM)-
Robert Morris and Saint Francis continue season series with one another. The Red Flash will travel to the UPMC Events Center to take on Robert Morris on Dec. 21. #HLMBB #NECMBB https://t.co/nri1eet37U

— Ethan Morrison (@EthanMorrison26) July 21, 2022
Update (9:41 AM)-
After digging through some more 2022 rosters, here are some additional scholarship transfer landing spots:

TE Keymar Mimes (Pitt to Northern Illinois)
DB Kobe Hylton (Louisiana to UTEP)
DB Da'Shawn Elder (VT to Middle Tennessee)
OL Gary Hoover (Ohio to ODU)@mfarrellsports

— FarrellPortal (@farrellportal) July 21, 2022
With Kaymar Mimes signing with Northern Illinois, Pittsburgh has seen all 18 of their players who entered the portal since 8/1 find a home

*4 committed to a P5 school
*6 committed to a G5 school
*8 committed to an FCS school @mfarrellsports

— FarrellPortal (@farrellportal) July 21, 2022
Update (8:42 AM)- 
Pitt WBB offers Class of 2026 Autumn Fleary. Fleary will play at McDonogh School in Baltimore County starting this fall.
Extremely blessed and grateful to have received a offer from University of Pittburgh this afternoon from @Pitt_CoachWhite @Pitt_WBB !!! I am beyond thankful for the opportunity🙏🏽.#gopanthers🐆@TeamTakeoverGBB @andreforeman42 @McDonoghGVBB @scooplove1 pic.twitter.com/5tH97GUhQa

— AUTUMN FLEARY (@AutumnFleary2) July 21, 2022
Update (8:15 AM)- 
Tyler Betsey (2024) received an offer from the University of Pittsburgh earlier today

🎥20pts (6-10 3PT) for the 6'7" wing in a 69-60 win vs. Mokan@TylerBetsey1 @NYRhoops @StThomasMoreBB @JustinWBrantley @JoggersAndSatay @PittGuru @ChrisDokish @PantherLair #PeachJam #SUVtv pic.twitter.com/QAQ6zViWQW

— SUVtv (@SUVtv) July 21, 2022
Just in: Aliquippa Superintendent Dr. Phillip Woods has announced that the district hired Dr. Jennifer Damico as its Athletic Director. Damico is the first female AD in the history of Aliquippa HS. @timesscores @quip_nation pic.twitter.com/AmDfLTA6Es

— Noah Hiles (@_NoahHiles) July 21, 2022
Update (8:10 AM)-
Thankful for my time at BC with @FrankCignetti and @pjurkovec

When it comes to QB development, Coach Cig is as good as there is in college football!

Can't wait to watch Phil ball this year and on Sundays 🙌 #H2P pic.twitter.com/DL5e0DmNt6

— Jonathan DiBiaso (@Coach_JDiBiaso) July 20, 2022
Update (8:03 AM)-
A few guys who have impressed me so far today:
– Pitt commit Carlton Carrington. Had 30 in his game today, made six of seven 3s. Really stood out.
– Josh Hubbard. Plays with toughness and confidence, can make shots from the perimeter.
– Jay Shider. Had 19 & 17. Relentless.

— Jeff Borzello (@jeffborzello) July 20, 2022