The Frank Walker Law/PSN Daily Notebook- July 28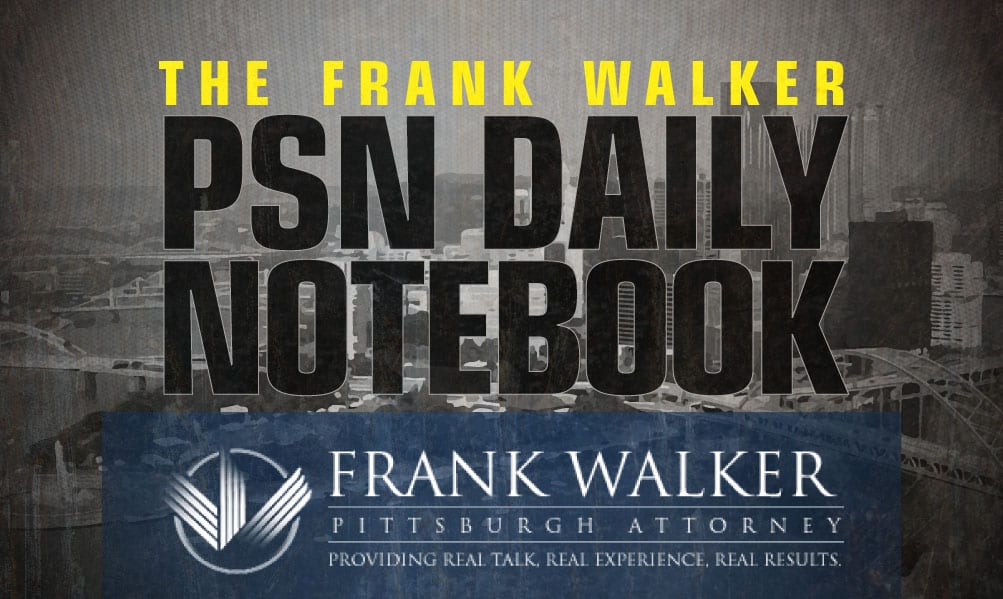 The PSN Daily Notebook is sponsored by Frank Walker, one of Pittsburgh and West Virginia's most respected criminal defense and injury lawyers. Mr. Walker has offices in Pittsburgh and Morgantown and has been named one of Top 100 National Trial Lawyers and is rated a perfect 10.0 Superb by Avvo for ethics, experience and results. To reach Mr. Walker, you can call 412-532-6805 or go to his website frankwalkerlaw.com. For real talk, real experience and real results, contact Frank Walker Law.
Update (9:42 PM)-
Carter Warren is ranked as the No. 6 senior OT in the 2023 NFL Draft by Dane here. Nice praise for the standout Pitt left tackle. https://t.co/2ItI6TQflj

— Nick Farabaugh (@Nick_Farabaugh) July 28, 2022
Update (9:32 PM)-
West Allegheny HS athlete Nodin Tracy continues to rack up scholarship offers. The Bucknell Bison are the latest. Tracy is capable of playing a wide variety of positions. A playmaker. #WPIAL 💪🏻💪🏻 https://t.co/c5EQntE14h

— Harry G. Psaros (@PittGuru) July 28, 2022
Update (9:13 PM)- 
**Lincoln Park 2025 shooting guard Maleek Thomas picks up a big offer tonight from Kansas State. Thomas also holds offers from Pitt and St. John's.
After talking to the k-state staff I am blessed to receive a division 1 offer from Kansas state university @LinkCoachP @CoachJTang pic.twitter.com/ISrctt3g1E

— Meleek Thomas (@ThomasMeleek) July 28, 2022

Update (8:10 AM)- 
**Seneca Valley 2023 linebacker Chris Dappolonia has verbally committed to Toledo. Dappolonia received his offer from Toledo back on June 27.
Junior Season Highlights:
52 Tackles
9 TFLS
5 Sacks
14 Pressures
1 Forced Fumble
5 Pass Deflections
14 Pancakes
3 Receptions for 24 yards

All Conference Outside Linebackerhttps://t.co/7FzMunFEv5

— Chris Dappolonia (@Chris_Dapp05) November 15, 2021
Update (7:54 AM)- 
**Pitt women's basketball extended an offer on Wednesday to 2024 wing Ava McKennie from McSherrystown, Pennsylvania. The 6'2" McKennie plays for Philly Rise (AAU) and also holds offers from Columbia, Kentucky, Temple, Harvard, Princeton, Virginia, Boston College, Villanova, George Mason and Virginia Tech.
Ava McKennie with a SMOOTH finish🤩@AvaMckennie @philly_rise pic.twitter.com/eJUXQQ0ZBe

— SportsCenter NEXT (@SCNext) July 12, 2022
Blessed to receive an offer from the University of Pittsburgh!! @TalenWatson @philly_rise @McDonoghGVBB @Pitt_CoachWhite pic.twitter.com/etODGgwhac

— Ava McKennie (@AvaMckennie) July 27, 2022