The Frank Walker Law/PSN Daily Notebook- August 1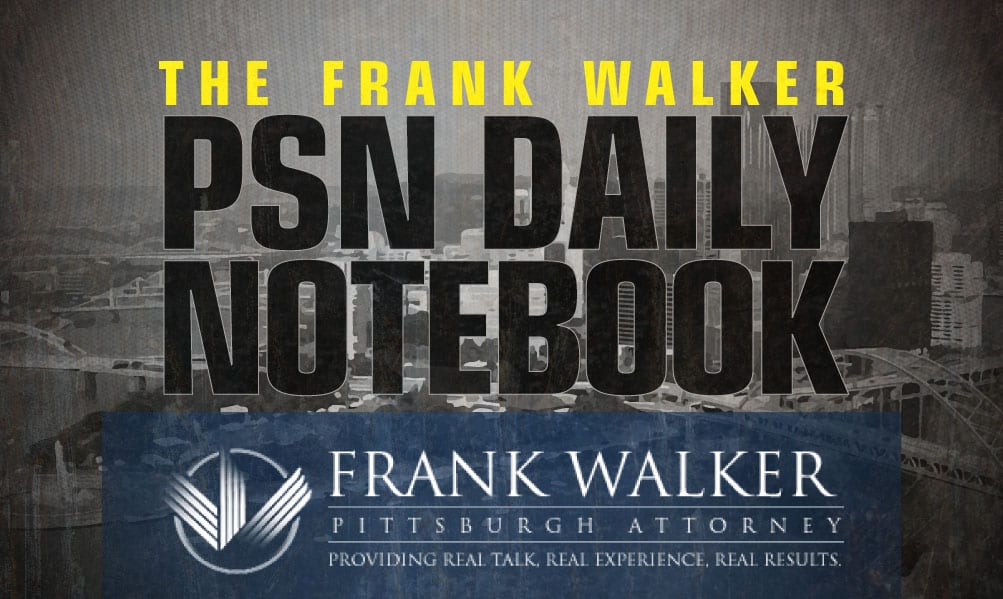 The PSN Daily Notebook is sponsored by Frank Walker, one of Pittsburgh and West Virginia's most respected criminal defense and injury lawyers. Mr. Walker has offices in Pittsburgh and Morgantown and has been named one of Top 100 National Trial Lawyers and is rated a perfect 10.0 Superb by Avvo for ethics, experience and results. To reach Mr. Walker, you can call 412-532-6805 or go to his website frankwalkerlaw.com. For real talk, real experience and real results, contact Frank Walker Law.
Update (5:16 PM)-
Kenny Pickett making every kids birthday a special one. @kennypickett10

He started at the front of the line and walked all the way to the end. Signing autographs, taking photos and wishing multiple kids a happy birthday.

This is what training camp is all about. pic.twitter.com/FOjrdf2E1p

— Emily Giangreco (@EmilyGiangreco) August 1, 2022
Update (4:28 PM)-
Pitt WBB offer 2025 player, Logyn Greer out of Friends Central High School in Wynewood, Pa.
Congrats to 2025 @logyn_greer on her recent offer to @Pitt_WBB today! ⏫️ #3SSB #3StripeLife #EYG pic.twitter.com/C4gcQKX5Qb

— Elevate Elite (@Elevate_Elite) August 1, 2022
Update (12:12 PM)-
ITS OFFICIAL… Lefts go Panther Nation!🟡🔵 @CoachDuzzPittFB @CoachBorbs @CoachTimSalem #H2P #PantherNation pic.twitter.com/e5fwUDTxqd

— Tai Ray (@67TaiRay) August 1, 2022
Blessed 🙏🏾. pic.twitter.com/B5LYxKUyGd

— Rasheem "The dream" Biles 🖤. (@Rasheembiles) August 1, 2022
Let's win this Natty then next stop… the ACC!! SFA💛🖤➡️H2P💙💛 pic.twitter.com/pnIT3vOfV3

— Tina "Ghost Ma" Neal (@TiTithatsme) August 1, 2022
Update (12:06 PM)-
Nahki Johnson was listed at 225 pounds as a 4🌟 out of HS, and he looks all of his 260 pounds of muscle now.

If you're looking for a young #Pitt pass rusher to invest in ahead of the 2022 season, here's your guy. https://t.co/LShepJGaWo

— Karl Ludwig (@LudwigKarl8) August 1, 2022
Update (12:00 PM)-
Great video https://t.co/ajWc8PAR5l

— Paul Zeise (@PaulZeise) August 1, 2022
Update (11:55 AM)-
💛💙💛💙 it's official Panther nation, see y'all soon 🤞🏼 @Pitt_FB pic.twitter.com/B5ghJm3CgS

— Zion Fowler ✞ (@CantGuardZion) August 1, 2022
Update (11:44 AM)-
Thank you @Pitt_FB @CoachDuzzPittFB @CoachBorbs @FrankCignetti #H2P pic.twitter.com/vIumTl17Az

— Bj Williams (@CeoBrianJr) August 1, 2022
OFFICIAL. Let's go panther nation!💙💛🐾 @Pitt_FB @CoachDuzzPittFB pic.twitter.com/TEMRXdwEAR

— Brice Pollock (@PollockBrice) August 1, 2022
Pitt it's Official…..see y'all soon💙💛#H2P @Pitt_FB @CoachDuzzPittFB @CoachPartridge #BLESSED💯 pic.twitter.com/FJ6fDFWk3N

— "CAMON!" (@AntonioCamon1) August 1, 2022

Update (11:42 AM)-
Report Day 2️⃣0️⃣2️⃣2️⃣#H2P 🏈 #WeNotMe pic.twitter.com/rvtPAcenfL

— Pitt Football (@Pitt_FB) July 31, 2022