The Frank Walker Law/PSN Daily Notebook- August 2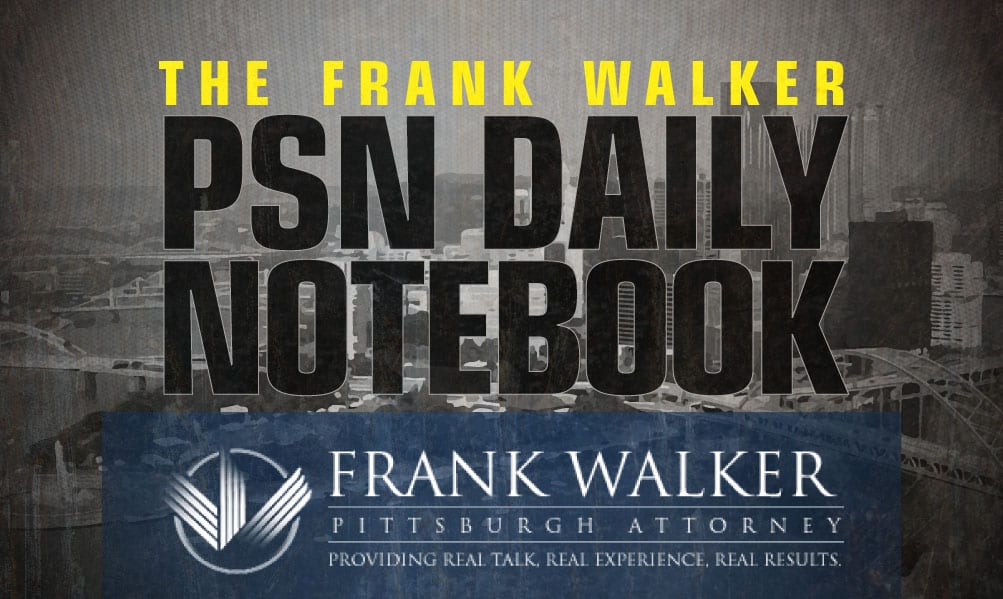 The PSN Daily Notebook is sponsored by Frank Walker, one of Pittsburgh and West Virginia's most respected criminal defense and injury lawyers. Mr. Walker has offices in Pittsburgh and Morgantown and has been named one of Top 100 National Trial Lawyers and is rated a perfect 10.0 Superb by Avvo for ethics, experience and results. To reach Mr. Walker, you can call 412-532-6805 or go to his website frankwalkerlaw.com. For real talk, real experience and real results, contact Frank Walker Law.
AROUND THE NETWORK
WV Sports Now: Mountaineers have same QB dilemma as Panthers as the Backyard Brawl draws closer.
Nittany Sports Now: Nittany Lions look to flip a Tulane QB?
Pittsburgh Soccer Now: Another Pitt men's soccer alum making waves in professional soccer.
Pittsburgh Baseball Now: The Pirates unload starter Jose Quintana for a couple players.
Steelers Now: Kenny Pickett really stepping up his game with the Steelers in week two.
Pittsburgh Hockey Now: Penguins still need to get under the salary cap, here's how they can.
Update (5:56 PM)-
🔥 GEAR DROP 🔥

The squad is all swagged out for our trip to Italy this weekend‼️#H2P // #Pittaly🇮🇹 pic.twitter.com/TJs4P9vW76

— Pitt Basketball (@Pitt_WBB) August 2, 2022
Update (4:16 PM)-
Kenny Pickett rolls out and finds Jace Sternberger. Would have been a sack, but a nice play. #Steelers pic.twitter.com/uVlDwMb3Uk

— Tommy Jaggi (@TommyJaggi) August 2, 2022
Update (3:27 PM)-
Came to camp in great condition ✅

💪 @JWayne_5
💪 @SimonShayne
💪 @CKancey8
💪 @Konata_B #H2P 🏈⛺️ pic.twitter.com/yAHpDfPuHv

— Pitt Football (@Pitt_FB) August 2, 2022
Update (2:23 PM)-
1️⃣ Day of Training Camp ✅

1️⃣ Month until Backyard Brawl 🏈#H2P » #BeatWVU pic.twitter.com/dK3C0YSDQO

— Pitt Football (@Pitt_FB) August 1, 2022
Update (1:00 PM)-
Coach Saleh loves him some Jordan Whitehead. pic.twitter.com/MmpcErXHyJ

— New York Jets (@nyjets) August 2, 2022
Update (12:48 PM)-
Forget to mention that these preseason bowl projections are 100% accurate as usual.

College football predictions for 2022 bowl games, Playoff semifinals, national championship https://t.co/eiGPFVTNPN

— Bill Bender (@BillBender92) August 2, 2022
Update (12:07 PM)-
Alliance 412 is proud to officially welcome 2021 Honorable Mention All-ACC recipient Deslin Alexandre (@_Deslin) to our team! pic.twitter.com/7qN2MCavvq

— Alliance 412 (@Alliance_412) August 2, 2022
Update (11:24 AM)-
New Numbers and New Panthers #️⃣#H2P » #WeNotMe pic.twitter.com/EhrkTuNBrr

— Pitt Football (@Pitt_FB) August 2, 2022
Update (11:03 AM)-
OFFICIAL😎panther nation💙💛 pic.twitter.com/RDO4PUzayC

— Kenny Minchey (@kenny_minchey) August 2, 2022
Update (10:03 AM)- 
**Seneca Valley 2023 LB/DE/TE Aiden Lyczek has verbally committed to Navy. Lyczek also received offers from Indiana State, Army and Georgetown.
https://t.co/uZdBQtc5XF @R_Lehmeier @thelab_fb @coachtricketts @timothysasson @CoachDupont @AustinSchaffer2 @coach_dhopkins @CoachJQmccune 2nd Team all conference TE- 10 sacks- 25 TFL- 15 receptions- 275 receiving yard's

— Aiden Lyczek (@LyczekAiden) November 15, 2021
⚓️Committed⚓️ @NavyCoachYo @NAVYCoachKen @SVRaiderFB pic.twitter.com/9nCz4bglAP

— Aiden Lyczek (@LyczekAiden) August 2, 2022