The Frank Walker Law/PSN Daily Notebook- August 3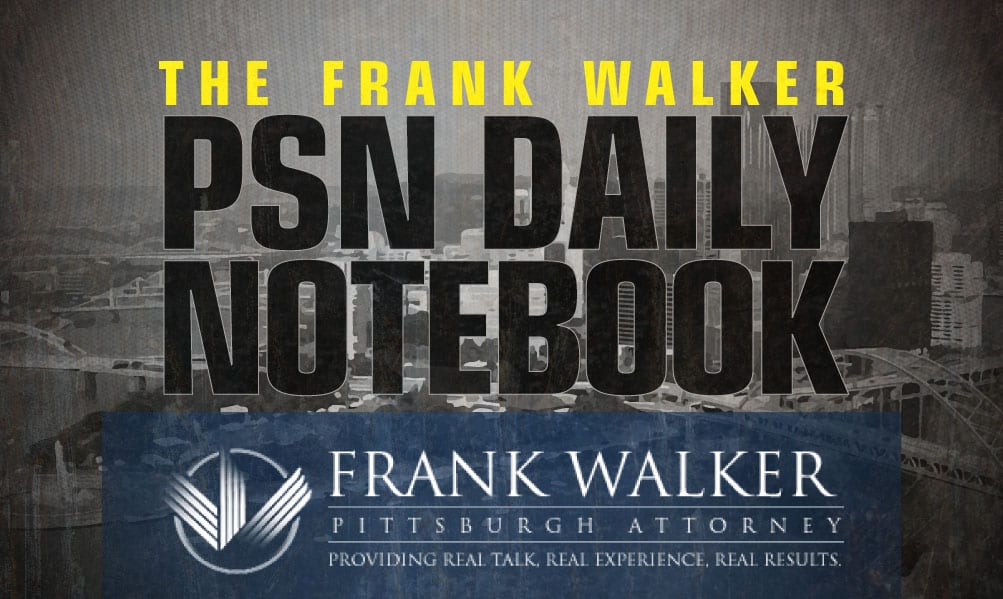 The PSN Daily Notebook is sponsored by Frank Walker, one of Pittsburgh and West Virginia's most respected criminal defense and injury lawyers. Mr. Walker has offices in Pittsburgh and Morgantown and has been named one of Top 100 National Trial Lawyers and is rated a perfect 10.0 Superb by Avvo for ethics, experience and results. To reach Mr. Walker, you can call 412-532-6805 or go to his website frankwalkerlaw.com. For real talk, real experience and real results, contact Frank Walker Law.
Update (8:21 PM)-
Official!! pic.twitter.com/3xbiwhIyub

— Ryan Carretta (@CarrettaRyan) August 4, 2022
Update (8:01 PM)- 
Put on shoulder pads today 🔊💥#H2P 🏈⛺️ #WeNotMe pic.twitter.com/27BnP4BQyK

— Pitt Football (@Pitt_FB) August 3, 2022
One of the best players in the State has found his home !!! Delaware pulled a rabbit out of the hat by STEALING Gavin Moul. When you evaluate guys on playing fast and physical we don't see many guys with film like this.

Congratulations Gavin 🔥🔥🔥🔥🔥🏈 https://t.co/QqVleLRLij

— WPIAL Sportsmen (@wpialsportsnews) August 3, 2022
Update (1:55 PM)-
Good luck Brush Basketball Alums @thejohnhugley and @IvElmore as they landed over in Barcelona Spain 🇪🇸 today and Will be there until next week. They will play multiple games vs some of the top Professional Spanish 🏀 clubs💪🏾💪🏾 @selschools @BrushAthletics @mpodo#TrustTheProcess pic.twitter.com/hLRTyff70T

— chet mason (@ChetMason32) August 3, 2022
Update (1:32 PM)-
Taking it day by day. 🥷🏾 #H2P #CNtime pic.twitter.com/TkOeWsYCV6

— Che Nwabuko 📍 (@CheNwabuko1) August 3, 2022
In Week 1, Kenny Pickett struggled. In Week 2, he has looked much better. @FarabaughFB explains why it is too early to worry or crown Pickett, and more important to watch his long term growth. https://t.co/6IT5MOKBh3

— Steelers Now (@PghSteelersNow) August 3, 2022
Update (1:13 PM)- 
5'10" guard/forward Gabby Grantham-Medley commits to Duquesne Women's Basketball in the Class of 2023. Plays for North Hagerstown High School in Hagerstown, M.D.
After a great season with @tto_orange I am extremely blessed to announce that i am 100% committed to @DuqWBB ! Thank you to my family and coaches who had my back throughout this process. #GoDukes pic.twitter.com/OrbbMpXOEt

— Gabby Grantham-Medley (@MedleyGabby) August 2, 2022
Update (9:18 AM)-
The CBS Sports 131 is out, which ranks every team in college football to open the season: https://t.co/s4Sv1uPIh8 pic.twitter.com/L9sL0LLXyH

— 247Sports (@247Sports) August 3, 2022
Update (9:12 AM)-
— Tiquan Underwood (@TiUnderwood) August 3, 2022