The Frank Walker Law/PSN Daily Notebook- August 8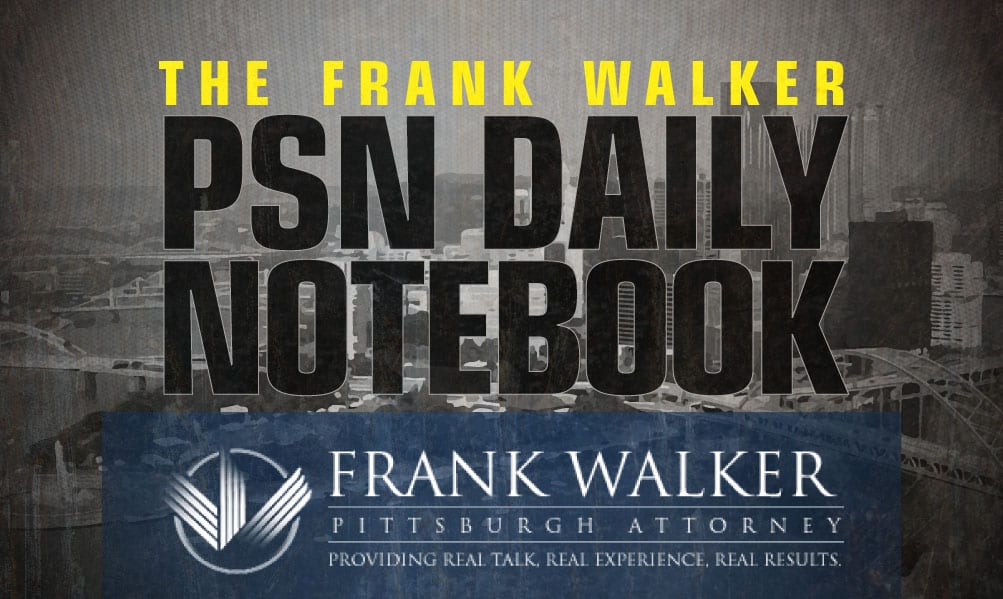 The PSN Daily Notebook is sponsored by Frank Walker, one of Pittsburgh and West Virginia's most respected criminal defense and injury lawyers. Mr. Walker has offices in Pittsburgh and Morgantown and has been named one of Top 100 National Trial Lawyers and is rated a perfect 10.0 Superb by Avvo for ethics, experience and results. To reach Mr. Walker, you can call 412-532-6805 or go to his website frankwalkerlaw.com. For real talk, real experience and real results, contact Frank Walker Law.
Update (5:14 PM)-
Game 1️⃣ DUB‼️

Pitt opens action in Italy with a dominate 110-40 win.#H2P // #Pittaly🇮🇹 pic.twitter.com/wVmMH52si9

— Pitt Basketball (@Pitt_WBB) August 8, 2022
Update (2:27 PM)-
We love putting on full pads 💥#H2P 🏈⛺️ #WeNotMe pic.twitter.com/KkJLHgebcE

— Pitt Football (@Pitt_FB) August 8, 2022
Update (1:05 PM)-
Two of the best in the country! Love watching these dudes get after it.

JP2 QB @kenny_minchey (Pitt commit)
MBA QB @MarcelReed12 (Ole Miss commit)

Can't wait for Sept 30! JP2 vs MBA pic.twitter.com/0ZMUMSy9vA

— QB Country Nashville (@QBC_Nashville) August 8, 2022
Update (11:34 AM)-
We're moving to the defensive side of the ball and starting with the MONSTERS IN THE MIDDLE.

These are the best DTs in the #ACC pic.twitter.com/tQVtSk0PHI

— Eric Mac Lain (@EricMacLain) August 8, 2022
Update (11:31 AM)-
Projecting Monday's preseason USA Today Coaches Poll: https://t.co/nCAYP6Kqwd pic.twitter.com/KrbNCQfW7Y

— 247Sports (@247Sports) August 8, 2022
Update (10:17 AM)-
QBs and Pitt legends! Great to see KP on the wall! Johnny Unitas Award – Best QB in college football #H2P pic.twitter.com/LcyVcay6wt

— Jonathan DiBiaso (@Coach_JDiBiaso) August 8, 2022
Update (8:54 AM)-
Kenny Pickett Growing at Steelers Training Camp: 'I Feel A Lot Better'
Update (7:18 AM)-
You know what they say… When in Rome 😍😍#H2P // #Pittaly🇮🇹 pic.twitter.com/oDRJpxU8GB

— Pitt Basketball (@Pitt_WBB) August 8, 2022
Update (6:45 AM)-
With this weekend past, it's not too early to look ahead to next year. First-year eligible players for the Pro Football Hall of Fame Class of 2023 include Darrelle Revis, Dwight Freeney, Joe Thomas and Jahri Evans.

— Adam Schefter (@AdamSchefter) August 8, 2022
AROUND THE NETWORK
Steelers Camp Takeaways: Trubisky, Pickett Fabulous on Saturday
ICYMI: Pitt Football Got a Commitment on Sunday
 What to Expect from Sidney Crosby at Age 35?
 Former WVU WR Kevin White Attempts to Salvage NFL Career
PSU Target Kevin Haywood Grew Up a Nittany Lions Fan
 Pirates Offense Breaks Out in 8-1 win over Orioles