The Frank Walker Law/PSN Daily Notebook- August 13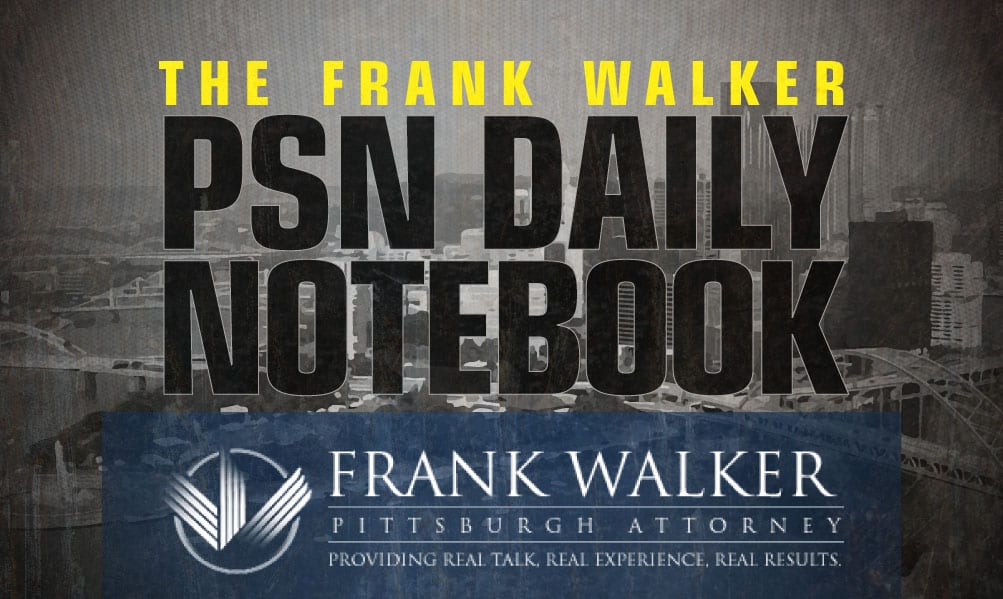 The PSN Daily Notebook is sponsored by Frank Walker, one of Pittsburgh and West Virginia's most respected criminal defense and injury lawyers. Mr. Walker has offices in Pittsburgh and Morgantown and has been named one of Top 100 National Trial Lawyers and is rated a perfect 10.0 Superb by Avvo for ethics, experience and results. To reach Mr. Walker, you can call 412-532-6805 or go to his website frankwalkerlaw.com. For real talk, real experience and real results, contact Frank Walker Law.
Update (9:20 PM)-
One for the history books. First of many. Get on the Pickett bandwagon NOW pic.twitter.com/yKsY89lTF5

— Andrew Fillipponi (@ThePoniExpress) August 14, 2022
Update (9:16 PM)-
What an amazing moment 🖤💛💙

Kenny Pickett takes the field for the @Steelers to make his @NFL debut.#H2P » #HereWeGo pic.twitter.com/rl89VQqlsT

— Pitt Football (@Pitt_FB) August 14, 2022
Update (8:13 PM)-
LETS GO @kennypickett10!!! Wouldn't miss this for anything #H2P pic.twitter.com/VbJd9XQy8K

— Pat Narduzzi (@CoachDuzzPittFB) August 14, 2022
Update (5:13 PM)-
Nathan Peterman making something out of nothing 🪄pic.twitter.com/iZ8g0GayRm

— Pro Football Network (@PFN365) August 13, 2022
Update (3:47 PM)- 
Pitt WBB offers Class of 2025 guard Kamryn Kitchen out of Independence High School in Mint Hill, N.C., just outside of Charlotte. She currently holds offers from Charlotte, Winthrop, Appalachian State, East Tennessee State, Elon, Western Carolina, Temple, Furman, James Madison, Boston College, VCU and UNCW.
Thankful to receive an offer from @Pitt_WBB !! Thank you @Pitt_CoachWhite and @BriannaKiesel03 !! pic.twitter.com/Po52g0aNIo

— Kamryn Kitchen (@kamrynkitchen) August 13, 2022
Update (2:22 PM)- 
2023 @Pitt_FB commit Jesse Anderson @JesseAnderson05 takes the top of the defense for a big gain pic.twitter.com/64Ru8qSIJ0

— CHINSTRAPSPORTS (@CSS_TRAINING) August 13, 2022
2023 @Pitt_FB commit Jesse Anderson @JesseAnderson05 catches a slant route pic.twitter.com/GMUpKL6Tx9

— CHINSTRAPSPORTS (@CSS_TRAINING) August 13, 2022

Update (11:15 AM)-
Using my current numbers, there are 18 teams that have at least a 4% chance to make the CFP.

Who is on this list that shouldn't be? And who isn't on the list that should be? pic.twitter.com/r7sGVtFqF1

— Kelley Ford (@KFordRatings) August 13, 2022
Update (8:26 AM)-
It SCRIMMAGE DAY 🗣🗣

High-Energy only!! #H2P #WEnotME pic.twitter.com/Luj616gXWI

— Pat Narduzzi (@CoachDuzzPittFB) August 13, 2022
Update (8:21 AM)-
Welcome to Trieste 🤩#H2P // #Pittaly🇮🇹 pic.twitter.com/1w7od62jrJ

— Pitt Basketball (@Pitt_WBB) August 13, 2022
Update (7:14 AM)-
Jaylen Twyman set for first game action as a Viking. https://t.co/0uIAuphYC0

— ProFootballTalk (@ProFootballTalk) August 12, 2022
Update (7:10 AM)-
Them Pitt Boys 💪@JamesConner_ x @Pitt_FB x @boutdat_23 pic.twitter.com/WgFgTiZ1Ew

— Arizona Cardinals (@AZCardinals) August 13, 2022