The Frank Walker Law/PSN Daily Notebook- August 15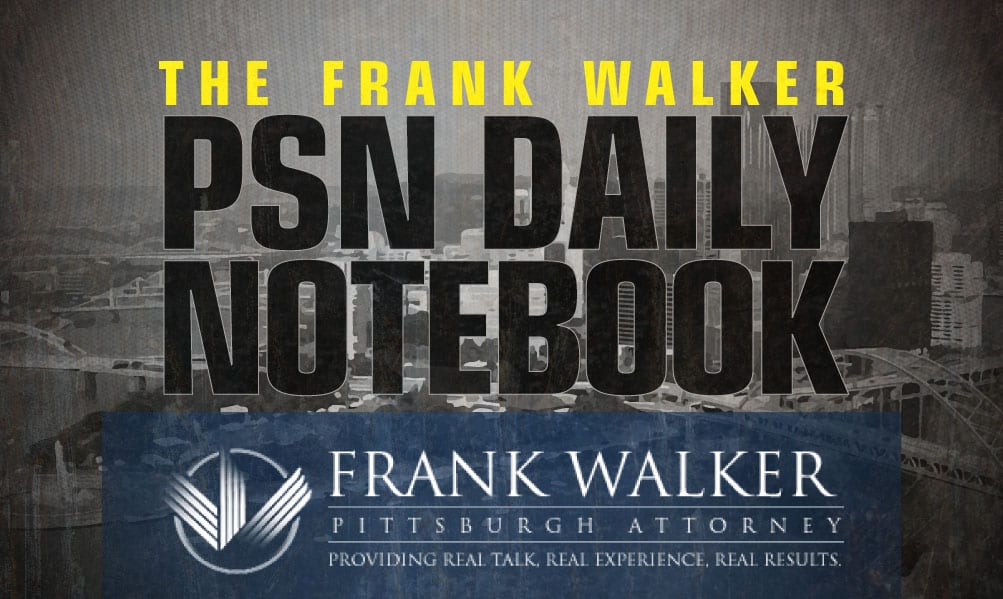 The PSN Daily Notebook is sponsored by Frank Walker, one of Pittsburgh and West Virginia's most respected criminal defense and injury lawyers. Mr. Walker has offices in Pittsburgh and Morgantown and has been named one of Top 100 National Trial Lawyers and is rated a perfect 10.0 Superb by Avvo for ethics, experience and results. To reach Mr. Walker, you can call 412-532-6805 or go to his website frankwalkerlaw.com. For real talk, real experience and real results, contact Frank Walker Law.
AROUND THE NETWORK
Nittany Sports Now: Ken Talley entering the transfer portal before playing a single snap with PSU.
WV Sports Now: WVU running back leaving the program
Steelers Now: Kenny Pickett and the Steelers QBs top the list of players impressing after week 1
Pittsburgh Baseball Now: The PBN Pirates top 30 prospects list is out
Pittsburgh Hockey Now: How about those Penguins third round picks?
The Portal Report: Former WVU quarterback Jarret Doege is in the transfer portal again.
Update (5:38 PM)-
WPIAL announces 1A, 2A, 3A and 4A football championships will be at Acrisure Stadium Nov. 25.

But 6A and 5A will be at Norwin High School Nov. 19. The reason for Norwin is PIAA playoffs.

Also, PIAA upholds WPIAL and rules TJ QB ineligible.https://t.co/LugRX1dOrf

— Mike White (@mwhiteburgh) August 15, 2022
Update (3:00 PM)-
10 Surprise QBs Who Will Impact the CFP | Mike Farrell Sports https://t.co/aB7pfO4w3y

— Mike Farrell (@mfarrellsports) August 15, 2022
Update (12:04 PM)-
Rookie Damarri Mathis with a good open field tackle on Aaron Shampkin attempting to bounce it out.

As training camp got more intense, we heard more and more of Mathis being mentioned in a good way pic.twitter.com/pphpIB19ZY

— Joey Richards (@JRDrafts) August 14, 2022
Update (11:54 AM)-
Come out to the FREE Blue & Gold scrimmage this Saturday at 1 p.m.

Season ticket holders get to stay after for a special reception with @fishercoach!

See Yinz Saturday!
🎟: https://t.co/xsGEXqlSrW#H2P pic.twitter.com/qRVfN6C3J8

— Pitt Volleyball (@Pitt_VB) August 15, 2022
Update (10:58 AM)-
Five-star Hykeem Williams lands at No. 16 in the preseason update of the Rivals250 https://t.co/RXEBiP03E0

— Adam Friedman (@RivalsFriedman) August 15, 2022
Update (9:52 AM)-
Sunday Night on the South Side 🌙

Practice Under the Lights ✨#H2P 🏈⛺️ #WeNotMe pic.twitter.com/yCLul7tGPm

— Pitt Football (@Pitt_FB) August 15, 2022
Update (9:42 AM)-
Pads will be popping, whistles blowing, coaches screaming all over Pennsylvania. It's the first day of high school football practice in complete pads.

Good luck to all players and coaches. May you make some memories this season that will last a lifetime.

— Mike White (@mwhiteburgh) August 15, 2022
Update (9:36 AM)-
Proud of these Pitt men! 👏@P_jones9@JaylenTwyman @_DjTurner1 #H2P » @NFL pic.twitter.com/3ug3c5FHW4

— Pitt Football (@Pitt_FB) August 15, 2022