The Frank Walker Law/PSN Daily Notebook- August 18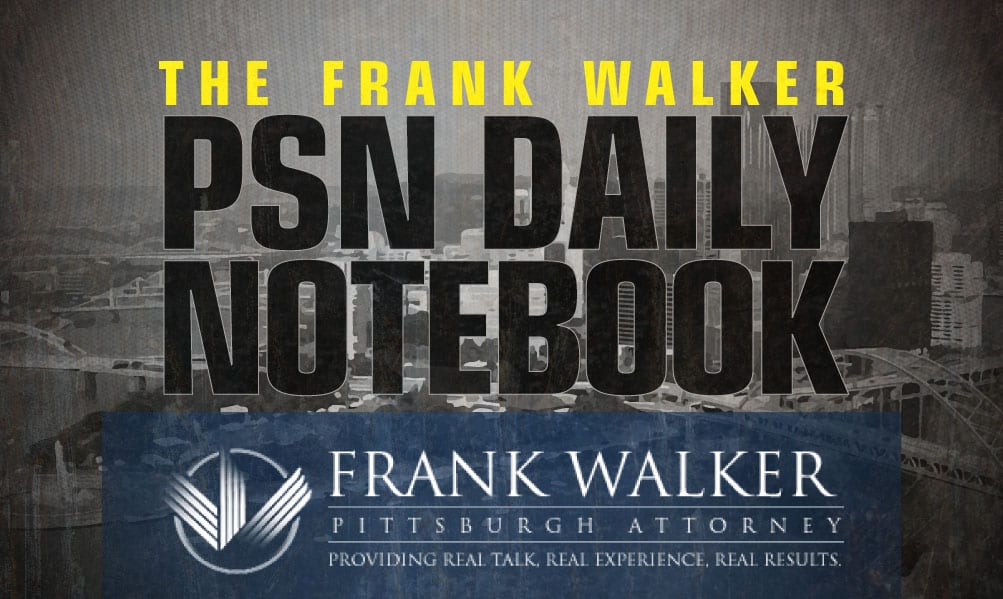 The PSN Daily Notebook is sponsored by Frank Walker, one of Pittsburgh and West Virginia's most respected criminal defense and injury lawyers. Mr. Walker has offices in Pittsburgh and Morgantown and has been named one of Top 100 National Trial Lawyers and is rated a perfect 10.0 Superb by Avvo for ethics, experience and results. To reach Mr. Walker, you can call 412-532-6805 or go to his website frankwalkerlaw.com. For real talk, real experience and real results, contact Frank Walker Law.
Update (4:39 PM)-
Eddie Royal, "They (#Pitt) are doing it the right way here." 🔵🟡 https://t.co/hfGxD1mbBm

— Harry G. Psaros (@PittGuru) August 18, 2022
Update (1:26 PM)-
**Pitt 2023 3-star linebacker commit Rasheem Biles receives a message from his future team.
yopppp h2p pic.twitter.com/huzsyCXpzT

— Rasheem "The dream" Biles 🖤. (@Rasheembiles) August 18, 2022
Update (12:24 PM)-
Great having you in Pittsburgh coach!!! Wouldn't be where I am without you!! https://t.co/oI5AEXQBv0

— Pat Narduzzi (@CoachDuzzPittFB) August 18, 2022
Update (11:12 AM)-
My first @DuqWSoccer piece of the season is a preview of the upcoming season. Find out more about the team and what makes it "raring to go". https://t.co/XeteQdpAy4

— Zachary Weiss (@ZacharyMWeiss) August 18, 2022
Update (11:02 AM)-
Panthers selected to compete in inaugural Fort Myers Tip-Off in November.

Game 1️⃣ – Nov. 25 vs. Towson 2pm
Game 2️⃣ – Nov. 26 vs. DePaul 2pm
Game 3️⃣ – Nov. 27 vs. Maryland 11:30am

🔗 https://t.co/7titBjs9ls#H2P pic.twitter.com/5KNuz5zlof

— Pitt Basketball (@Pitt_WBB) August 18, 2022
Update (10:01 AM)-
In Head Coach Chris Shaw's third season at the helm, Robert Morris women will open season with four matches at home, starting vs VMI on Thursday, as they're looking to keep making progress. https://t.co/AHlBPKaEjS

— Pittsburgh Soccer Now (@pghsoccernow) August 18, 2022
Update (7:03 AM)-
The ACC Football Road Trip 📍

Behind the scenes at Pitt camp with an hour of special coverage tonight…

📺 @ACCNetwork ⏰ 7 p.m.#H2P 🏈⛺️ #WeNotMe pic.twitter.com/OSowJqovsT

— Pitt Football (@Pitt_FB) August 18, 2022
Around The Network
Pittsburgh Hockey Now: Sending Smith to Wilkes-Barre is Easy Call … Until it Isn't
Steelers Now: Najee Harris Won't Play in Steelers 2nd Preseason Game
Pittsburgh Baseball Now: Potanko: My Pirates Top 30 Prospects List
WVU Sports Now: WVU Places Emphasis on Improving Special Teams for 2022
Nittany Sports Now: Former Penn State DE Carl Nassib Signs One-Year Deal With Tampa Bay