The Frank Walker Law/PSN Daily Notebook- August 28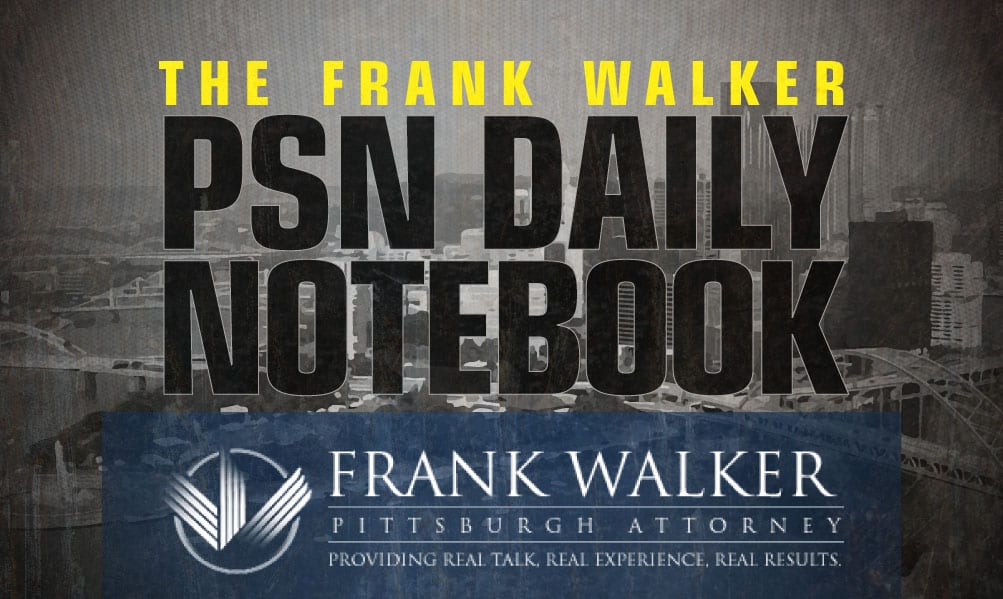 The PSN Daily Notebook is sponsored by Frank Walker, one of Pittsburgh and West Virginia's most respected criminal defense and injury lawyers. Mr. Walker has offices in Pittsburgh and Morgantown and has been named one of Top 100 National Trial Lawyers and is rated a perfect 10.0 Superb by Avvo for ethics, experience and results. To reach Mr. Walker, you can call 412-532-6805 or go to his website frankwalkerlaw.com. For real talk, real experience and real results, contact Frank Walker Law.
Update (6:09 PM)-
See everybody Tuesday on the Cathedral Lawn for our Bonfire before the 2022 Season! Let's make it even bigger than last year! @ThePantherPitt looking forward to seeing you all‼️🟦🟨🏈💥

— Pat Narduzzi (@CoachDuzzPittFB) August 28, 2022
Update (5:37 PM)-
I am so excited and honored to announce that I have verbally committed to play Division 1 and ACC soccer at the University of Pittsburgh. I would like to thank all of my teammates, coaches, and the Pitt family! Go Panthers, H2P💙💛 pic.twitter.com/tbjwwSOE9H

— Rylee (@_ryleekeeley_) August 27, 2022
Update (1:46 PM)-
@HamlinIsland when all the kids are getting Josh or Stefan, mine is getting yours! He's literally your littlest biggest fan 💙❤️ – he hopes to get it signed & pic with his fave! #BillsMafia pic.twitter.com/zVeef6mJs4

— Holley (@Holley_1226) August 28, 2022
Update (1:31 PM)-
Thomas Jefferson loses to Millville, N.J., 41-10.

Millville TDs were 73, 69, 69, 94 and 84 yards. Wow!

— Mike White (@mwhiteburgh) August 28, 2022
Update (1:25 PM)-
Mic'd Up 🔊 Pat Narduzzi
@CoachDuzzPittFB took his team under the lights earlier this week to help Pitt prepare for Thursday's Backyard Brawl primetime spotlight ✨#H2P 🏈 #WeNotMe pic.twitter.com/v4SfZinU7F

— Pitt Football (@Pitt_FB) August 27, 2022
Update (1:18 PM)-
"If you're really chasing rare air, you have to commit to being uncomfortable."

Big thanks to Coach Tomlin for speaking with the team today! pic.twitter.com/DckfIOTfk4

— Pitt Basketball (@Pitt_MBB) August 27, 2022
Around The Network
Pittsburgh Hockey Now: Molinari: 'Pigeon' Logo Awful … But Penguins Have Done Worse
Steelers Now: Which Steelers Players Could Make '11th Hour' Roster Charge?
Pittsburgh Baseball Now: Perrotto: Pirates Have Become Baseball's Punchline
WVU Sports Now: Geno Smith Battled Will Grier in NFL Preseason Finale
Nittany Sports Now: 2023 Four-Star Athlete Kaveion Keys Will Announce Commitment Monday; PSU in Top 4