The Frank Walker Law/PSN Daily Notebook- August 31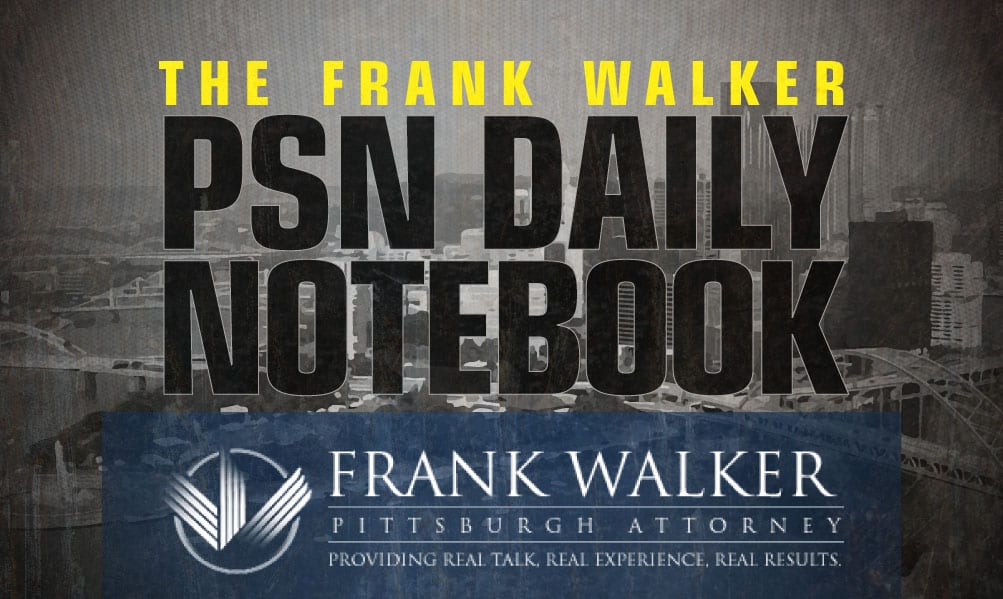 The PSN Daily Notebook is sponsored by Frank Walker, one of Pittsburgh and West Virginia's most respected criminal defense and injury lawyers. Mr. Walker has offices in Pittsburgh and Morgantown and has been named one of Top 100 National Trial Lawyers and is rated a perfect 10.0 Superb by Avvo for ethics, experience and results. To reach Mr. Walker, you can call 412-532-6805 or go to his website frankwalkerlaw.com. For real talk, real experience and real results, contact Frank Walker Law.
The latest episode of The Loyal Sons podcast is now available on YouTube for your viewing pleasure.
Update (3:53 PM)-
Bengals Sign 13 To Practice Squad, Cut Three https://t.co/CUow5DichE pic.twitter.com/HfJxI3pD7O

— NFLTradeRumors.co (@nfltrade_rumors) August 31, 2022
Update (3:37 PM)-
**As expected, former Pitt quarterback Nathan Peterman re-signs with the Chicago Bears.
Bears Sign 14 Players To Practice Squad https://t.co/WaEp4oOVRW pic.twitter.com/FS8FET8zNK

— NFLTradeRumors.co (@nfltrade_rumors) August 31, 2022
Update (3:34 PM)-
Cowboys planning to sign running back Qadree Ollison to practice squad as former Falcons fifth round draft pick reunites with former coach Dan Quinn, per a league source @PFN365 #Cowboys

— Aaron Wilson (@AaronWilson_NFL) August 31, 2022
Update (12:43 PM)-
The #Giants claimed former #Jets safety Jason Pinnock, who really impressed in camp.

— Ari Meirov (@MySportsUpdate) August 31, 2022
Update (12:09 PM)-
To protect your family…
To protect your home…
To protect your city…

Sometimes, you have to BRAWL 🥊#H2P » #BeatWVU pic.twitter.com/6hWasVApSy

— Pitt Football (@Pitt_FB) August 31, 2022
Update (12:04 PM)-
A great night!!! Let's bring all the energy Thursday Night‼️ We are ready to BRAWL 🟦🟨🏈💪🏽 pic.twitter.com/QHoomODnhq

— Pat Narduzzi (@CoachDuzzPittFB) August 31, 2022
Update (12:02 PM)-
We need you Thursday night…

We need you all season…

We are in this together!#H2P 🏈 #WeNotMe pic.twitter.com/2R3kPIV8X6

— Pitt Football (@Pitt_FB) August 31, 2022
Update (10:47 AM)-
My QB! Can Thursday get here already pic.twitter.com/B4C9GTAISj

— Ryan Platt (@Ryan24_34) August 31, 2022
Update (10:33 AM)-
#DUQMBB locker room >>>

Thank you to Joe & Kathy for all of your support! #GoDukes pic.twitter.com/ULZwvi8bmB

— Duquesne Basketball (@DuqMBB) August 31, 2022