The Frank Walker Law/PSN Daily Notebook- September 2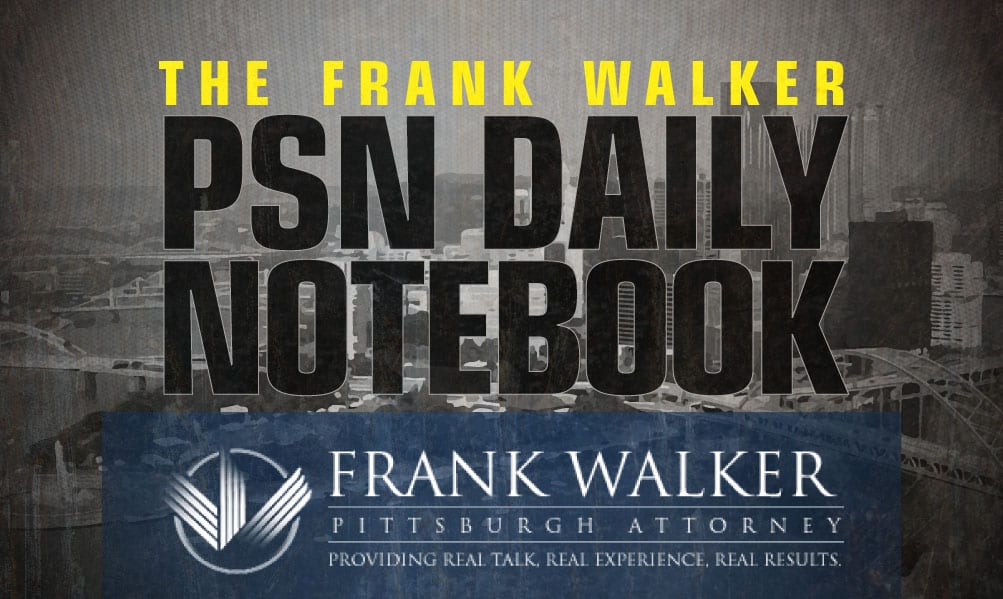 The PSN Daily Notebook is sponsored by Frank Walker, one of Pittsburgh and West Virginia's most respected criminal defense and injury lawyers. Mr. Walker has offices in Pittsburgh and Morgantown and has been named one of Top 100 National Trial Lawyers and is rated a perfect 10.0 Superb by Avvo for ethics, experience and results. To reach Mr. Walker, you can call 412-532-6805 or go to his website frankwalkerlaw.com. For real talk, real experience and real results, contact Frank Walker Law.
Update (2:20 PM)-
One of the greatest atmospheres that I have ever been around at any level last night. An instant classic rivalry on the field that delivered everything you want in a big game. Grateful to have been a part of it all. Will never forget it. pic.twitter.com/naBelhb1xI

— Louis Riddick (@LRiddickESPN) September 2, 2022
Update (11:00 AM)- 
The WPIAL product will be in the NFL next year.
Update (10:00 AM)- 
— Put Pitt In (@PutPittIn) September 2, 2022
In case you were wondering, at all… pic.twitter.com/Y49e0RwKYC

— dong of victory (@dongofvictory) September 2, 2022
Update (9:54 AM)-
🗣️ "YOU HAVE TO BE HERE!"

Pitt's Bill Hillgrove and Pat Bostick on the call of an iconic Backyard Brawl moment.#H2P 🔊 @937theFan pic.twitter.com/fX84eGSmuf

— Pitt Football (@Pitt_FB) September 2, 2022
Update (9:47 AM)-
Pat Narduzzi on SportsCenter "ESPN disrespected our fans" pic.twitter.com/J2vVGEQ7kl

— gifdsports (@gifdsports) September 2, 2022
Update (9:36 AM)-
**Congrats to former Pitt wide receiver Shocky Jacques Louis, for a big game in his Akron debut. Jacques-Louis had 8 catches for 102 yards, including a 41-yard touchdown catch. Shocky is one of Akron's team captains.
Update (9:30 AM)-
From across the aisle.
Backyard Brawl Postgame Show: Controversy Adds Fuel to the Rivalry
Postgame Reaction from WVU Locker Room After Backyard Brawl Loss to Pitt
Update (9:25 AM)-
Nice catch, move and run by #Stranahan HS (FL) 2023 WR Hykeem Williams (@tha_boikeem) vs #Plantation

Williams scored his 2nd TD of the game right after this play

🎥 @ThaRealSleep pic.twitter.com/mnIfmRTKom

— IG: @SleeperAthletes (@SleeperAth1etes) September 2, 2022
First TD catch of the season for #Stranahan HS (FL) 2023 WR Hykeem Williams (@tha_boikeem) vs #Plantation

🎥 @ThaRealSleep pic.twitter.com/Q8i6wkK6XB

— IG: @SleeperAthletes (@SleeperAth1etes) September 2, 2022