The Frank Walker Law/PSN Daily Notebook- September 9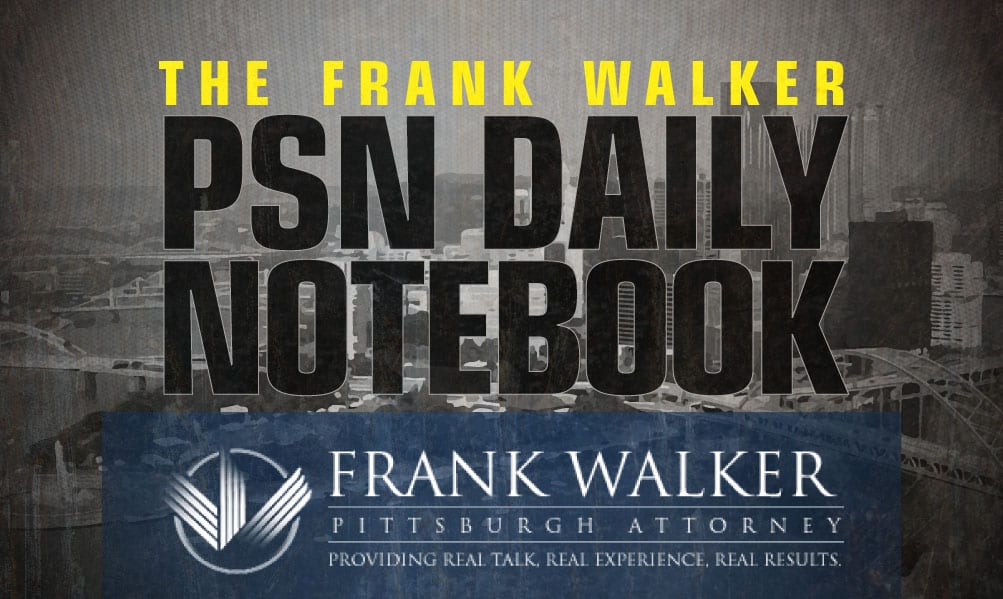 The PSN Daily Notebook is sponsored by Frank Walker, one of Pittsburgh and West Virginia's most respected criminal defense and injury lawyers. Mr. Walker has offices in Pittsburgh and Morgantown and has been named one of Top 100 National Trial Lawyers and is rated a perfect 10.0 Superb by Avvo for ethics, experience and results. To reach Mr. Walker, you can call 412-532-6805 or go to his website frankwalkerlaw.com. For real talk, real experience and real results, contact Frank Walker Law.
Don't forget to check out our two newest podcasts: The Loyal Sons and The Pitt Stop with Mike and Mike
On the latest episode of The Loyal Sons, Pitt linebacker John Morgan III drops by.
The debut of The Pitt Stop sees Mike and Mike talking about the Panthers being home underdogs to the lower ranked Vols.
Update (4:08 PM)-
The following programs are expected to be in today at South Kent for open gym:

Memphis
Maryland
Pitt
Rutgers
Siena
Fordham
Northeastern
Wagner

Coach Chills has a loaded roster with prospects at every level. pic.twitter.com/BPcTLUPXSu

— Endless Motor Sports (@endless_motor) September 9, 2022
Update (2:06 PM)-
Pitt, Seton Hall and Providence are a few of the programs expected to be in over the coming days for 2023 Ladji Dembele of St Benedict's.

Shotmaking big fresh off an official visit with Pitt. pic.twitter.com/FXGdL2wItM

— Endless Motor Sports (@endless_motor) September 9, 2022
Update (12:36 PM)-
Class of 24 @NYRhoops G @iamdwaynepierce will have these schools coming to see him in the coming weeks:

Memphis
Penn State
Iowa State
Florida state
Syracuse
Georgia Tech
Pitt
Illinois https://t.co/qLVoOQ3jnt

— Adam Zagoria (@AdamZagoria) September 9, 2022
Update (12:01 PM)-
Head coaches from Baylor, Northwestern, SIUE, Southern Illinois, Texas Tech and Xavier along with assts from Boise State, Drake, Mizzou, St. John's, Missouri State, Duquesne and Oregon State on hand. https://t.co/MJO92omfLD

— Eric Bossi (@ebosshoops) September 9, 2022
Update (11:19 AM)
Kentucky will be in this week for 2024 top-three prospect Ian Jackson, he tells KSR.

Duke, North Carolina, Arkansas, Auburn, UCLA, LSU, Kansas, Oregon, Texas, Pittsburgh, St. John's and Syracuse all expected to stop in, as well.

Busy week for arguably the nation's top junior.

— Jack Pilgrim (@JackPilgrimKSR) September 9, 2022
Update (9:25 AM)-
Follow along….when a friend from your days in Atlanta tells you about his fellow #Vol – who is a Pgh native but played for @TennesseeVolsFB – heading "home" for the game against @Pitt_FB & the Johnny Majors Classic – you get this story! #H2P https://t.co/PuFbQpI66X

— Kellie Burkett (@KellieBwpxi) September 9, 2022
Update (9:16 AM)-
Hearing #FloridaState head coach Mike Norvell will see top target in Fort Lauderdale Stranahan Top247 WR Hykeem Williams play tonight. https://t.co/KAJ9HiqarU

— Steve Wiltfong (@SWiltfong247) September 9, 2022
Update (8:51 AM)-
Major Moments ✨ A Pitt Man

A Tennessee graduate and legend.

But also a proud Panther who will forever hold a very special place in Pitt history.

With pride and enthusiasm, we honor and remember Coach Johnny Majors.#H2P » #WeNotMe pic.twitter.com/QlpD86LnTB

— Pitt Football (@Pitt_FB) September 9, 2022
Update (8:04 AM)-
#1 Pitt fan Matthew Anning is back again this week as @HowardHanna Junior Captain of the Game! 💙💛

The Panthers hosted Matthew and his family today at practice…#H2P » #WeNotMe pic.twitter.com/tKA3BgodXz

— Pitt Football (@Pitt_FB) September 8, 2022
Around The Network
Pittsburgh Hockey Now: Why the Dark Cloud? Is a Penguins Rebuild Inevitable?
Steelers Now: Can the Steelers Run Defense Slow Down Joe Mixon, Bengals? (+)
Pittsburgh Baseball Now: Move To Leadoff Spot Paying Off For Oneil Cruz
WVU Sports Now: 2023 3-Star DE Oryend Fisher Commits to West Virginia
Nittany Sports Now: Long List of Recruits Visiting Penn State for Home Opener Against Ohio University