The Frank Walker Law/PSN Daily Notebook- September 11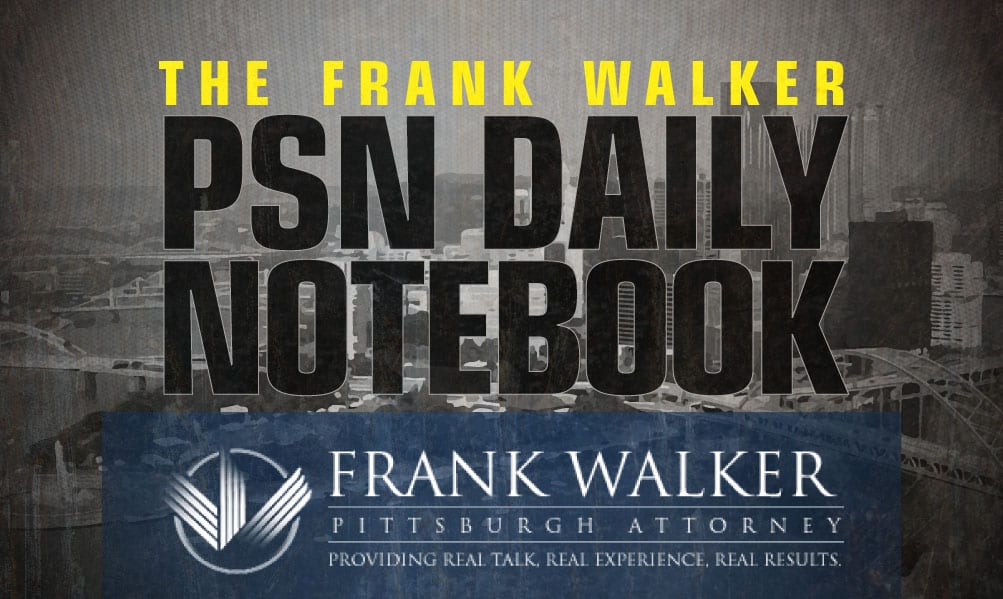 The PSN Daily Notebook is sponsored by Frank Walker, one of Pittsburgh and West Virginia's most respected criminal defense and injury lawyers. Mr. Walker has offices in Pittsburgh and Morgantown and has been named one of Top 100 National Trial Lawyers and is rated a perfect 10.0 Superb by Avvo for ethics, experience and results. To reach Mr. Walker, you can call 412-532-6805 or go to his website frankwalkerlaw.com. For real talk, real experience and real results, contact Frank Walker Law.
Update (8:26 PM)-
Two sacks today for former @Pitt_FB great @RashadWeaver https://t.co/CeH3SNKNMk

— mike vukovcan (@mvukovcan) September 12, 2022
Update (3:12 PM)-
Pitt commits Marlon Barnes and Carlton Carrington with Pitt target Jaland Lowe👀 pic.twitter.com/9UP0PUJevL

— George Michalowski (@MichalowskiCBB) September 11, 2022
Update (11:46 AM)-
There is no place like home!! #H2P💛💙 pic.twitter.com/9ZrVlAJWi4

— Tina "Ghost Ma" Neal (@TiTithatsme) September 10, 2022
Update (8:55 AM)-
Since attendance was such a big topic last week wanted to point out todays attendance numbers: @Pitt_FB /Tennessee crowd 59,785. @WVUfootball /Kansas (Home opener)- 52,188. pic.twitter.com/ciadY5PaVO

— Pittsburgh Sports Now (@PghSportsNow) September 11, 2022
Update (8:26 AM)-
2024 @Westtownhoops and @PrideUAA17u forward Matt Gilhool just received an offer from Pittsburgh during an unofficial visit to campus, his coach tells me pic.twitter.com/wjfAqLRDsn

— Ari Rosenfeld (@ARosenfeldHoops) September 10, 2022
Update (8:11 AM)- 
For those curious, Gavin Bartholomew's hurdle featured at No. 6 in tonight's SportsCenter Top 10 plays

(Photo courtesy of the incredible @DHPhoto11) pic.twitter.com/car1nkjmOV

— Karl Ludwig (@LudwigKarl8) September 11, 2022
Check out all of our college football coverage on our other Sports Now sites as it was a good day for Penn State and a forgettable night in Morgantown.
WVU will Owe Neal Brown $16.7 Million if Fired After the Season
West Virginia Falls Upset Victim to Kansas on Miserable Night in Morgantown
Watch: Freshman QB Sensation Drew Allar Throws First Penn State TD Pass