The Frank Walker Law/PSN Daily Notebook- September 16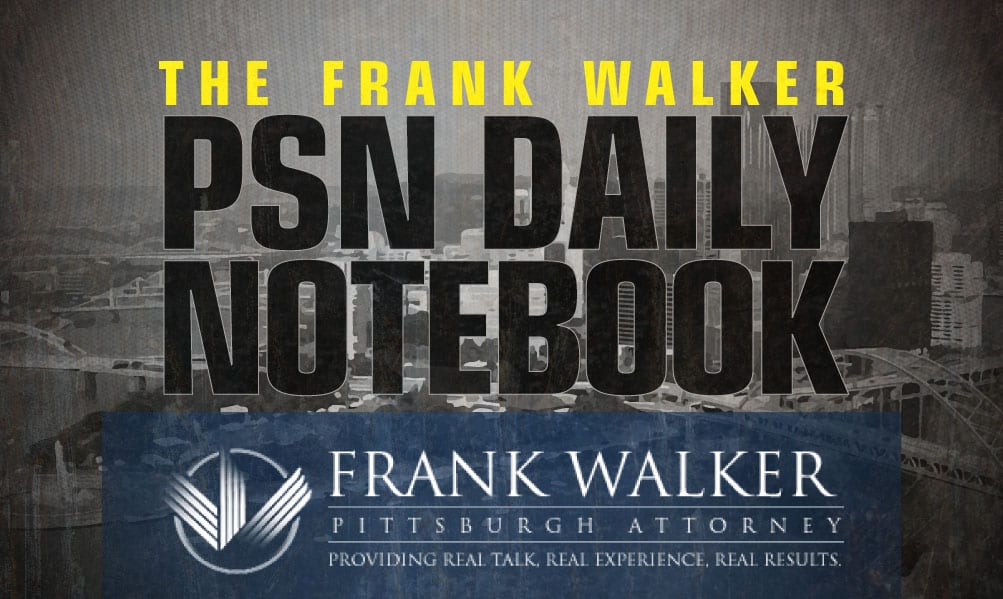 The PSN Daily Notebook is sponsored by Frank Walker, one of Pittsburgh and West Virginia's most respected criminal defense and injury lawyers. Mr. Walker has offices in Pittsburgh and Morgantown and has been named one of Top 100 National Trial Lawyers and is rated a perfect 10.0 Superb by Avvo for ethics, experience and results. To reach Mr. Walker, you can call 412-532-6805 or go to his website frankwalkerlaw.com. For real talk, real experience and real results, contact Frank Walker Law.
Update (2:03 PM)-
**Pitt has extended an offer to 2025 safety Faheem Delane from Our Lady Good Counsel High School in Olney, Maryland. Delane (6'2″, 185), who will no doubt be a future 4 or 5-star recruit), holds early offers from Alabama, Boston College, Cincinnati, LSU, Maryland, Penn State, Ohio State, Texas A&M, USC, Virginia Tech and West Virginia. Delane received the offer from Andre Powell.
Blessed to be ranked the # 1 player in MD, and 4th safety in the country! @Rivals pic.twitter.com/zmga3ckg8z

— Faheem Delane (@faheemdelane) September 14, 2022
Update (1:21 PM)-
🟡 Road ⚪️ Warriors 🔵

Pitt can extend its road winning streak to seven games on Saturday.

It's been 40 years since the Panthers last won seven straight away games.#H2P » #WeNotMe pic.twitter.com/9JxgBusxxf

— Pitt Football (@Pitt_FB) September 16, 2022
Update (10:00 AM)-
5 things to watch in Week 3 of high school football https://t.co/HJ9llrdx24 #HSSN

— TribLive HSSN (@TribLiveHSSN) September 16, 2022
Update (8:21 AM)-
Safe travels for everyone headed to Kalamazoo today and tomorrow! #PittFamily4Life#BeatWesternMichigan pic.twitter.com/GYIKWXJIrx

— 👉🏾👉🏽👉🏼JOE👈🏼👈🏽👈🏾 (@PittFamily4Life) September 16, 2022
Update (8:16 AM)-
Pitt fans heading to WMU this weekend… Plan is to gather in Lot 88 (pictured below).

Lot opens at 3:30. Price is $10 to park.

Spread the word and #H2P!

cc: @TheWillardYears @TheLoyalSons @PantherLair @bdmiller95 @OffTheTriBoro @ThePantherPitt @Pitt_FB pic.twitter.com/awIg3fPPkz

— Chris Gates Fitness (@Chris_Gates) September 16, 2022