The Frank Walker Law/PSN Daily Notebook- September 21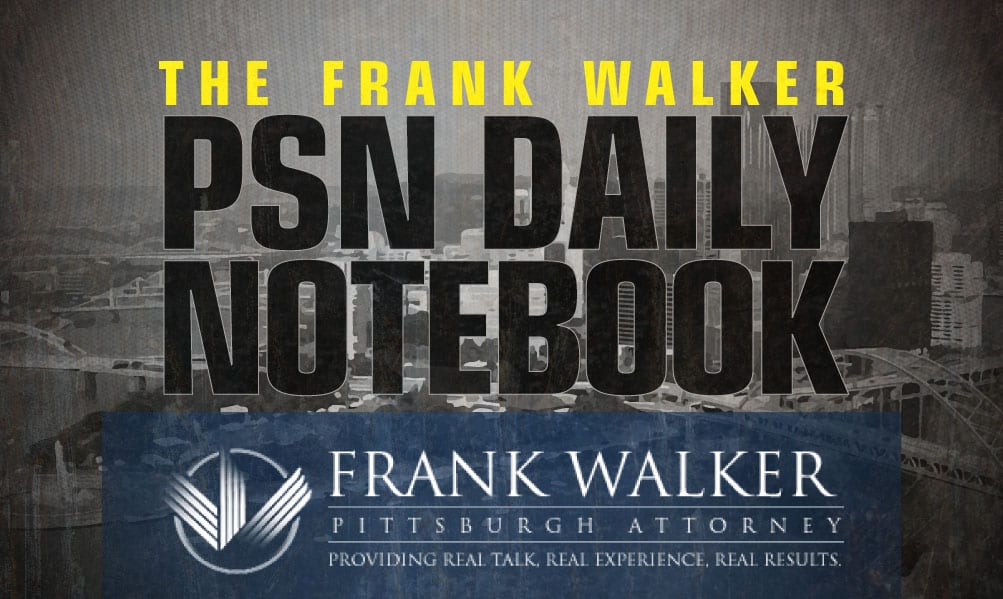 The PSN Daily Notebook is sponsored by Frank Walker, one of Pittsburgh and West Virginia's most respected criminal defense and injury lawyers. Mr. Walker has offices in Pittsburgh and Morgantown and has been named one of Top 100 National Trial Lawyers and is rated a perfect 10.0 Superb by Avvo for ethics, experience and results. To reach Mr. Walker, you can call 412-532-6805 or go to his website frankwalkerlaw.com. For real talk, real experience and real results, contact Frank Walker Law.
Update (7:31 PM)-
**Robert Morris football extends an offer to Aliquippa 2023 DL Neco Eberhardt. The 6'2″, 287-pound defensive tackle also holds offers from Rhode Island, Albany, Georgia State and Monmouth.
I am Beyond Blessed to receive another Division 1 Offer from the University of Robert Morris @coachtyler34 @CoachPlungasRMU @RMUAthletics @210ths @Rossi__21 @wpialsportsnews @WPIAL_Insider pic.twitter.com/7KKSGQCMBF

— Neco52kk (@NecoEberhardt) September 21, 2022
Update (7:24 PM)-
**Today, Aliquippa 2023 defensive back Donovan Waker picks up an offer from Robert Morris football. Yesterday, Walker received an offer from Howard University.
blessed to receive an offer from Robert Morris University 🔴🔵 @coachtyler34 @80sCane57 pic.twitter.com/mh8Gl554lU

— Donovan Walker (@DonovanWalkerr) September 21, 2022
Update (7:19 PM)-
.@Pitt_FB is undefeated when Nate Yarnell starts and plays the piano pregame 😂 🎹 pic.twitter.com/4WFYO366fo

— ACC Network (@accnetwork) September 21, 2022
Update (5:59 PM)-
"My guess is the bye week feels right."@ColinCowherd looks at the Steelers schedule and when we might see Kenny Pickett pic.twitter.com/3ngt10Fyi1

— Herd w/Colin Cowherd (@TheHerd) September 21, 2022
Update (5:49 PM)-
So grateful to spend time with some future Panthers from @ChildrensPgh!!

Thanks for coming out to our practice today! Looking forward to seeing you again at the match on Sunday!#H2P pic.twitter.com/LEiYNvBpQY

— Pitt Volleyball (@Pitt_VB) September 21, 2022

Update (5:46 PM)-
.@CoachDuzzPittFB on Kedon Slovis' NFL potential and how his skill set stacks up against Kenny Pickett. pic.twitter.com/sWKLCmyd1x

— Jim Rome (@jimrome) September 21, 2022

Update (3:10 PM)-
Robert Morris was in today for 2024 Virgil Hall and 2025s RJ Sledge + Dame Givner of Imani Christian HS. pic.twitter.com/9WUS4jYiqT

— Endless Motor Sports (@endless_motor) September 20, 2022
Update (11:43 AM)-
🆕 #HSSN State Football Rankings‼️ #PIAA #WPIAL https://t.co/loeLHMFLC5

— TribLive HSSN (@TribLiveHSSN) September 21, 2022
Update (11:18 AM)-
**2024 3-star safety Zahir Rainer has picked up an offer from Archie Collins/Andre Powell and Pitt. Rainer (5'10", 185) attends Trinity Episcopal School in Richmond, Virginia. Along with Pitt, Rainer also holds offers from Arkansas, Colorado, Duke, Indiana, Maryland, Minnesota, Ole Miss, Penn State, South Carolina, Syracuse, Virginia Tech and Wake Forest.
1-0 baby, let's work. #NewMoney @CBS6SportsSean @ZachJoachim @804Varsity @tesfootball pic.twitter.com/tqxfmD3Glq

— Zahir "Z" Rainer ➐ (@ZahirRainer) August 27, 2022
Update (10:41 AM)-
Three years ago, today, Pitt pulled off the "Pitt Special" to take down UCF at home.
pic.twitter.com/MqEkAAswuZ

— Dalton Coppola (@dalton_coppola) September 21, 2022
Update (10:33 AM)-
🗓 Our 2022 fall schedule has been announced!

✍️ RELEASE: https://t.co/KDCefjQRi5#H2P pic.twitter.com/XPi6NQyoUy

— Pitt Baseball (@Pitt_BASE) September 21, 2022
Update (9:23 AM)-
**A couple players making Gameday visits this Saturday to Pitt are- 2024 3-star quarterback Alex Erby from Steelton-Highspire High School in Harrisburg and 2025 athlete Antwan Black Jr. from Laurel Highlands High School.
Check out my highlight – https://t.co/9GTlXhtq16

— Antwan Black Jr. (@AntwanBlack6) September 17, 2022
Around The Network
Pittsburgh Hockey Now: Maniscalco Determined, Developing After Slow Start to Career
Steelers Now: James Harrison among 6 Steelers Nominated for Pro Football Hall of Fame Class of 2023
Pittsburgh Baseball Now: Perrotto: Pirates Might Want to Think Twice Before Trading David Bednar (+)
WVU Sports Now: WVU Extends Offer to 2026 QB Recruit Jason Preston
Nittany Sports Now: Head Coach James Franklin Doesn't Want More Penn State and SEC Matchups