The Frank Walker Law/PSN Daily Notebook- September 25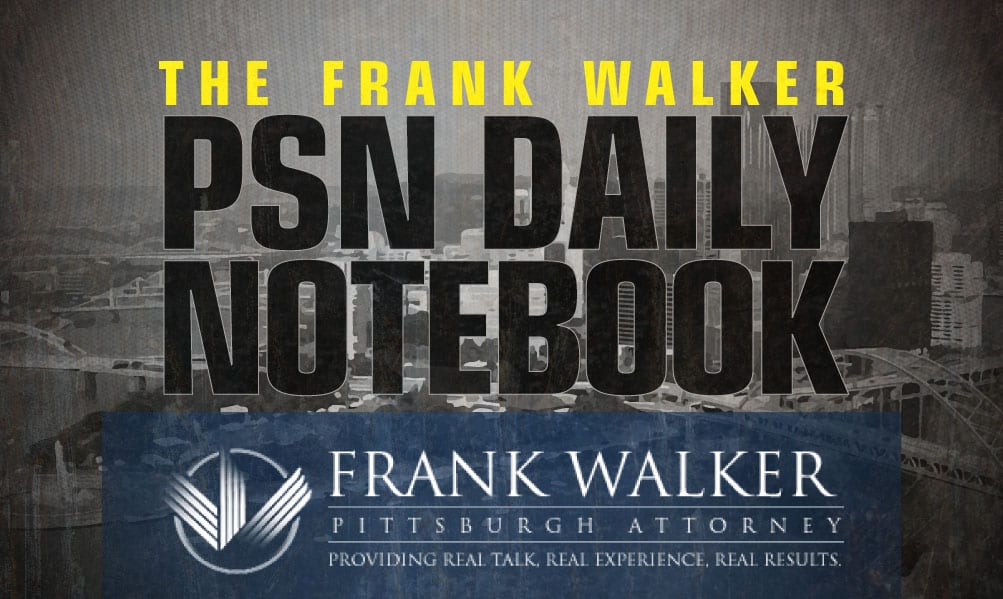 The PSN Daily Notebook is sponsored by Frank Walker, one of Pittsburgh and West Virginia's most respected criminal defense and injury lawyers. Mr. Walker has offices in Pittsburgh and Morgantown and has been named one of Top 100 National Trial Lawyers and is rated a perfect 10.0 Superb by Avvo for ethics, experience and results. To reach Mr. Walker, you can call 412-532-6805 or go to his website frankwalkerlaw.com. For real talk, real experience and real results, contact Frank Walker Law.
Update (1:48 PM)-
Pitt-on-Pitt (and WPIAL-on-WPIAL) crime as Tyler Boyd trucks Jordan Whitehead on the way to the end zone. https://t.co/3N8nSagRMV

— Alan Saunders (@ASaunders_PGH) September 25, 2022
Update (12:39 PM)-
**This morning, Pitt extends an offer to 2025 cornerback Terrance Edwards from Trinity Episcopal School in Richmond, Virgina. Edwards holds early offers from Akron, Boston College, Colorado, Indiana, Marshall, Maryland, Missouri, Oklahoma, Ole Miss, Syracuse, Virginia Tech and West Virginia. Edwards received the offer from Archie Collins and Andre Powell.
Deuce Edwards #21
2022 First 3 Games
No Catches No TDs !@BappNAinEZBino @RivalsFriedman @BrianDohn247 @ParkerThune @adamgorney https://t.co/XRCoWSFrxe

— Terrance "Deuce" Edwards (@edwards_deuce) September 19, 2022
Update (12:23 PM)-
🆕 #HSSN #WPIAL football rankings‼️https://t.co/J1cqUhpwrj

— TribLive HSSN (@TribLiveHSSN) September 25, 2022
Update (12:05 PM)-
Georgia Tech's Athletic Association Board calls a special meeting Monday to address job status of coach Geoff Collins & AD Todd Stansbury, source told @ActionNetworkHQ. 1st reported by @ksugiuraajc. Tech (1-3) has lost 8 consecutive games vs. Power 5 opponents

— Brett McMurphy (@Brett_McMurphy) September 25, 2022
Update (12:01 PM)- 
Northwestern has paid visiting teams a combined $1.5 million in the past two weeks.

They've lost both times.

Last week: Southern Illinois, $550,000
This week: Miami (Ohio), $950,000 pic.twitter.com/heJcwdlLMz

— Front Office Sports (@FOS) September 25, 2022
Miami paid Middle Tennessee $1.5 million to play them at home today.

The Blue Raiders just beat the Canes 45-31 — their first ever win over a Top-25 team.

(📸: @MT_FB) pic.twitter.com/y0xAErKcuE

— Front Office Sports (@FOS) September 25, 2022
Update (10:17 AM)-
Shout Out to JMU beating Appy State! Congratulations to my brother Curt & Pitt Men Mike Shanahan & Tino Sunseri ! @JMUCurtCignetti @CoachShanahan_ @CoachTSunseri pic.twitter.com/kGCsdB6vWj

— Frank Cignetti Jr. (@FrankCignetti) September 25, 2022
Update (9:21 AM)- 
**Talented 2025 athlete Antwan Black Jr. from Laurel Highlands High School was at Acrisure Stadium for an unofficial visit.
Check out my highlight – https://t.co/9GTlXhtq16

— Antwan Black Jr. (@AntwanBlack6) September 17, 2022
Update (9:10 AM)-
**2024 offensive lineman Parker Nichols from Troy, Ohio made a Gameday visit on Saturday to Pitt. Nichols (6'3″, 265 lbs.) Nichols attended a Pitt prospects camp back in June.
2022 Mid Season Highlights- Parker Nichols, C/O 2024 OL https://t.co/k4XTOzmWkA

— Parker Nichols (@_parkernichols) September 20, 2022
Update (9:00 AM)-
**Jake Phillips (6'2″, 200 lbs.) is a 2023 athlete from Hempfield High School.
Here are my highlights from my first 3 games (week 0-2). All stats are included, scrimmage highlights at the end! (Up 25lbs from last season) https://t.co/AehIskiTu9@HempfieldAreaFB @CoachMBrownHAFB @Adam_DiMichele @BillBeckner @TribSports @TribLIVE @TribLiveHSSN @WPIAL_Blitz

— Jake Phillips (@jakephillips113) September 15, 2022
Had a great time @Pitt_FB today, thank you @Kzovko for the invite! @Coach_JDiBiaso @FrankCignetti @CoachMBrownHAFB @HempfieldAreaFB @CoachKlineAlex pic.twitter.com/mSdHvg5YAQ

— Jake Phillips (@jakephillips113) September 24, 2022
Update (8:56 AM)-
**Perry 2024 athlete Julian Walker made an unofficial visit on Saturday to Pitt. Walker is an explosive running back for the Perry Commodores.
Blessed to be able to attend @Pitt_FB home. Opportunities like this don't come all the time. Huge thanks to all the Pitt staff and coaches @CoachDuzzPittFB @CoachAPowell @AdamCalt. @coachtaylor412 @210ths @2_10thsRob #H2P pic.twitter.com/UMD7ijCKqj

— Julian Walker(5'9, 190) (@JuJuX2k) September 24, 2022
Check my mid season highlights, Includes Elusiveness, Power Running, and Pass & Run Blocking. https://t.co/hGsFdvILuR @coachtyler34 @CoachAPowell @CoachAcciani @ACCoachNagy @Coach2Bless @DanSwanstrom @Alex__Townsend4 @210ths @coachlondonIII @coachtaylor412

— Julian Walker(5'9, 190) (@JuJuX2k) September 25, 2022
Update (8:41 AM)-
**2024 3-star offensive tackle Adham Abouraya from Downingtown East High School in Exton, Pennsylvania made an unofficial visit for the Rhode Island game. Abouraya (6'5″, 285) holds an offer from Pitt along with Maryland, Rutgers, Syracuse, Temple, West Virginia and Bowling Green. Abouraya received his Pitt offer back in May from Cory Sanders.
Great first half of the season let's keep it going! Games (1-5) https://t.co/e9E621XuyB

— Adhamabouraya (@adhamabouraya) September 25, 2022
Update (8:32 AM)-
**Pitt football has extended an offer to 2024 4-star cornerback Ify Obidegwu from St. Frances Academy in Baltimore, Maryland. Obidegwu, who's ranked as one of the Top 100 overall players in the Class of 2024, received the offer from Andre Powell. Along with Pitt, Obidegwu (6'0″, 180) holds other from Boston College, Colorado, Kansas, Maryland, Ole Miss, Penn State, South Carolina, Virginia Tech and West Virginia.
Around The Network
Pittsburgh Hockey Now: Penguins Camp Surprise: 'Tenacious' Drake Caggiula, the Dark Horse Becomes a Favorite
Steelers Now: Homistek: Najee Harris Just Spilled the Beans on Steelers Offense
Pittsburgh Baseball Now: Johan Oviedo Pitches Seven Sparkling Innings to End Pirates' Skid