The Frank Walker Law/PSN Daily Notebook- October 13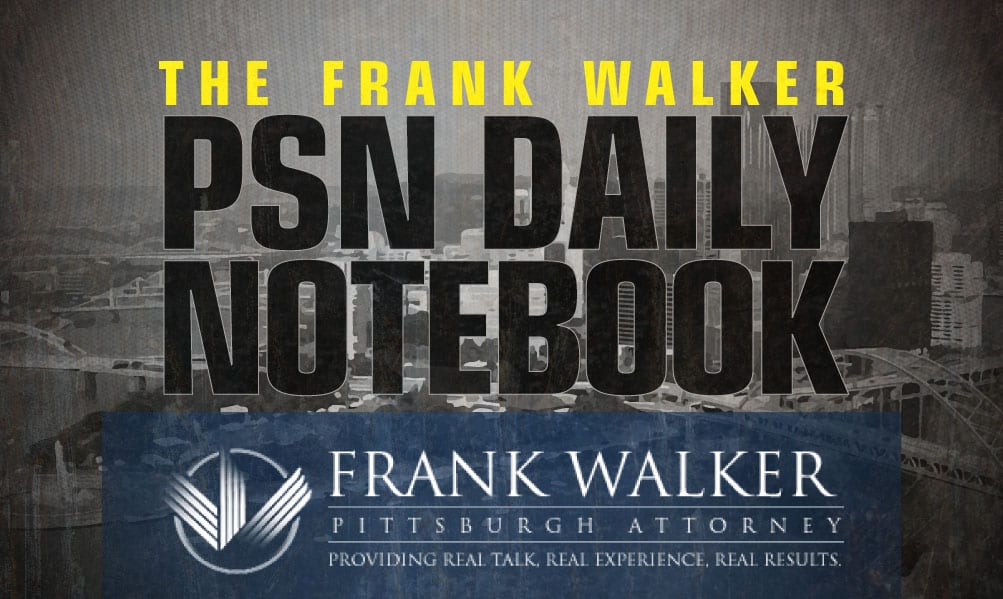 The PSN Daily Notebook is sponsored by Frank Walker, one of Pittsburgh and West Virginia's most respected criminal defense and injury lawyers. Mr. Walker has offices in Pittsburgh and Morgantown and has been named one of Top 100 National Trial Lawyers and is rated a perfect 10.0 Superb by Avvo for ethics, experience and results. To reach Mr. Walker, you can call 412-532-6805 or go to his website frankwalkerlaw.com. For real talk, real experience and real results, contact Frank Walker Law.
Update (8:02 PM)-
Thankful for the visit from @CoachAPowell and @Pitt_FB today. We are honored that you stopped by to recruit our guys.#OURWAY#BUILTBYBETHEL#H2P pic.twitter.com/6axTo5UbXB

— Bethel Park High School Football (@BPHawksfootball) October 13, 2022
Update (7:48 PM)-
After being informed by @BVAFootball I am extremely blessed to receive an offer from The University Of South Carolina #Spursup 🐔🤙🏾@Pete_Lembo @Rivals @210ths @247Sports pic.twitter.com/tctOlDDJl6

— Quinton Martin (@Team_Quinton) October 13, 2022
Update (3:16 PM)-
Former Ole Miss wing Blake Hinson is shining here at Pitt practice. Was a lethal small ball PF for the Rebels. Will fill the same role for Pitt. Really good player.

— Jon Rothstein (@JonRothstein) October 13, 2022
Update (3:03 PM)-
Preview: No. 8 Pitt hosts Miami and Florida State on Alumni Weekend.

— Pitt Volleyball (@Pitt_VB) October 13, 2022
Update (3:00 PM)-
Sources: Cardinals' James Conner expected to miss Seattle game with rib injury, how Arizona is proceeding at running back position: @PFN365 https://t.co/Mptxnt90Bo

— Aaron Wilson (@AaronWilson_NFL) October 13, 2022
Update (11:15AM)-
Kenny taking over.
'It's My Job': Kenny Pickett Takes Leadership of Sputtering Steelers Offense
Update (11:14 AM)-
New Loyal Sons show with special guest Matt Galambos!
Update (10:14 AM)-
Let's get things started with the 2022-23 #A10MBB Preseason Poll, shall we?

Drop your thoughts ⤵️… pic.twitter.com/5khWnmv8RX

— Atlantic 10 MBB (@A10MBB) October 13, 2022
Update (10:02 AM)-
The #A10MBB 𝙋𝙍𝙀𝙎𝙀𝘼𝙎𝙊𝙉 𝙁𝙄𝙍𝙎𝙏 𝙏𝙀𝘼𝙈

🏀 Foster Loyer, @DavidsonMBB
🏀 DaRon Holmes II, @DaytonMBB
🏀 Josh Oduro, @MasonMBB
🏀 Tyler Burton, @SpiderMBB
🏀 Yuri Collins, @SaintLouisMBB
🏀 Ace Baldwin Jr., @VCU_Hoops

📰: https://t.co/MWN7EShORH pic.twitter.com/fSLLdCkkP1

— Atlantic 10 MBB (@A10MBB) October 13, 2022
The #A10MBB 𝙋𝙍𝙀𝙎𝙀𝘼𝙎𝙊𝙉 𝙎𝙀𝘾𝙊𝙉𝘿 𝙏𝙀𝘼𝙈

🏀 Toumani Camara, @DaytonMBB
🏀 Malachi Smith, @DaytonMBB
🏀 James Bishop IV, @GW_MBB
🏀 Noah Fernandes, @UMassMBB
🏀 Gibson Jimerson, @SaintLouisMBB
🏀 Javonte Perkins, @SaintLouisMBB

📰: https://t.co/MWN7ES0dt7 pic.twitter.com/yDr3YiQiGM

— Atlantic 10 MBB (@A10MBB) October 13, 2022
Update (9:52 AM)-
We're underway in Brooklyn.#GoDukes | #A10MediaDay pic.twitter.com/wRX2hWIPSG

— Duquesne Basketball (@DuqMBB) October 13, 2022
Update (9:22 AM)-
Another exciting week for our Panthers at the next level‼️💪🏽🤯#H2P #PanthersInThePros pic.twitter.com/zQr0n9VSbI

— Pat Narduzzi (@CoachDuzzPittFB) October 13, 2022