The Frank Walker Law/PSN Daily Notebook- October 14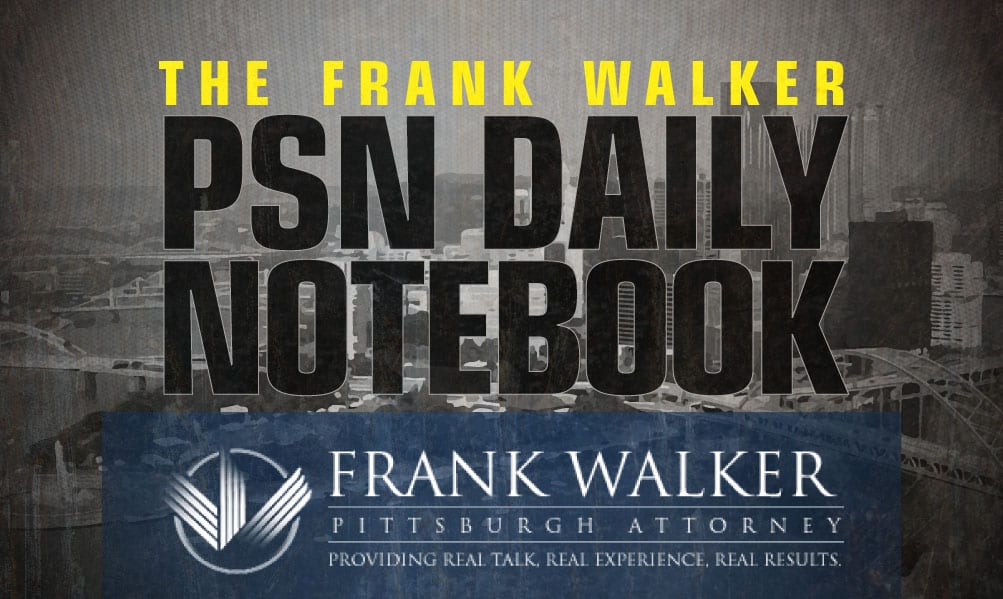 The PSN Daily Notebook is sponsored by Frank Walker, one of Pittsburgh and West Virginia's most respected criminal defense and injury lawyers. Mr. Walker has offices in Pittsburgh and Morgantown and has been named one of Top 100 National Trial Lawyers and is rated a perfect 10.0 Superb by Avvo for ethics, experience and results. To reach Mr. Walker, you can call 412-532-6805 or go to his website frankwalkerlaw.com. For real talk, real experience and real results, contact Frank Walker Law.
Update (2:41 PM)-
Thanks to University of Pittsburgh (Pitt) Head Coach Narduzzi and Coach Sanders for stopping pass Serra Catholic Today. pic.twitter.com/U6UUbCRIaH

— Coach Jose Regus (@CoachRegus) October 14, 2022
Update (1:48 PM)-
**Today, Archie Collins extends an offer to 2024 3-star cornerback Jalen Todd from Southfield High School in Southfield, Michigan. Todd (6'1″, 170-pounds) has also been offered by Michigan, Louisville, Boston College, Temple, Marshall, Central Michigan, Bowling Green and UMass. Todd was in attendance for Pitt's game against Western Michigan.
Mid Season highlights! @RisingStars6 @S_Warriors_FB https://t.co/sKfa4r6pD1

— Jalen Todd 3⭐️ CB (@JalenTodd1) September 22, 2022
Update (1:32 PM)–
**Pitt football has extended an offer to 2024 defensive lineman Angelo McCullom from Olentangy Orange High School in Lewis Center, Ohio. This is the first Power Five offer from McCullom, who received the offer from Charlie Partridge. McCullom holds other offers from Central Michigan, Toledo, Ohio U. and Miami (OH). McCullom was at Acrisure Stadium for Pitt's season opener vs. West Virginia.
Glad to be back☺️@pnfootball @JaredLuginbill @isaiahrichmond_ @TheCOHSS pic.twitter.com/XhEux76p9C

— Angelo McCullom (@AngeloMcCullom) October 8, 2022
Update (1:13 PM)- 
**A good sight for Duquesne guard Tevin Brewer is in the gym and starting the process of recovering from complications from a recent appendectomy. No word yet on a realistic timeline for his return but this is a good sign.
— Keith Dambrot (@CoachDambrot) October 14, 2022
Update (12:14 PM)-
Pitt's ACC Player of the Year candidate @IAbanikanda stopped by "In Play" to talk about his historic performance and goals for the rest of the season.@aadelsonESPN @ADavidHaleJoint #H2P 📺 @ACCNetwork pic.twitter.com/Jw3so5sBqK

— Pitt Football (@Pitt_FB) October 14, 2022
Update (11:52 AM)-
Mid-Season Tape https://t.co/dZFqZUmRCR @CoachJustinAR @CoachMessay pic.twitter.com/AQvACUeL22

— Ghost (@IsaiahNeal99) October 14, 2022
Update (11:15 AM)-
**This morning, Andre Powell extended an offer to 2024 4-star linebacker Gabriel Williams from St. Vincent Pallotti High School in Laurel, Maryland. Williams (6'4″, 195-pounds) is rated by Rivals as one of the Top 20 junior linebackers in the country. Along with Pitt, Williams holds offers from Boston College, Georgia Tech, Maryland, Ole Miss, Notre Dame, Penn State, Virginia Tech and West Virginia.
Check out my first 3 games !! https://t.co/VpEn5ftEuC pic.twitter.com/ptw1g1FN4j

— Gabriel_williams (@8kgabe1) September 21, 2022
Update (11:01 AM)-
**Today, Pitt football extends an offer to 2024 3-star athlete Jaheim Merriweather from Gallatin, Tennessee. Merriweather (6'2″, 185-pounds) holds other offers from Ball State, Central Michigan, UConn, Kentucky, Louisville, Memphis, Miami (OH), Michigan, Michigan State, Ole Miss, Mississippi State, Toledo, Virginia Tech and Vanderbilt.
— jaheimmcm (@jaheimmcm2) October 6, 2022
Update (10:58 AM)-
Kurt Angle to Lead Steelers Towel Twirl for Cancer Awareness Day
Make sure you subscribe to The Loyal Sons podcast and watch the video on YouTube!
The Loyal Sons | Ep. 35 – Izzy to the Hizzy (6x), Midseason Awards, Special Guest Matt Galambos
Update (9:54 AM)-
Highest graded defensive players in the country through six weeks⭐️ pic.twitter.com/0SKPU0zWWK

— PFF College (@PFF_College) October 13, 2022
Update (9:31 AM)-
*Thursday was a huge day for freshman linebacker Elijah Golden. The native of King George, Virginia received his first 3 college offers, as they came from Pitt, Virginia Tech and Maryland. Powell received the offer from Andre Powell.
Best plays ( Freshman season ) pic.twitter.com/GI3cAVKQ00

— Elijah Golden #8 🏈 x 🏀 (@backfield_e) October 4, 2022

Update (9:22 AM)-
Early prediction on Pitt's 2022-23 starting five:

Nelly Cummings, Jamarius Burton, Greg Elliott, Blake Hinson, John Hugley

— Jon Rothstein (@JonRothstein) October 13, 2022
Update (9:15 AM)- 
Trib HSSN football players to watch for 2022 Week 7 https://t.co/sDASj5csgS #HSSN

— TribLive HSSN (@TribLiveHSSN) October 13, 2022