The Frank Walker Law/PSN Daily Notebook- October 19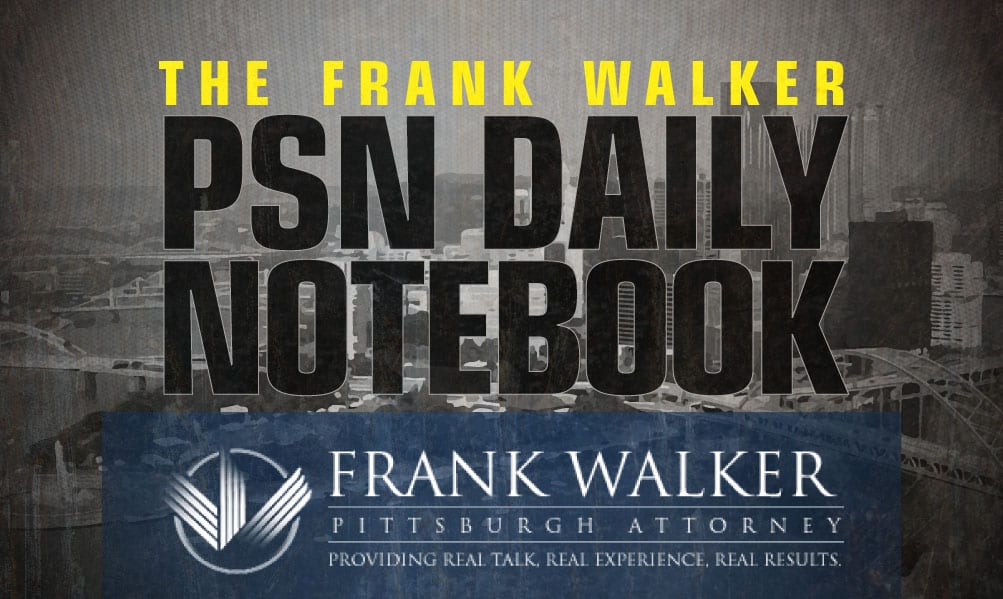 The PSN Daily Notebook is sponsored by Frank Walker, one of Pittsburgh and West Virginia's most respected criminal defense and injury lawyers. Mr. Walker has offices in Pittsburgh and Morgantown and has been named one of Top 100 National Trial Lawyers and is rated a perfect 10.0 Superb by Avvo for ethics, experience and results. To reach Mr. Walker, you can call 412-532-6805 or go to his website frankwalkerlaw.com. For real talk, real experience and real results, contact Frank Walker Law.
Update (12:19 PM)-
Horizon League Preseason Poll:

T1. Purdue Fort Wayne (17) –394
T1. Northern Kentucky (15) –394
3. Wright St (3) –329
4. Oakland (2) –321
5. Youngstown St (1) –291
6. Detroit Mercy (2) –268
7. Cleveland St – 188
8. RMU – 163
9. Milwaukee – 132
10. Green Bay – 111
11. IUPUI – 49

— Jeff Goodman (@GoodmanHoops) October 19, 2022
Update (12:10 PM)-
NEW branding and graphics completed in @UPMCEventsCtr for the athletics administration @RMUMBasketball @RMUWBasketball @RMUVolleyball @RMU_Strength hallways and corridors!!! More branding and graphics to be completed for our other athletics facilities this year – stay tuned! pic.twitter.com/ZWd9joTa4Y

— Chris King (@ChrisKingAD) October 19, 2022
Update (12:01 PM)-
NEWS: Spear Earns Preseason Horizon League Accolades

🗳️: https://t.co/3HcNNChhAc
📅: https://t.co/Pb7TrvS0mk
🎟️: https://t.co/BVEefUmm0c
📱: https://t.co/oThk7VDdbV#RMUnite | 🔵🏀🔴 | #BobbyMo pic.twitter.com/WYEuJ5534V

— RMU Basketball (@RMUMBasketball) October 19, 2022
Update (11:44 AM)-
Happy birthday to the best Athletic Director the University of Pitt can ask for🎉🎉🎉 @Pitt_LykeAD #H2P https://t.co/kSn8LVor1L

— Calijah Kancey (@Ckancey8) October 19, 2022
Update (10:37 AM)-
Duke AC Jai Lucas and Indiana AC Brian Walsh will be at Lincoln Park (PA) today to see 2025 5 ⭐️ Meleek Thomas (@ThomasMeleek)@DukeMBB @TheDukeNation @IndianaMBB @NH_Lightning

— Alex Karamanos (@TheCircuitAlex) October 19, 2022
Update (10:34 AM)-
Good luck to our #ProPanthers this season ‼️ pic.twitter.com/0EVxV0COMm

— Pitt Basketball (@Pitt_MBB) October 19, 2022
Update (9:30 AM)-
Three of the top WPIAL basketball prospects will be heading to State College for Penn State's white out game vs. Minnesota.
Three Top WPIAL Basketball Prospects Will Visit Penn State This Weekend
Update (9:30 AM)-
The WPIAL and PIAA soccer playoffs have begun…
Road to Highmark: WPIAL and PIAA Soccer Playoffs Schedule (2022)
Update (9:02 AM)-
Midseason All-Americans 🇺🇸

Erick Hallett II » @Erick_Hallett4
Calijah Kancey » @CKancey8 #H2P » @TheAthleticCFB pic.twitter.com/FKiwlZr3MQ

— Pitt Football (@Pitt_FB) October 19, 2022
Update (8:45 AM)-
**Pitt football has extended an offer to 2024 3-star tight end Jahide Lesaine Jr., from Pope John XXIII High School in Sparta, New Jersey. Lesaine is a huge target at 6'5″, 235-pounds. Tim Salem extended him the offer, which becomes the second one he's received (Ole Miss).
Check out my highlight – https://t.co/NzFTTiSNYm

— 3⭐️ jahide lesaine jr (@jahide51543429) October 4, 2022
Pitt won the city game vs. Duquesne.
Match Report: Pitt gets better of City Game against Duquesne