The Frank Walker Law/PSN Daily Notebook- October 21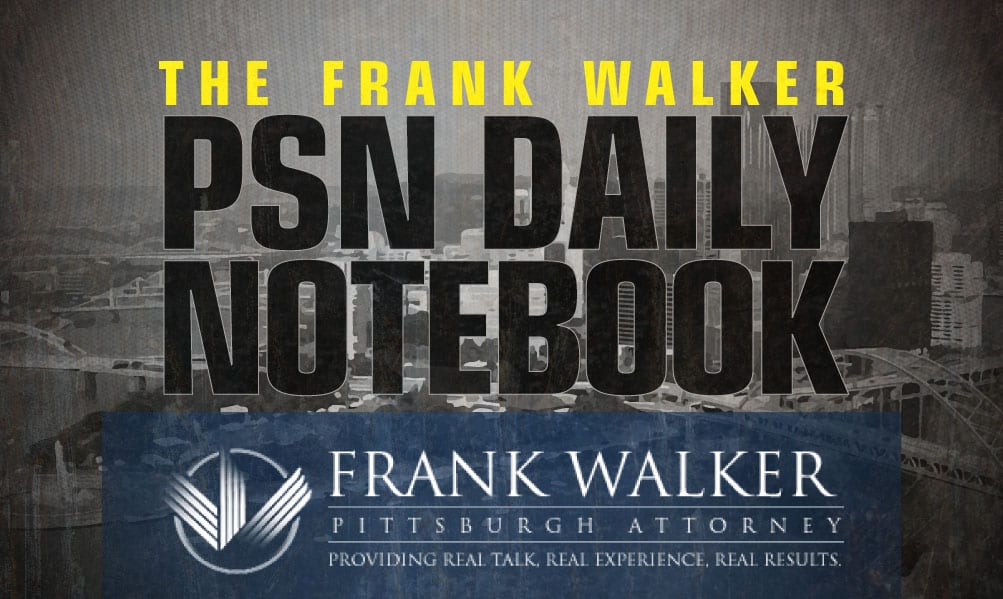 The PSN Daily Notebook is sponsored by Frank Walker, one of Pittsburgh and West Virginia's most respected criminal defense and injury lawyers. Mr. Walker has offices in Pittsburgh and Morgantown and has been named one of Top 100 National Trial Lawyers and is rated a perfect 10.0 Superb by Avvo for ethics, experience and results. To reach Mr. Walker, you can call 412-532-6805 or go to his website frankwalkerlaw.com. For real talk, real experience and real results, contact Frank Walker Law.
Update (3:24 PM)-
Steelers QB Kenny Pickett said he didn't want to get into all the details of his concussion and recovery process but he trusts the internationally respected doctors here in Pittsburgh. This is his first time dealing with a head injury. pic.twitter.com/JA5GWOnydg

— Brian Batko (@BrianBatko) October 21, 2022
Update (10:59 AM)-
— Alan Saunders (@ASaunders_PGH) October 21, 2022
Update (10:15 AM)-
Of the 18 all-time matchups between Pitt and Louisville, 13 have been decided by double digits.

Louisville is (somehow?) a 2.5 point favorite tomorrow.

— P F G (@PITTFOOTBALLGUY) October 21, 2022
Update (10:01 AM)-
ICYMI: What a night for @Pitt_WSOC!!!

With Thursday's win over Syracuse, the Panthers now have:
🔹 The most wins in a season in program history
🔹 The most ACC wins in a season in program history
🔹 The most goals in a season in program history#H2P pic.twitter.com/BNHigLTiA7

— Pitt Panthers (@Pitt_ATHLETICS) October 21, 2022
Update (8:27 AM)-
If Hallett has a second half of the season as good as his first, the man is going to get drafted. https://t.co/AwWlaxSvtT

— Nick Farabaugh (@Nick_Farabaugh) October 20, 2022
Update (8:09 AM)-
A winning start for @ColeMatthews9

6-2 over Gia Ugrelidze (GEO) ☑️

Pitt's All-American gets a nice victory to start his 65kg freestyle run at the 2022 U23 World Championships 🏆

Follow on @FloWrestling 💻#H2P » @USAWrestling pic.twitter.com/JmCeY53R24

— Pitt Wrestling (@Pitt_WRES) October 21, 2022
Update (7:47 AM)-
**If you're on your way to work or making the drive to Louisville, here's some listening material to get your ready for tomorrow night's game.
The Pitt Stop: Expectations for New-Look Pitt Basketball, Panthers Finishing Football Season
The Loyal Sons | Ep. 36 – Cam Saddler, Mid-Season Predictions, & Road Trip Prep