The Frank Walker Law/PSN Daily Notebook- October 24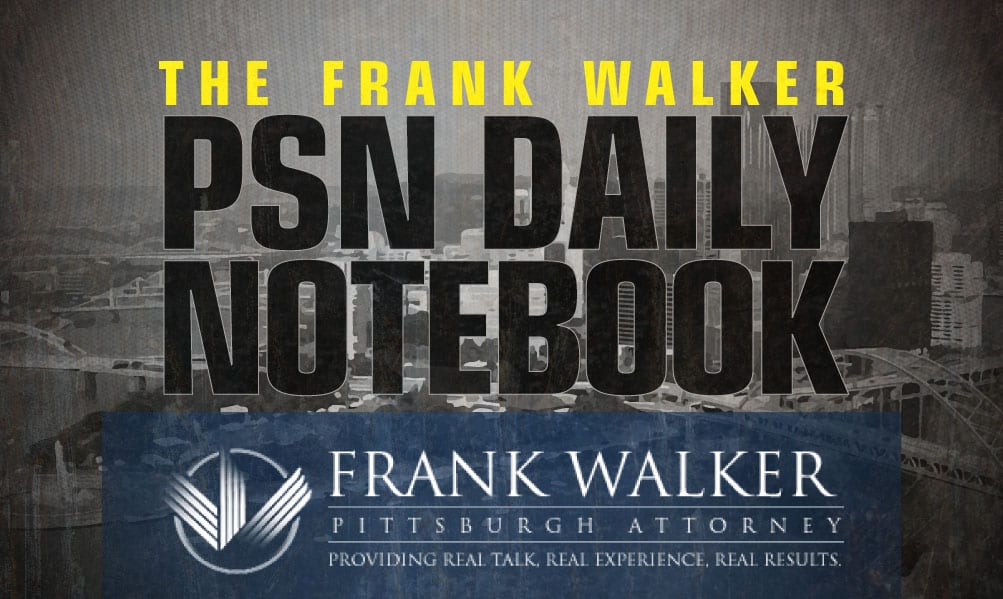 The PSN Daily Notebook is sponsored by Frank Walker, one of Pittsburgh and West Virginia's most respected criminal defense and injury lawyers. Mr. Walker has offices in Pittsburgh and Morgantown and has been named one of Top 100 National Trial Lawyers and is rated a perfect 10.0 Superb by Avvo for ethics, experience and results. To reach Mr. Walker, you can call 412-532-6805 or go to his website frankwalkerlaw.com. For real talk, real experience and real results, contact Frank Walker Law.
Update (9:31 PM)-
For the third time this season, Courtney Buzzerio has been named #ACCVB Player of the Week!!

— Pitt Volleyball (@Pitt_VB) October 24, 2022
Update (3:54 PM)- 
**Another offer from Pitt to a top prospect in Maryland as Andre Powell extends an offer to 2024 4-star linebacker Aaron Chiles from Olney, Maryland. Chiles (6'3", 220-pounds) is rated by Rivals as one of the Top 50 juniors in the country with offers from Alabama, Clemson, Florida, Florida State, Georgia, Miami, Michigan, Notre Dame, Ohio State, Penn State, Tennessee, Texas A&M, USC and West Virginia.
blessed to be named a 4⭐️ according to ESPN @CraigHaubert pic.twitter.com/WKZh1008dX

— 6 (@Aaron7Chiles) July 7, 2022
Update (11:36 AM)-
The 𝐅𝐈𝐑𝐒𝐓 team in the Power 5 to 20 wins this season.#H2P pic.twitter.com/h3YFKnzRMW

— Pitt Volleyball (@Pitt_VB) October 24, 2022
Update (10:55 AM)-
**This morning, Randy Bates extended an offer to 2024 athlete Jay'Quan Bostic from Robert A. Taft High School in the Cincinnati, Ohio area. Botic (6'3″, 175-pounds) plays both wide receiver and defensive back. This becomes his second D-1 offer (Georgia Tech).
Let me have it big time interception 👀!!!@CoachTy_1 @CoachTev_ pic.twitter.com/2nGgL2ZAzo

— Jay'Quan Bostic (@JBostic) October 21, 2022
Update (9:11 AM)-
**Over the weekend, Pitt women's basketball extended an offer to 2025 guard Bryan Martin from Springboro, Ohio. Martin, who also plays for the West Virginia Thunder AAU program, holds other offers from Penn State, Michigan State, Iowa, Illinois, Xavier, Harvard and Dayton. Martin received the offer after making an unofficial visit.
Three?
Three🎯 @brynmartin21

Angels lead 39-36 in the second half pic.twitter.com/ViNTOZBOkk

— Cincinnati Angels (@AngelsBballClub) April 16, 2022
Update (9:04 AM)-
College football Week 9 bowl projections: Georgia, Tennessee stay on two-SEC-team playoff path https://t.co/UZyGDx2Jvt

— Bill Bender (@BillBender92) October 24, 2022
Update (8:56 AM)-
🔥🔥 Updated Power Rankings 🔥🔥 pic.twitter.com/AP3wrkQk51

— WPIAL Sportsmen (@wpialsportsnews) October 23, 2022