The Frank Walker Law/PSN Daily Notebook- October 28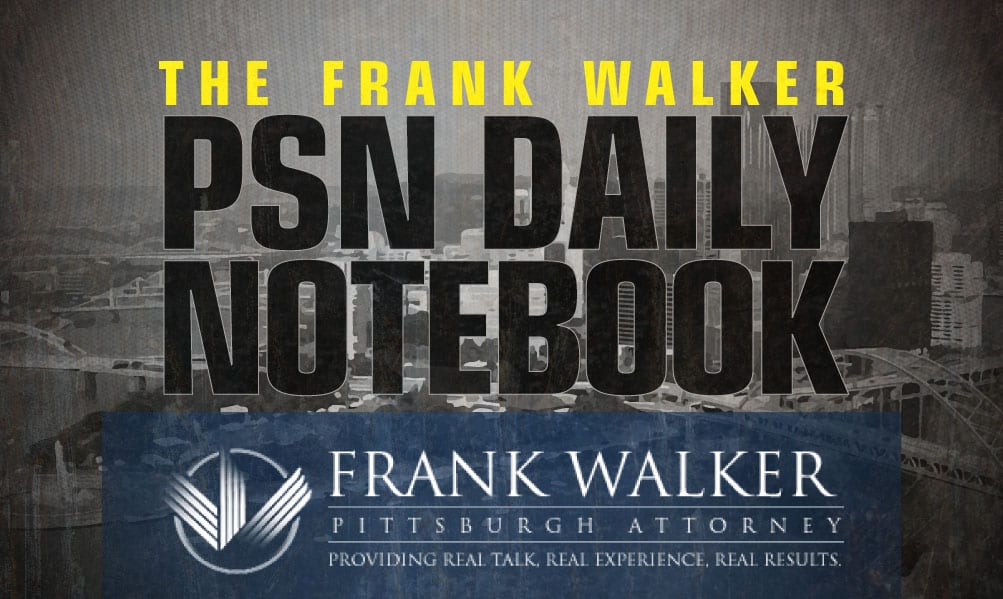 The PSN Daily Notebook is sponsored by Frank Walker, one of Pittsburgh and West Virginia's most respected criminal defense and injury lawyers. Mr. Walker has offices in Pittsburgh and Morgantown and has been named one of Top 100 National Trial Lawyers and is rated a perfect 10.0 Superb by Avvo for ethics, experience and results. To reach Mr. Walker, you can call 412-532-6805 or go to his website frankwalkerlaw.com. For real talk, real experience and real results, contact Frank Walker Law.
Update (4:29 PM)-
**Angelo McCullom is a 2024 defensive lineman from Pickerington, Ohio, that holds an offer from Pitt.
slideeeeee 💙 https://t.co/WM70YTx4lU

— Rasheem "The dream" Biles 🖤. (@Rasheembiles) October 28, 2022
Update (4:27 PM)-
6'9" Jack Bailey'25 @22JackBailey of @RiversideHawks & @BlairAcademy_NJ has earned an offer from Robert Morris #RMU pic.twitter.com/VDnRyrN0cf

— 𝒜𝓃𝒹𝓇ℯ𝓌 𝒮𝓁𝒶𝓉ℯ𝓇 (@Andrew__Slater) October 28, 2022
Update (10:17 AM)- 
**On his 17th birthday, Aliquippa 2024 DB/WR Brandon Banks picks up an offer from Ohio University. Banks holds other offers from UMass, Toledo, Kent State, Akron, Central Michigan and Eastern Michigan.
Blessed to receive a Division 1 offer from Ohio University! @CoachJohnHauser #LLZ pic.twitter.com/KJibazuyXJ

— Brandon Banks (@b_banks6) October 28, 2022
Update (8:30 AM)- 
NO WORDS TO EXPLAIN HOW PROUD I AM OF THIS TEAM. ALWAYS HAILING💛💙 https://t.co/0yfkLy0esT

— Chloe Minas (@chloe_min4) October 28, 2022
So incredibly proud of this team! Equally proud of our staff, support staff, and administration for believing in us! This team has overcome so much including some very key injuries! They have fought every step of the way which epitomizes Pittsburgh! #H2P https://t.co/x5n47eoFYo

— Randy Waldrum (@CoachWaldrum) October 28, 2022