The Frank Walker Law/PSN Daily Notebook- November 8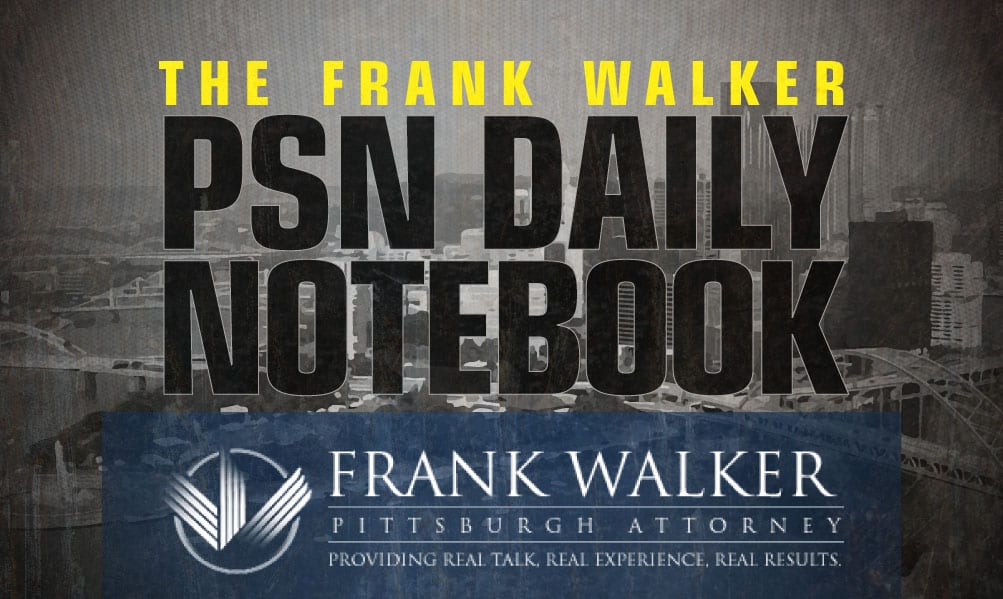 The PSN Daily Notebook is sponsored by Frank Walker, one of Pittsburgh and West Virginia's most respected criminal defense and injury lawyers. Mr. Walker has offices in Pittsburgh and Morgantown and has been named one of Top 100 National Trial Lawyers and is rated a perfect 10.0 Superb by Avvo for ethics, experience and results. To reach Mr. Walker, you can call 412-532-6805 or go to his website frankwalkerlaw.com. For real talk, real experience and real results, contact Frank Walker Law.
Update (7:49 PM)-
Had another great visit at Pitt last weekend!! @PghSportsNow @CoachPartridge @CoachBorbs @AdamCalt pic.twitter.com/VgAXk6yLcO

— Cameron Chmura⁵⁰ (@CameronChmura) November 9, 2022
Update (6:37 PM)-
Field Pass 🎥 Pitt 19, Syracuse 9#H2P » #WeNotMe pic.twitter.com/HpgX1Ysc4K

— Pitt Football (@Pitt_FB) November 8, 2022
Update (10:22 AM)-
**This morning, Pitt extends an offer to 2023 3-star WR Ardell Banks from Washington High School in Massillon, Ohio. Banks is a 6'4" wideout with other offers from Kentucky, Toledo, South Florida, Miami (OH), Marshall, Kent State and Akron.
Check out my week 1-11 highlight – https://t.co/gRM82ZNYR8

— Ardell Banks (@50kdell) November 4, 2022
Update (9:52 AM)-
Thanks to @LegendsBBall for having me on.

I'll be in Brooklyn for the Legends Classic coming up for Pitt. Check it out⬇️ https://t.co/UVut79a0pY

— George Michalowski (@MichalowskiCBB) November 8, 2022
Update (9:33 AM)-
Coach I can't tell you how much I appreciate you and your support! Great win tonight and keep it rolling! #H2P https://t.co/OsVlwjP56g

— Randy Waldrum (@CoachWaldrum) November 8, 2022
Update (9:30 AM)-
Suns forward Cam Johnson had surgery today that removed part of his meniscus, a procedure that should allow him to return in 1-2 months, sources told ESPN.

— Brian Windhorst (@WindhorstESPN) November 8, 2022
Update (9:15 AM)- 
**Pitt has extended an offer to 2024 offensive tackle Marcus Harrison from St. Francis High School in Hamburg, New York. Harrison (6'8", 295-pounds) holds other offers from Rutgers, Syracuse, Temple and Buffalo.