The Frank Walker Law/PSN Daily Notebook- November 18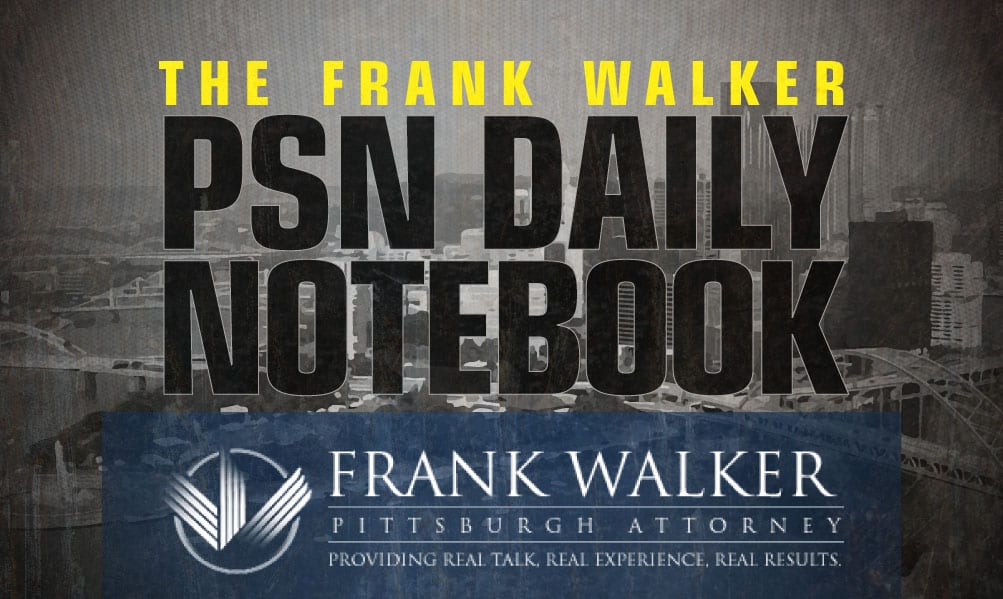 The PSN Daily Notebook is sponsored by Frank Walker, one of Pittsburgh and West Virginia's most respected criminal defense and injury lawyers. Mr. Walker has offices in Pittsburgh and Morgantown and has been named one of Top 100 National Trial Lawyers and is rated a perfect 10.0 Superb by Avvo for ethics, experience and results. To reach Mr. Walker, you can call 412-532-6805 or go to his website frankwalkerlaw.com. For real talk, real experience and real results, contact Frank Walker Law.
Update (4:10 PM)-
Pitt defeats Georgetown 2-1 in the Second Round of the NCAA Tournament. They move on to the Sweet 16 and will face off against either Florida State or LSU on Sunday, Nov. 20 at 5 p.m. https://t.co/DPuFCRxQnJ

— Dominic Campbell (@DOMISMONEY) November 18, 2022
Update (3:52 PM)-
Pitt's Deslin Alexandre has a chance to be named Captain of the 2022 Allstate AFCA Good Works Team!

VOTE » https://t.co/GTAifkrb62#H2P » @_Deslin pic.twitter.com/08oq8stAAp

— Pitt Football (@Pitt_FB) November 18, 2022
Update (11:17 AM)- 
My son @quincy_mcgriff and @DuqMBB are in Akron, OH to play @ColgateMBB today. Yesterday they had the pleasure of visiting LeBron's I Promise School and speaking with the students. pic.twitter.com/dp2bQIkQPh

— David McGriff, Esq (@thenillawyer) November 18, 2022
Who got a snow mobile in Buffalo? 🏎 pic.twitter.com/JDzs8DrGaa

— 𝐃𝐚𝐦𝐚𝐫 𝐇𝐚𝐦𝐥𝐢𝐧 (@HamlinIsland) November 18, 2022
Update (11:12 AM)- 
Goood morning it's WPIAL Semifinal Friday!!

There's snow in the air and spots in the Championships are on the line, this is perfect football weather. ❄️❄️❄️https://t.co/MdqvuOh2PT

— WPIAL Blitz (@WPIAL_Blitz) November 18, 2022
Next Up: Georgetown

Pitt women's soccer continues its quest in the NCAA Women's Soccer Tournament when they take on Georgetown on Friday (2 pm). We have the preview and game notes here.#H2P https://t.co/ZjQV9U4pF7

— Pittsburgh Soccer Now (@pghsoccernow) November 18, 2022
Update (9:23 AM)-
Big night in the #WPIAL 🔥🔥🔥🏈

YES it's going to be cold but we are expecting to see packed stadiums. No one does it like Western, PA @KDKARadio @cale_Berger @DanZangrilli @PghSportsNow @BenTenuta #KDKAFridayNightLights #WPIAL#TheContentKing pic.twitter.com/hBNJGECXQg

— WPIAL Sportsmen (@wpialsportsnews) November 18, 2022
Update (9:17 AM)-
Bertin Jacquesson's double puts Pitt over Cleveland State, 2-1, to advance to 2nd Round of NCAA Tournament for the fourth consecutive season.@DOMISMONEY was there and files his match report here. https://t.co/BrD78LBpcB

— Pittsburgh Soccer Now (@pghsoccernow) November 18, 2022
Update (8:14 AM)-
**Tim Salem offers a second player from Christ the King Regional High School. 2025 athlete Jourdin Houston (6'1″, 180-pounds) received an offer from Pitt on Thursday. Houston also holds offers from Penn State, Syracuse and Temple.
We accomplished a lot during this season in this brotherhood.During all ups and downs We All We Got We All We Need! Go check out my Full Szn Highlights…Gonna get real scary! https://t.co/TcWX1Kkabd @alexgleitman @tyler_calvaruso @ctkfootball @jaynycbee @SWiltfong247 @JD_XOS

— Jourdin Houston (@HoustonJourdin) November 10, 2022
Update (7:57 AM)-
**Pitt football goes into New York to extend their latest offer as Tim Salem extends one to 2024 wide receiver Na'eem Gladding from Christ the King Regional High School in Middle Village, New York. This is big for Gladding (6'1″, 190-pounds) because it's his first Power Five offer, with his other one coming from Temple.
Check out my film! https://t.co/RWqQOL91Hj pic.twitter.com/RGaEe7zZF8

— Na'eem Gladding (@_naeemgladding) November 11, 2022