The Frank Walker Law/PSN Daily Notebook- November 29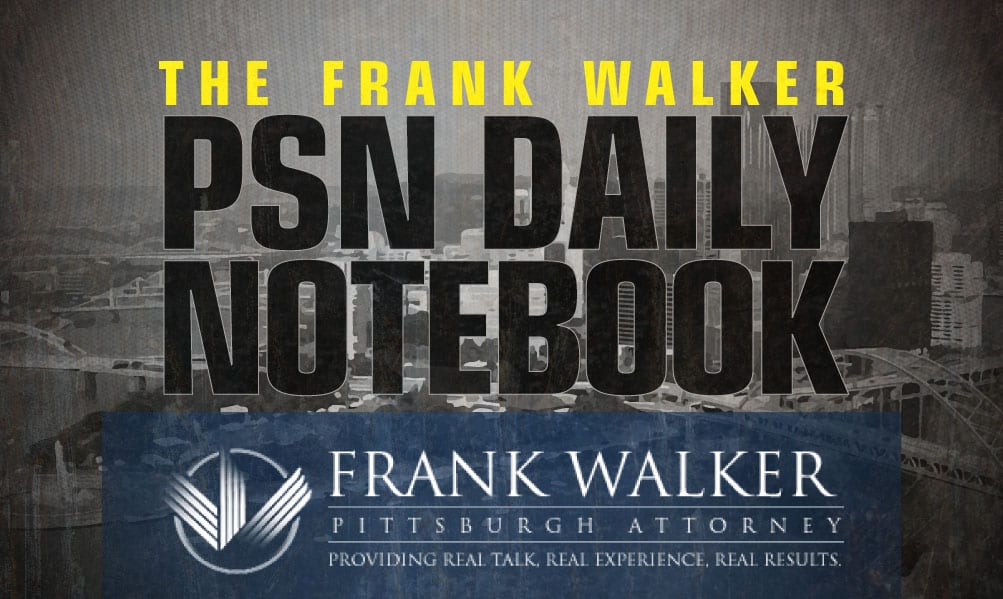 Update (4:50 PM)-
Wrestler of the Week 💪

📰: https://t.co/0kxnnBKdK4 pic.twitter.com/ROFx0XaAyX

— The ACC (@theACC) November 29, 2022
Update (2:58 p.m.)
More honors for our guys this week ⤵️

🔷 @BertinJacquess4 – Top Drawer Soccer Player of the Week
🔷 @Vlnt_Noel – Top Drawer Soccer National Team of the Week#H2P // ✍️ https://t.co/5ewqC1LTrE pic.twitter.com/lFcui84N5y

— Pitt Men's Soccer (@Pitt_MSOC) November 29, 2022
Update (2:57 p.m.)
Congrats, James Lledo 👏

🏆 @theACC Wrestler of the Week

» Mat Town Open Champion (184)
» 2nd straight Panther to win award#H2P » @JamesLledo2021 pic.twitter.com/Y6iwEVWHMc

— Pitt Wrestling (@Pitt_WRES) November 29, 2022
Update (12:53 PM)-
I would say we certainly Packed the Ack, wouldn't you? #H2P #PackTheAck pic.twitter.com/OOBdRvYARW

— The Panther Pitt (@ThePantherPitt) November 29, 2022
Update (12:05 p.m.)
Former Gateway star and Syracuse redshirt sophomore wide receiver Courtney Jackson announced his intention to transfer on Tuesday.
Philippians 4:13 pic.twitter.com/KCCrg2sK3E

— Courtney™️ (@cjackson9_) November 29, 2022
Update (11:05 AM)-

**2025 wide receiver CJ Wiley from Alpharetta High in Alpharetta, Georgia picked up an offer from Archie Collins and Pitt today. Wiley (6-foot-4, 188 pounds) also holds offers from BYU, Florida State, Georgia Tech, Louisville, Miami, Georgia, Kentucky and Maryland.
Blessed 2 receive an offer from @Pitt_FB 🙏🏾 #H2P 🔵🟡 @ARCHIECOLLINS_ @CoachDuzzPittFB @TiUnderwood @PghSportsNow @StamynaSports @JeremyO_Johnson @lukewinstel @ChadSimmons_ @Mansell247 @BHoward_11 @RWrightRivals @RivalsFriedman @AlphaProspects @AHSFootball @coachAj_m @On3Recruits pic.twitter.com/BF3QDOcmyI

— CJ Wiley (@CJWiley_4) November 29, 2022
Update (9:04 AM)- 
Big happy birthday shoutout to Big John ‼️@thejohnhugley pic.twitter.com/qk1yrMzldq

— Pitt Basketball (@Pitt_MBB) November 29, 2022
As we hinted at, @Pitt_MBB made a big jump tonight in the @kenpomeroy ratings. Pitt moved up 34 spots and now sit at No. 88. pic.twitter.com/gOcAHIyMUb

— Pittsburgh Sports Now (@PghSportsNow) November 29, 2022
Update (8:43 AM)-
**Pitt star defensive tackle Calijah Kancey makes the first of what will likely be many All-American teams this off-season.
ED: Will Anderson Jr
LB: ???
CB: Devon Witherspoon

PFF's 2022 College All-America Team⬇️https://t.co/m8yUSyxH2n

— PFF College (@PFF_College) November 29, 2022
AROUND THE NETWORK
Encore Élite: Ten-Man Pitt stuns No. 1 Kentucky on late Jacquesson strike
Asti: WVU Made Former AD Shane Lyons a Scapegoat, But That's Okay
Homistek: Flash or Fluke, Kenny Pickett Just Showed Up vs. Colts