The Frank Walker Law/PSN Daily Notebook- December 3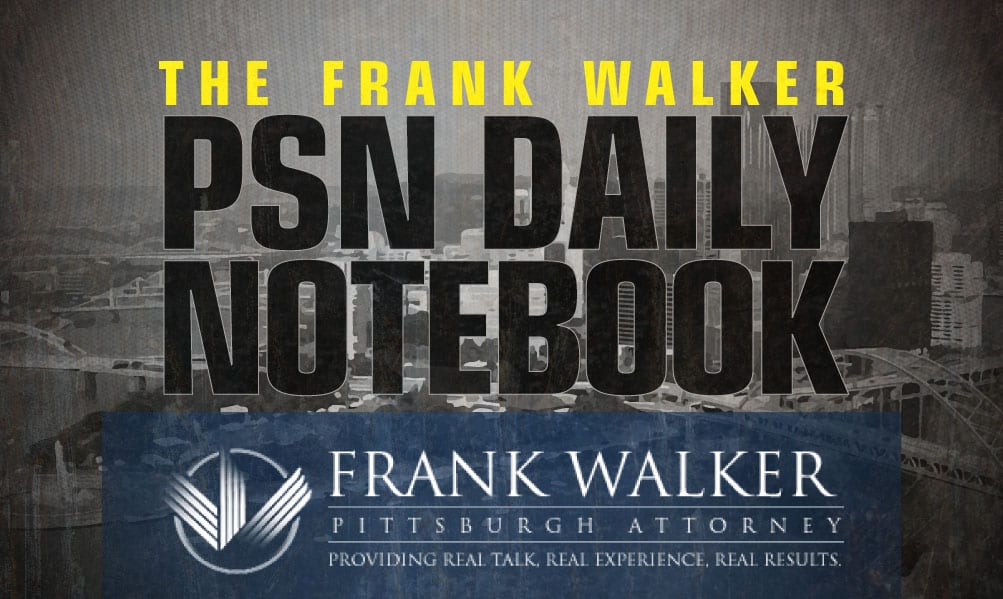 The PSN Daily Notebook is sponsored by Frank Walker, one of Pittsburgh and West Virginia's most respected criminal defense and injury lawyers. Mr. Walker has offices in Pittsburgh and Morgantown and has been named one of Top 100 National Trial Lawyers and is rated a perfect 10.0 Superb by Avvo for ethics, experience and results. To reach Mr. Walker, you can call 412-532-6805 or go to his website frankwalkerlaw.com. For real talk, real experience and real results, contact Frank Walker Law.
Update (3:09 PM)-
Leaving NYC playoffs heading to NJ playoffs…football in December! pic.twitter.com/1TUjsXg0z9

— Tim Salem (@CoachTimSalem) December 3, 2022
Update (9:32 AM)-
Pitt safeties coach Cory Sanders is in the house tonight. Panthers just offered a scholarship to Steel Valley star QB-DB Cruce Brookins.

— Steve Rotstein (@SteveRotstein) December 3, 2022
Update (9:20 AM)-
Duquesne's Rodney Gunn Jr. (foot) is OUT for today's game against Ball State, per Keith Dambrot. Joe Reece (foot) is doubtful. Dukes already have the same amount of wins — six — as they did all of last season.

— Jon Rothstein (@JonRothstein) December 3, 2022
Update (9:04 AM)-
Back to work 💼

🆚: Ball State
⏰: 2pm
🏟️: UPMC Cooper Fieldhouse
📊: https://t.co/tgmaUJvP2m
📻: https://t.co/fQyzAW9bZX
💻: ESPN+ (https://t.co/JM6EW6G23P)
🎟️: https://t.co/yDl2wRO3Xd
 #GoDukes || @DuqMBB pic.twitter.com/tZMoZ4hdTj

— Duquesne Basketball (@DuqMBB) December 3, 2022
PSN's @JohnKrysinsky previews Pitt's Elite Eight, ACC vs WCC showdown against another high-scoring outfit as they host Portland looking for a second @NCAASoccer #CollegeCup appearance in three years. https://t.co/IQlDcIJYqE

— Pittsburgh Soccer Now (@pghsoccernow) December 3, 2022
Update (9:01 AM)-
First Love's @Federiko_F is the ultimate teammate! He knows his job! He never complains, he never gets greedy and does what's best for his team! Big "W" for @Pitt MBB. So proud you you Fede! #TheLoveWayy https://t.co/9sRZQEeXXM

— First Love Hoops (@Firstlove_hoops) December 3, 2022
Update (8:56 AM)- 
**Tim Salem was in Florida on Friday to visit with and watch Pitt 2023 3-star OL commit Tai Ray.
Coach Salem got to witness the GREATEST of your future Pitt Panther OL Tai Ray on his path back to the Florida State 4M Championship. @CoachTimSalem @67TaiRay @Pitt_FB @CoachBorbs https://t.co/1QyF6O8hiv pic.twitter.com/P6DUDujcLL

— Ty Ray (@TyRay89636953) December 3, 2022