The Frank Walker Law/PSN Daily Notebook- December 6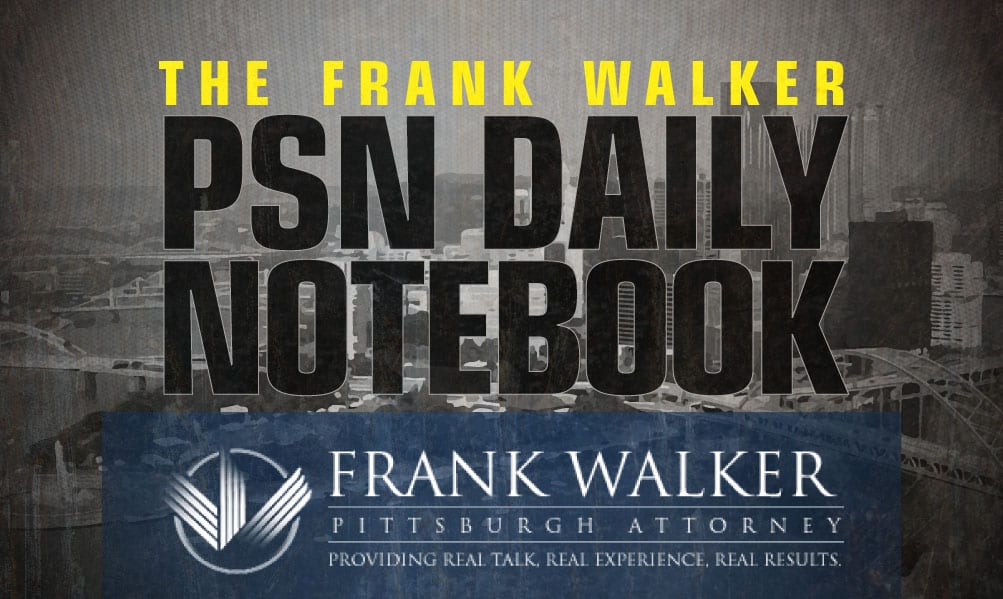 The PSN Daily Notebook is sponsored by Frank Walker, one of Pittsburgh and West Virginia's most respected criminal defense and injury lawyers. Mr. Walker has offices in Pittsburgh and Morgantown and has been named one of Top 100 National Trial Lawyers and is rated a perfect 10.0 Superb by Avvo for ethics, experience and results. To reach Mr. Walker, you can call 412-532-6805 or go to his website frankwalkerlaw.com. For real talk, real experience and real results, contact Frank Walker Law.
Update (6:40 PM)-
Blessed to receive an offer from Pittsburgh University 🔵🟡 @coachcsanders @MarshallMcDuf14 pic.twitter.com/kbi1UfCfIf

— Tayshaun Burney (@TayshaunBurney4) December 6, 2022
After a great conversation with Coach Sanders, I am blessed to receive an offer from the University of Pittsburgh!!!🔵🟡@coachcsanders @JaredClark2 @CoachJonHaskins @RWrightRivals @MohrRecruiting pic.twitter.com/02qq60Tuyp

— Teddy Foster (@TeddyFoster_3) December 6, 2022
Update (6:14 PM)- 
**Pat Narduzzi and Archie Collins with an in home visit with 2023 3-star OL commit BJ Williams.
Great home visit with @CoachDuzzPittFB & @ARCHIECOLLINS_ #H2P 🔵🟡 pic.twitter.com/qfFRkMXSGj

— Bj Williams (@CeoBrianJr) December 6, 2022
Update (4:29 PM)-
Kent State Transfer WR Dante Cephas Taking Official Visit to Penn State https://t.co/3mesFEbqxK pic.twitter.com/oVfEsDX8yD

— Nittany Sports Now (@NittanySN) December 6, 2022
Update (4:17 PM)-
Blessed to receive an offer from the University of Georgia! 🐾 @KirbySmartUGA @CoachToddMonken pic.twitter.com/j9xMn0x2z9

— Dante Cephas (@FouLceph) December 6, 2022
Update (2:51 p.m.)
Changes to rankings this week for Pitt
Risers:
125: Camacho unranked to 30
133: Phillippi 11 to 9
197: Bonaccorsi 8 to 3

Same:
141: Matthews at 1
157: Casto at 21
174: Augustine at 33

Fallers:
165: Holden Heller 14 to 17
184: Reece Heller 22 to 28 https://t.co/7tZQyo1LAQ

— Dominic Campbell (@DOMISMONEY) December 6, 2022
Update (8:45 AM)-
**2024 edge rusher Cole Mullins has picked up an offer from Pitt. Mullins (6'4″, 240-pounds) received the news from Ryan Manalac. Along with Pitt, Mullins holds offers from Duke, Vanderbilt and Wake Forest.
Check out my junior year highlight through week 6 !! https://t.co/H0OvLjqC6X @MCFootballCoach @RecruitGeorgia @ChadSimmons_

— Cole Mullins (@Cole_Mullins1) September 30, 2022
Update (8:35 AM)-
**Pitt has extended an offer to 2025 wide receiver/defensive back Tony Williams from Palm Beach Central High School, in Wellington, Florida. Williams (6'2″, 180-pounds) received the offer from Charlie Partridge. This becomes Williams first Power Five offer, with his first one coming from Bowling Green.
Sophomore highlights
130 receiving yards
4 touchdowns
3 interceptions 1 pick 6
16 tackles
6 pass breakups
1 forced fumble@CoachQueSmith @EraPrep @CoachT_22 @coachjeff26 @larryblustein https://t.co/kn70Wgki9I

— Tony "Mr.User Lurk" Williams (@tonywill25) November 9, 2022
Update (8:17 AM)-
Another talented player, originally from Western PA hits the transfer portal. Wide receiver Levi Wentz leaving Old Dominion. Originally from Pine Richland HS. A tremendous athlete. https://t.co/se4ao2fEBR

— Harry G. Psaros (@PittGuru) December 5, 2022
Update (8:04 AM)- 
**While recruiting in California, Tim Salem extended an offer to 2025 DE/LB Hayden Lowe from from Oak Christian High School in Los Angeles. Lowe (6'4", 230-pounds) also holds offers from Michigan, Utah, Boston College, San Diego State, Oregon State and Arizona.
𝟐𝟎𝟐𝟓 𝐇𝐚𝐲𝐝𝐞𝐧 𝐋𝐨𝐰𝐞 @Hayden_lowe323
Pos: DL/LB 6'3" 230 GPA 3.7
Oaks Christian:@oclionsfootball
🎦https://t.co/omgokUnGc2https://t.co/MP2dnfnBEC
Season: 3 Gm.
Tackles-16
TFL-8
Sacks-3
247:https://t.co/W7zJsyanZ9#𝟖𝟎𝟓𝐂𝐨𝐥𝐥𝐞𝐠𝐞𝐏𝐫𝐨𝐬𝐩𝐞𝐜𝐭𝐬 pic.twitter.com/H5VwgVLblG

— 𝟖𝟎𝟓𝐂𝐨𝐥𝐥𝐞𝐠𝐞𝐏𝐫𝐨𝐬𝐩𝐞𝐜𝐭𝐬 (@805College) October 18, 2022

Update (6:53 AM)-
**On Monday, Andre Powell and Pitt extended an offer to 2024 running back Trey Grant from Trinity Episcopal High School in Richmond, Virginia. This is big for Grant because it's his first D-1 offer. This past season, Grant rushed for 1,400 yards and 18 total touchdowns.
Full season highlights ready !!

stats
1,400 rush yards
17 touchdowns
1 reception touchdown https://t.co/3ok8SCPWfS

— Trey Grant 24' (@_tregrant) November 23, 2022
Update (6:50 AM)-
**Ryan Manalac and Pitt extend an offer to 2024 offensive guard Aidan Banfield (6'3″, 280-pounds) from Mill Creek High School in Hoschton, Georgia. Along with Pitt, Banfield has also received offers from Georgia Tech, Vanderbilt, East Carolina and Western Kentucky.
Come check out regular/ playoffs highlights @coachjlovelady @MC_Recruiting @MCFootballCoach @RecruitGeorgia @247recruiting https://t.co/ZhM9ycAil7

— Aidan Banfield (@AidanBanfield68) December 1, 2022
Update (6:39 AM)-
**Pitt attempts to get in early with a star in Ohio as they extend an offer to 6'2″, freshman wide receiver Payton Cook from Archbishop Hoban High School in Akron, Ohio.
What a spectacular catch from #freshman…yes freshman #Peyton #Cook!!! 🔥🔥🔥 pic.twitter.com/I5dVEwku70

— Clearviewmedia Sports (@ClearviewmediaS) October 15, 2022
THE SPORTS NOW COLLEGE NETWORK
'I'm Proud of him': Penn State HC James Franklin Hoping for Rosy end for QB Sean Clifford
Watch: WVU Introduces Wren Baker as Vice President and Director of Athletics