The Frank Walker/PSN Daily Notebook- December 7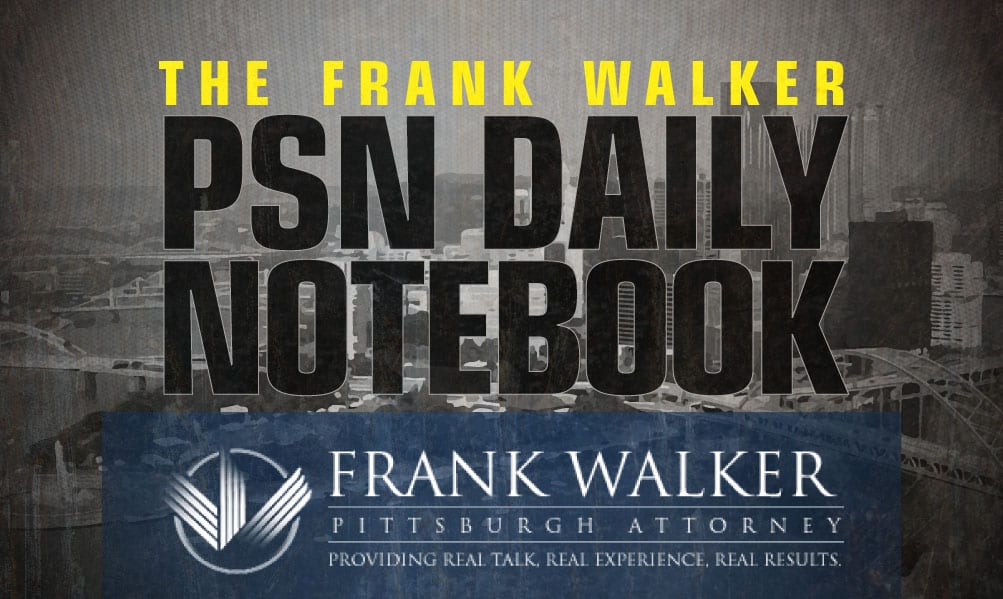 The PSN Daily Notebook is sponsored by Frank Walker, one of Pittsburgh and West Virginia's most respected criminal defense and injury lawyers. Mr. Walker has offices in Pittsburgh and Morgantown and has been named one of Top 100 National Trial Lawyers and is rated a perfect 10.0 Superb by Avvo for ethics, experience and results. To reach Mr. Walker, you can call 412-532-6805 or go to his website frankwalkerlaw.com. For real talk, real experience and real results, contact Frank Walker Law.
Update (8:06 PM)-
Great home visit this week. H2P! pic.twitter.com/doilmiVSvU

— Ryan Carretta (@CarrettaRyan) December 8, 2022
Update (6:15 PM)- 
**Charlie Partridge and Pitt extend an offer to 2025 offensive lineman Caleb Harris (6'4", 265-pounds) from St. Thomas Aquinas in Fort Lauderdale, Florida. This is the first D-1 offer for Harris.
AGTG 🙏 Blessed and thankful to receive my first offer from the Univ of Pittsburgh via @CoachPartridge @CoachHarriott @mikeromano71 @KenyatisS @TheCribSouthFLA @larryblustein @JerryRecruiting @Andrew_Ivins @joshuaharris305 @TheUCReport @DemetricDWarren pic.twitter.com/UM9Q0oOqEL

— Caleb Harris (@CJH7337) December 7, 2022
Update (6:08 PM)-
**Former Peters Township 4-star safety Donovan McMillan has received instant interest since officially entering the transfer portal today. The former Florida Gator has picked up offers from Pitt, West Virgina, Mississippi State, Nebraska, Kansas and Boston College.
Update (2:25 PM)- 
**2025 offensive lineman Max Buchanan (6'5", 275) received an offer today from Tim Salem and Pitt. Buchanan is from Sanford, Florida and holds other offers from Florida State, Coastal Carolina, Western Kentucky, Central Florida, South Florida, Iowa State and Penn State.
Check out this highlight! Freshman year full season varsity highlight https://t.co/GCNU6UZdgn

— Max Buchanan (@MaxBuchana2025) December 7, 2021
Update (10:59 AM)-
Avonte Maddox returning to practice for Eagles. https://t.co/ugnBSY1TaS

— ProFootballTalk (@ProFootballTalk) December 7, 2022
Update (8:22 AM)-
Watching film on new #Pitt QB commit Ty Dieffenbach, he reminds me of another Panther…Nate Yarnell. Both are tall, they have a quick release and strong arms. In terms of athleticism, I would give Ty the slight edge. Drop back gunslingers. #H2P 🟡🔵 pic.twitter.com/CH3ygMvQej

— Harry G. Psaros (@PittGuru) December 7, 2022
Update (8:07 AM)-
#NotreDame Coaches on the Road

Western Pennsylvania has always been good to the Fighting Irish, which is why special teams coordinator Brian Mason will make his way there on Wednesday.

Story: https://t.co/TgG3u8eX5z#IrishIllustrated @247Sports pic.twitter.com/nmMt9YEWse

— Tom Loy (@TomLoy247) December 7, 2022
Update (7:53 AM)-
The Matt Canada experiment is going… okay?
Charlie Batch: Matt Canada Could Return for 2023 if Kenny Pickett Continues to Improve
Update (7:53 AM)-
**Former North Hills superstar LaVar Arrington was inducted into the College Football Hall of Fame.
Former PSU LB LaVar Arrington inducted into College Football Hall of Fame
Update (7:51 AM)-
Similar situation down in West Virginia.