The Frank Walker Law/PSN Daily Notebook- December 9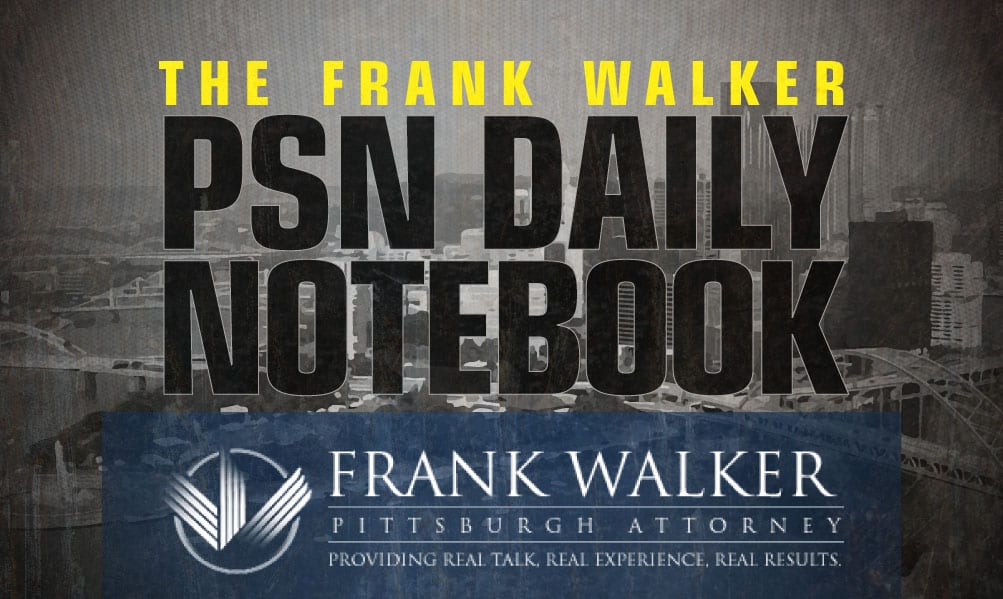 The PSN Daily Notebook is sponsored by Frank Walker, one of Pittsburgh and West Virginia's most respected criminal defense and injury lawyers. Mr. Walker has offices in Pittsburgh and Morgantown and has been named one of Top 100 National Trial Lawyers and is rated a perfect 10.0 Superb by Avvo for ethics, experience and results. To reach Mr. Walker, you can call 412-532-6805 or go to his website frankwalkerlaw.com. For real talk, real experience and real results, contact Frank Walker Law.
Update (11:38 AM)-
Take note… @ARCHIECOLLINS_ can flat out coach!! Love working with him every day!! pic.twitter.com/wsamY7bPXr

— Charlie Partridge (@CoachPartridge) December 9, 2022
Update (11:24 AM)-
@Pitt_FB won't have to deal with Josh Downs next season. https://t.co/9vscUfJdLv

— Pittsburgh Sports Now (@PghSportsNow) December 9, 2022
Update (10:07 AM)-
**Pitt 2023 4-star defensive tackle Isaiah Neal.
They aren't getting an athlete. They are getting a scholar who happens to be gifted with the ability to play football!!! #4.0 4⭐️…. I'm in awe with Gods favor on his life!! pic.twitter.com/J29WEiWBSu

— Tina "Ghost Ma" Neal (@TiTithatsme) December 9, 2022
Update (9:33 AM)-
Tony Dorsett (NFL HOF, Heisman)
Curtis Martin (NFL HOF)
LeSean McCoy
Craig Heyward
Dion Lewis
James Conner
Kevan Barlow
Isreal Abanikanda
💙💛 #H2P https://t.co/1IKArECQXN

— Che Nwabuko 📍 (@CheNwabuko1) December 9, 2022
Update (9:23 AM)-
Had a great official home visit last night! Thank you @CoachDuzzPittFB @CoachTimSalem for stopping by! pic.twitter.com/20cvOltfc8

— Tai Ray (@67TaiRay) December 9, 2022
Update (9:02 AM)-
Sounding Off on Soccer Podcast, special @NCAASoccer College Cup Preview with ESPNU's analyst @DevonKerr9 and PSN's @JohnKrysinsky is also now up on @PghSportsNow's YouTube Channel. #NCAASoccer #NCAACollegeCuphttps://t.co/BCVLjMrfYl

— Pittsburgh Soccer Now (@pghsoccernow) December 9, 2022
Update (8:04 AM)-
Georgia 2023 3-star RB @DreamWayTJ wins a state championship and will be in Pittsburgh this weekend for an official visit to @Pitt_FB. https://t.co/hMMfDbC7Wi

— Pittsburgh Sports Now (@PghSportsNow) December 9, 2022
Update (8:00 AM)-
@Pitt_FB 2023 QB commit @tydieffenbach14 has arrived in Pittsburgh for his official visit. https://t.co/cPGLV6IUZ5

— Pittsburgh Sports Now (@PghSportsNow) December 9, 2022