The Frank Walker Law/PSN Daily Notebook- December 19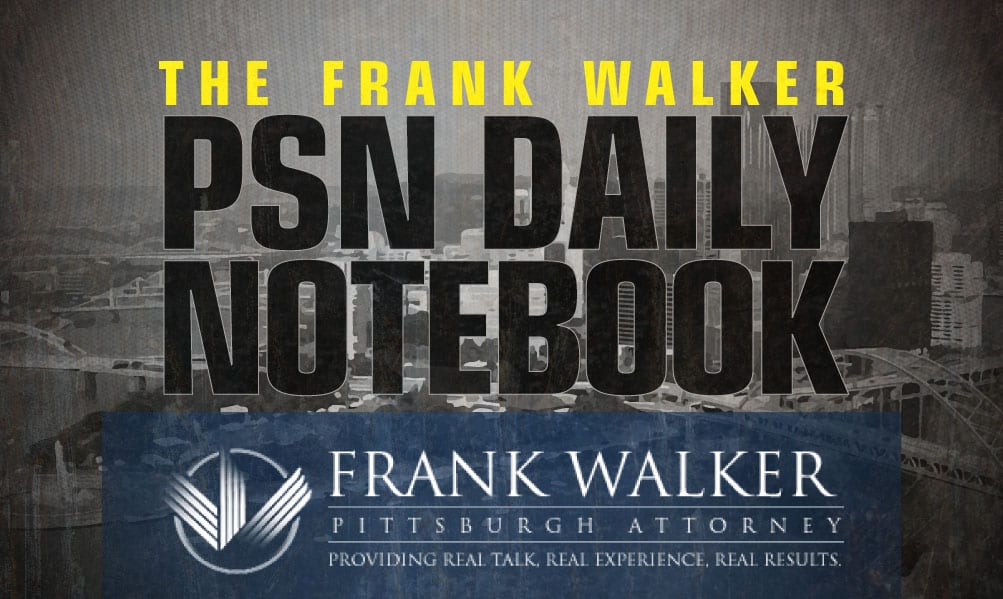 The PSN Daily Notebook is sponsored by Frank Walker, one of Pittsburgh and West Virginia's most respected criminal defense and injury lawyers. Mr. Walker has offices in Pittsburgh and Morgantown and has been named one of Top 100 National Trial Lawyers and is rated a perfect 10.0 Superb by Avvo for ethics, experience and results. To reach Mr. Walker, you can call 412-532-6805 or go to his website frankwalkerlaw.com. For real talk, real experience and real results, contact Frank Walker Law.
Update (7:02 PM)-
Come out Wednesday 12/21 and celebrate @DreamWayTJ signing with @Pitt_FB to continue his education and football. 11:00AM in the Bowdon High media center. @GlenHarding10 @GradickSports @scottkcowart44 pic.twitter.com/c932X8XtRH

— Bowdon High School Football/Athlete Recruiting (@bowdonrecruits) December 19, 2022
Update (6:56 PM)-
What you'll find in today's recap:

– @tessmyers24 with a career-high 7⃣ threes made and her first career double-double
– @megg_mcconnell4 with her fifth double-double of the season and a new career-high 1⃣1⃣ assists
– Postgame Presser https://t.co/U9RmrA91Ig

— Duquesne Women's Basketball (@DuqWBB) December 19, 2022
Update (3:17 PM)-
Former North Allegheny star Paige Morningstar puts her name in the portal to transfer from Louisville.

Played 12 sets in 2022 and redshirted in 2021.

Max Preps named her the National Female Athlete of the year in 2021 https://t.co/YcUeHCGgUU

— Dominic Campbell (@DOMISMONEY) December 19, 2022
Update (1:29 PM)-
**Pitt 2023 3-star quarterback commit Ty Dieffenbach announces his plans for National Signing Day.
I'm signing Wednesday at lunch – 12:50 in the G Building. @CoachCroick @Atownfootball @AHS_Chargers pic.twitter.com/KsxQXROkoF

— Ty Dieffenbach (@tydieffenbach14) December 19, 2022
Update (1:21 PM)-
Forever Grateful!🙏🏽 pic.twitter.com/Cphi2NulZ5

— CARTER⚡️ (@CarterWarren79) December 19, 2022
Update (1:11 PM)-
Pitt has a starting secondary in the NFL right now.

Outside CBs: Dane Jackson and Mathis
Slot CBs: Avonte Maddox, K'waun Williams
Safeties: Damar Hamlin (SS) and Jason Pinnock (FS) https://t.co/OO4k8thZWS

— Justin W. (@NFLGimpy) December 19, 2022
Update (12:34 PM)-
Thank you for everything you did for us this past year. Best of Luck in your Future #H2P @IAbanikanda https://t.co/gTkPZKQfeJ

— Frank Cignetti Jr. (@FrankCignetti) December 19, 2022
Update (12:30 PM)-
Pitt Men, forever. 🟦🟨 pic.twitter.com/rCuPZspx41

— Pat Narduzzi (@CoachDuzzPittFB) December 19, 2022
Update (9:30 AM)-
#H2P 🟡🔵 👇🏻 👇🏻 https://t.co/7LdwCnQC7L

— Harry G. Psaros (@PittGuru) December 19, 2022