The Frank Walker Law/PSN Daily Notebook- December 20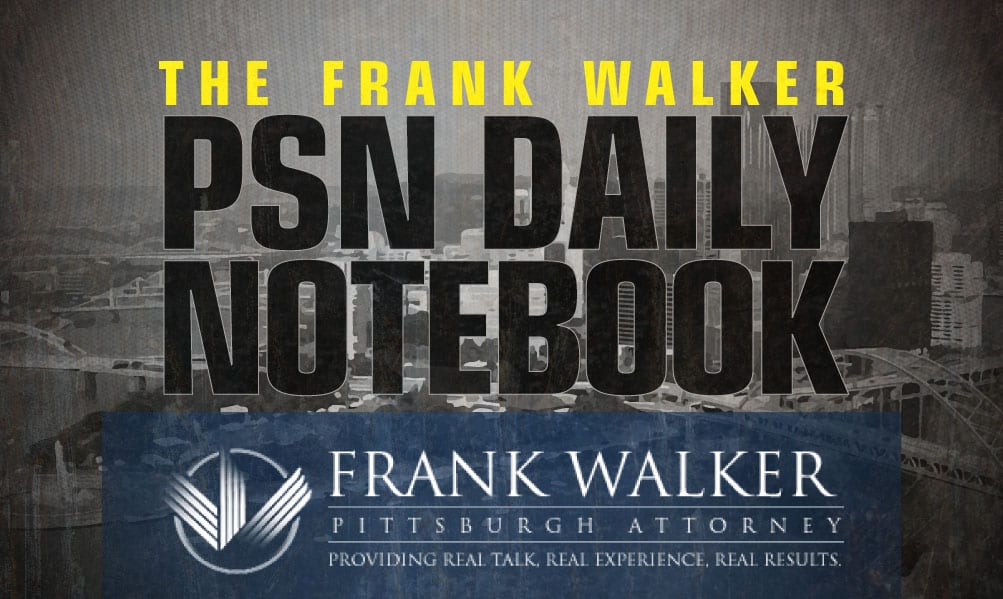 The PSN Daily Notebook is sponsored by Frank Walker, one of Pittsburgh and West Virginia's most respected criminal defense and injury lawyers. Mr. Walker has offices in Pittsburgh and Morgantown and has been named one of Top 100 National Trial Lawyers and is rated a perfect 10.0 Superb by Avvo for ethics, experience and results. To reach Mr. Walker, you can call 412-532-6805 or go to his website frankwalkerlaw.com. For real talk, real experience and real results, contact Frank Walker Law.
Update (4:30 PM)-
Transfer TE AJ Barner commits to Michigan. Player that @Pitt_FB had major interest in. https://t.co/FEQ5l9VcUW

— Pittsburgh Sports Now (@PghSportsNow) December 20, 2022
Update (12:50 PM)-
#Steelers QB Kenny Pickett Clears Concussion Protocol, Will Start vs. #Raidershttps://t.co/jqtU7VeTxb

— Steelers Now (@PghSteelersNow) December 20, 2022

Update (12:18 PM)-
Former Pittsburgh Central Catholic, Pitt grad and Western Michigan player Bricen Garner announces his decision to enter the 2023 NFL Draft.

Made 66 tackles, 43 solo, two interceptions and six passes defended in 12 games in 2022. https://t.co/6uJXnfvqc6

— Dominic Campbell (@DOMISMONEY) December 20, 2022
Update (11:40 AM)-
**2024 Central Catholic star Anthony Speca received an offer from Nebraska. It's the latest in a long line of offers from the 6-foot-3, 220-pound linebacker.
After a great call with the staff. I am Beyond Blessed to receive an offer from The University of Nebraska
🌽🌽 #GBR
@Adam_DiMichele @CoachMattRhule @HuskerCoachTW @Omeezi_ @HuskerFBNation @210ths @Alex_DiMichele pic.twitter.com/2Ajs1XJQiw

— Anthony Speca (@aspeca6) December 20, 2022
Update (11:25 AM)-
**Pitt extended an offer to 2025 wide receiver Deshaun Lanier from Chippewa Valley High in Clinton Township, Michigan. Lanier (5-foot-11, 165 pounds) also holds offers from Central Michigan, Eastern Kentucky, Marshall, Massachusetts and Ole Miss.
Blessed to receive a offer from the University of Pittsburgh #AGTG #H2P @ARCHIECOLLINS_ @CoachDuzzPittFB @CVBigReds @RisingStars6 pic.twitter.com/TBAkjbgg6F

— DeShaun lanier (@DeShaunLanier_) December 19, 2022