The Frank Walker Law/PSN Daily Notebook- December 22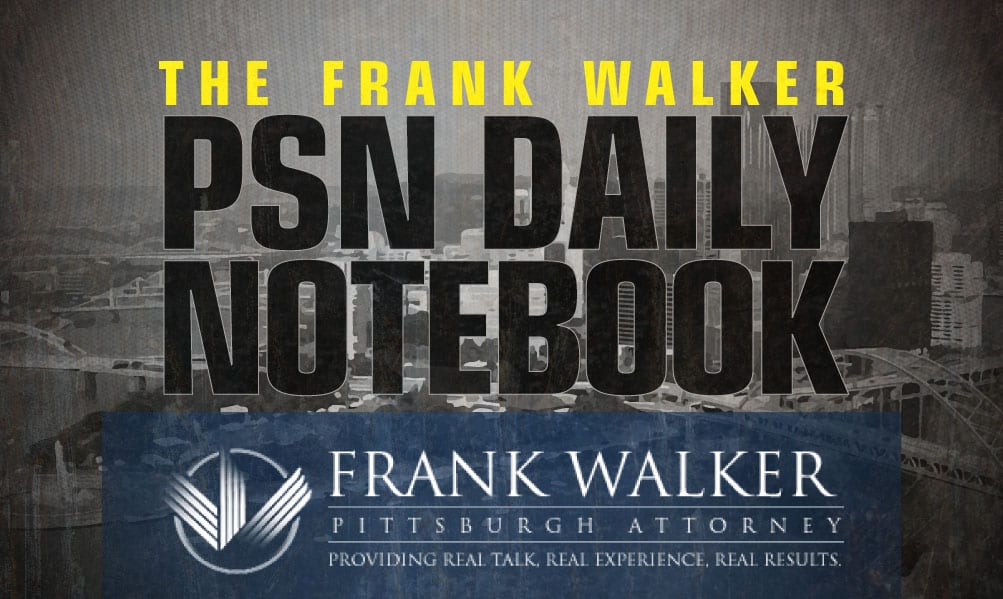 The PSN Daily Notebook is sponsored by Frank Walker, one of Pittsburgh and West Virginia's most respected criminal defense and injury lawyers. Mr. Walker has offices in Pittsburgh and Morgantown and has been named one of Top 100 National Trial Lawyers and is rated a perfect 10.0 Superb by Avvo for ethics, experience and results. To reach Mr. Walker, you can call 412-532-6805 or go to his website frankwalkerlaw.com. For real talk, real experience and real results, contact Frank Walker Law.
Update (2:50 PM)-
VIDEO: @tydieffenbach14 signs his letter of intent to play for Pitt. Hear from @CoachCroick at the signing day event at Agoura High School.
🔗 https://t.co/kuh38A8d02@AHS_Chargers @Atownfootball @AgouraHS pic.twitter.com/MGqr9hPg7e

— Acorn Sports (@TheAcornSports) December 22, 2022
Update (10:25 AM)-
What a QB Room! 🔥🔥🔥Appreciate @Coach_JDiBiaso finding Ty & building relationship's with this awesome group! @pjurkovec @VeilleuxQB11 @tydieffenbach14 pic.twitter.com/9YjpSBZoQT

— Frank Cignetti Jr. (@FrankCignetti) December 21, 2022
Update (10:19 AM)-
For Jordan Addison, U$C:

-Used Carson Palmer's Retired Jersey #
-Gave him an estimated ~$3 mil in NIL
-Tampered to get him from Pitt (According to Pat Narduzzi)

All for him to catch just 59 passes (~$51,000 per pass caught) and skip the Bowl Game.

Welcome to the era of NIL! 🤮 https://t.co/uS17HpBkZl

— Utah Football Stats and Analysis (@UtahCFBstats) December 21, 2022
Update (7:40 AM)-
**Ryan Manalac and Pitt have extended an offer to 2024 safety Cameron Pruitt from Theodore, Alabama. Pruitt (6'3″, 187-pounds) holds other offers from Vanderbilt, UAB, Penn State, Michigan State, Maryland, Florida Atlantic, Coastal Carolina and Arkansas State.
Check out my highlight – https://t.co/w1QKSMAvcG

— Cameron Pruitt (@bobby_pruitt) November 30, 2022