The Frank Walker Law/PSN Daily Notebook- December 23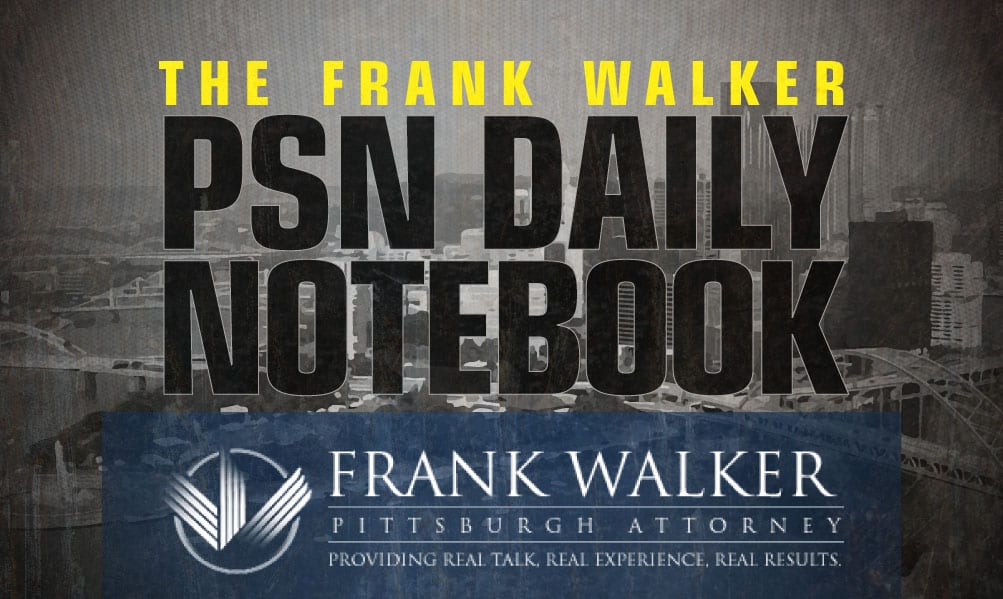 The PSN Daily Notebook is sponsored by Frank Walker, one of Pittsburgh and West Virginia's most respected criminal defense and injury lawyers. Mr. Walker has offices in Pittsburgh and Morgantown and has been named one of Top 100 National Trial Lawyers and is rated a perfect 10.0 Superb by Avvo for ethics, experience and results. To reach Mr. Walker, you can call 412-532-6805 or go to his website frankwalkerlaw.com. For real talk, real experience and real results, contact Frank Walker Law.
Update (12:08 PM)-
A look 🔙 at some highlights against Winthrop@DGrant_03 – 21PTS, 8 AST@TreClark_11 – 15PTS, 3 STL@quincy_mcgriff – 15PTS, 5-3PT#GoDukes pic.twitter.com/tSHLtcBGPO

— Duquesne Basketball (@DuqMBB) December 23, 2022
Update (11:57 AM)-
**Congrats to Pitt 2023 3-star offensive lineman BJ Williams, who wins a nice award in Georgia.
Thankful to be named All-State 1st Team by @RecruitGeorgia 🙏🏾 #H2P @Commit2ThaC pic.twitter.com/SFQdchW7Cv

— Bj Williams (@CeoBrianJr) December 23, 2022
Update (9:08 AM)-
Please join us in wishing Alliance 412 student-athlete Nelly Cummings (@Ambition___0) a happy birthday. pic.twitter.com/flKwT0Vq2v

— Alliance 412 (@Alliance_412) December 23, 2022
Update (9:01 AM)-
Biggest news tonight on WPIAL basketball front: Longest winning streak in history of Pennsylvania high school boys basketball has been broken.

Deer Lakes beat OLSH, 70-55, to break 74-game winning streak. Longest active streak in country. Bryce Robson scored 21 for Deer Lakes.

— Mike White (@mwhiteburgh) December 23, 2022

Update (7:53 AM)- 
**Another major offer comes in for Central Catholic 2024 4-star linebacker Anthony Speca.
After a great call with @RLS2294 I am Beyond Blessed and grateful to say I have received an offer from Florida State 🍢🍢🍢@Coach_AntRod @Coach_Norvell @FSUFootball @210ths @Evolve2tenths pic.twitter.com/E5J0NHPRV0

— Anthony Speca (@aspeca6) December 23, 2022
2022 Season Highlights

Anthony Speca

6'2" 220 ILB/OLB@210ths @RivalsFriedman @wpialsportsnews @mwhiteburgh @PCC_FOOTBALL @Evolve2tenths

⬇️⬇️⬇️⬇️⬇️⬇️⬇️⬇️⬇️⬇️⬇️https://t.co/TKdqIA53iw pic.twitter.com/JEEFX4AdqU

— Anthony Speca (@aspeca6) November 20, 2022