The Frank Walker Law/PSN Daily Notebook- December 27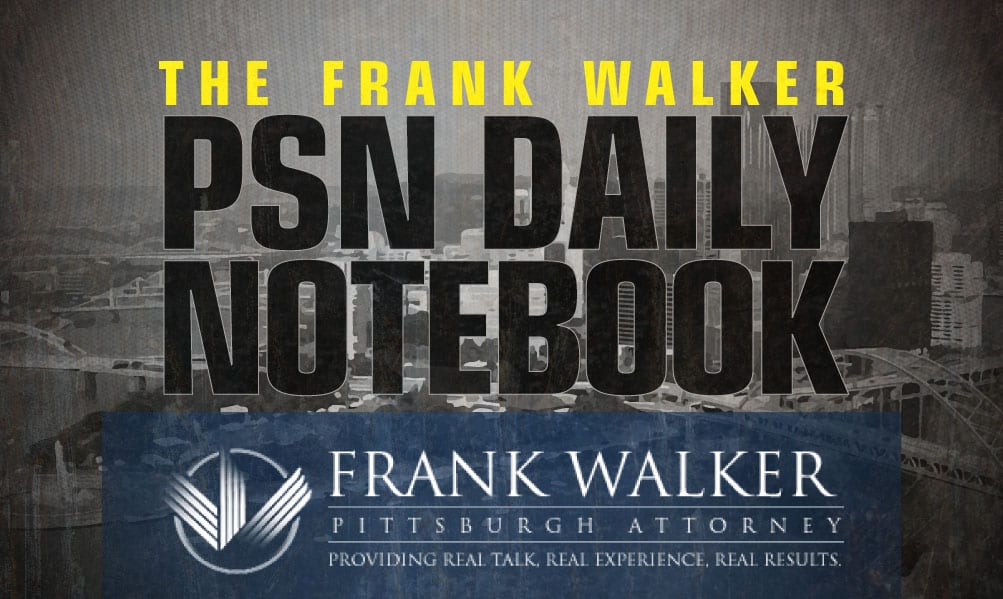 The PSN Daily Notebook is sponsored by Frank Walker, one of Pittsburgh and West Virginia's most respected criminal defense and injury lawyers. Mr. Walker has offices in Pittsburgh and Morgantown and has been named one of Top 100 National Trial Lawyers and is rated a perfect 10.0 Superb by Avvo for ethics, experience and results. To reach Mr. Walker, you can call 412-532-6805 or go to his website frankwalkerlaw.com. For real talk, real experience and real results, contact Frank Walker Law.
Update (7:43 PM)-
Topgolf fun w/ @Pitt_FB 😺⛳️ pic.twitter.com/Nw4usfDvpv

— Tony The Tiger Sun Bowl (@TonyTheTigerSB) December 27, 2022
Update (6:50 PM)- 
**Pitt extends an offer today to 2025 wide receiver Naeshaun Montgomery from Cardinal Newman High School in West Palm Beach, Florida. Montgomery (6'0", 160-pounds) also holds offers from USC, Ole Miss, Miami and Maryland. Montgomery received the offer from Charlie Partridge and Tiquan Underwood.
Year 3 Gonna Be Something Special 🤙🏾 pic.twitter.com/vNFzoEhpEp

— Naeshaun Montgomery (@NaeshaunM) December 11, 2022
Update (2:07 PM)-
WATCH – It's something you'd see in a movie.

3 @Pitt_FB players hopped in a Ford Explorer with @UTEPMBB coach Joe Golding & his family on Christmas and drove 9 hours through the night from Dallas to El Paso in time for the Tony the Tiger Sun Bowl.

MORE: https://t.co/TsOwaW5cUm pic.twitter.com/IKoMei1U2E

— Colin Deaver (@ColinDeaverTV) December 27, 2022
Update (2:04 PM)-
Good afternoon Panther Nation‼️@Pitt_MBB plays two AP ranked ACC opponents this week: AT HOME!🔥

Friday 12/30:
👥- #25 UNC
⏰- Noon

Tuesday 1/3:
👥- #13 UVA
⏰- 9:00PM

Get your tickets!!
Pitt Student Tix: https://t.co/PYZYWs8Vgq
College student deal: https://t.co/MqVHVB5Msi

— Oakland Zoo (@OaklandZoo) December 27, 2022
Update (1:51 PM)-
When Wake Forest's Sam Hartman enters the transfer portal, he'll be the 7th ACC starting QB who has transferred this offseason.

— Max Olson (@max_olson) December 27, 2022