The Frank Walker Law/PSN Daily Notebook- December 28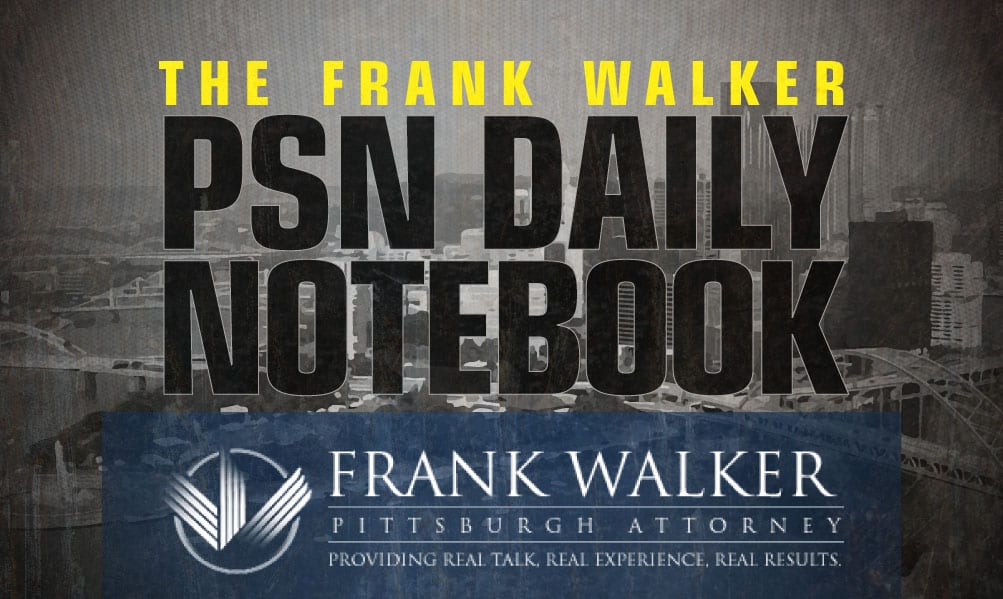 The PSN Daily Notebook is sponsored by Frank Walker, one of Pittsburgh and West Virginia's most respected criminal defense and injury lawyers. Mr. Walker has offices in Pittsburgh and Morgantown and has been named one of Top 100 National Trial Lawyers and is rated a perfect 10.0 Superb by Avvo for ethics, experience and results. To reach Mr. Walker, you can call 412-532-6805 or go to his website frankwalkerlaw.com. For real talk, real experience and real results, contact Frank Walker Law.
Updated (8:05 PM)-
'23 Pitt signee Carton Carrington (11) scored an event-high 36 points.

'25 Tyler Jackson (2) ended the game with 24 points. Says UNC has been in contact.

'23 Maryland signee Johnathan Lamothe finished with 16 points.

'24 Jalil Bethea scored majority of his 19 in 2H. pic.twitter.com/pcLCkcBgiZ

— Travis Graf (@TravisGrafHoops) December 28, 2022
Update (6:01 PM)-
Last Practice of the Season ✅

Thank You, Seniors 🎓

Beat UCLA ⏳#H2P » @TonyTheTigerSB pic.twitter.com/AW7JfY1vRz

— Pitt Football (@Pitt_FB) December 28, 2022

Update (4:18 PM)-
Pitt is full of wholesome moments this week. On the las practice of the year, the Panthers' seniors go through a farewell line and hug all of their teammates. pic.twitter.com/zb6I6kuXtN

— Colin Deaver (@ColinDeaverTV) December 28, 2022
Update (1:24 PM)-
Pitt HC Jeff Capel will be in for ⭐️⭐️⭐️⭐️⭐️ Alier Maluk'25 @Maluk_Alier12 vs ⭐️⭐️⭐️⭐️⭐️ Darryn Peterson'25 @PetersonDarryn tonight #H2P pic.twitter.com/Yv7tRE3jV7

— 𝒜𝓃𝒹𝓇ℯ𝓌 𝒮𝓁𝒶𝓉ℯ𝓇 (@Andrew__Slater) December 28, 2022
Update (1:23 PM)-
Future @Pitt_MBB guard @jalandlowe https://t.co/TbGArEGtFB

— Pittsburgh Sports Now (@PghSportsNow) December 28, 2022
Update (12:34 PM)-
Hey Coach, we love to reward kindness with fries and slaw. DM us and we'll ship you some love from the Steel City! https://t.co/deo9NnrNR7

— Primanti Bros (@primantibros) December 27, 2022
Update (9:47 AM)-
All in all, Duquesne had a very successful non-conference campaign, going 10-3 overall.

Here are the key takeaways I have for the Dukes ahead of Atlantic 10 play. https://t.co/ThG3RZbPrk

— Tristan Freeman (@hoopsnut351) December 28, 2022
Update (9:04 AM)-
Dinner with Troops 🍲 pic.twitter.com/JgMOZSMEEs

— Tony The Tiger Sun Bowl (@TonyTheTigerSB) December 28, 2022
Update (9:00 AM)-
It was a personal goal of his… and I'm so proud of how much work he put in to achieve it…. However , he has opted out of the game to focus completely on the next chapter!! The future has finally arrived!!! pic.twitter.com/uwu6dUB8Ao

— Tina "Ghost Ma" Neal (@TiTithatsme) December 28, 2022

Update (8:39 AM)- 
**Robert Morris basketball extends an offer to 2023 3-star forward Will Lovings-Watts from Jeffersonville, Indiana. Lovings-Watts currently attends the Putnam Academy. Aside from Robert Morris, Lovings-Watts has received offers from Drake, Quinnipiac and St. Bonaventure.
Blessed to recive an offer to RMU! Thanks to Coach Johnson and staff. pic.twitter.com/vJwjZGeDgb

— Will🏄‍♀️ (@IndianaWill12) December 27, 2022