The Frank Walker Law/PSN Daily Notebook- December 31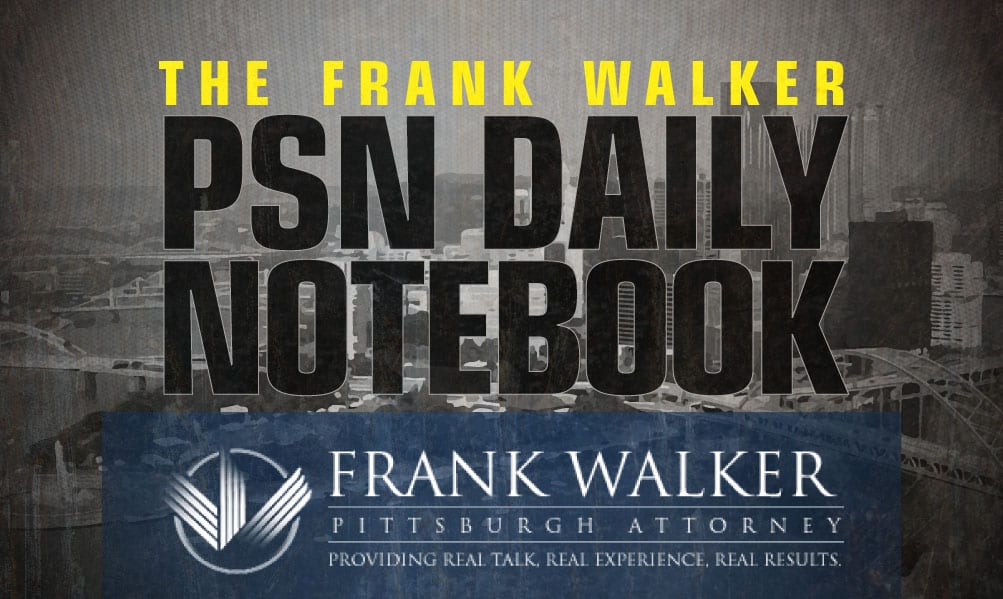 The PSN Daily Notebook is sponsored by Frank Walker, one of Pittsburgh and West Virginia's most respected criminal defense and injury lawyers. Mr. Walker has offices in Pittsburgh and Morgantown and has been named one of Top 100 National Trial Lawyers and is rated a perfect 10.0 Superb by Avvo for ethics, experience and results. To reach Mr. Walker, you can call 412-532-6805 or go to his website frankwalkerlaw.com. For real talk, real experience and real results, contact Frank Walker Law.
Update (7:05 PM)-
Proud of the Pitt QB Room, 2022 Sun Bowl Champions, Appreciate all your time and effort, Thank You for the Memories! @Nickpatti12 @NateYarnell @derek_kyler @elikosanovich_ @jake_frantl @Coach_JDiBiaso #H2P pic.twitter.com/0zxBTuypAv

— Frank Cignetti Jr. (@FrankCignetti) December 31, 2022
Update (6:36 PM)-
**Former Pitt wide receiver Shocky Jacques-Louis declares for the 2023 NFL Draft.
Let's goooo!!!! @ShockyMVP pic.twitter.com/Ij58ZGHG84

— Valerie Church (@Valerie72738879) December 30, 2022
Update (6:29 PM)-
✅ Beat No. 18 in @TonyTheTigerSB
✅ 5-0 in November/December
✅ 4-0 in games decided by 20+
✅ 2-0 vs. Big 12, Pac-12 opponents
✅ 20 wins in the last two seasons

That's a Top 25 résumé 🗣#H2P » #WeNotMe pic.twitter.com/QchOQGU9pQ

— Pitt Football (@Pitt_FB) December 31, 2022
Update (9:37 AM)-
Pitt's win against UCLA in the Sun Bowl is its first win over an AP-ranked opponent in a bowl game since topping Texas A&M in the 1989 Sun Bowl pic.twitter.com/0v9lijlQOU

— Matt Brown (@MattBrownCFB) December 30, 2022
Update (8:57 AM)-
Yes indeed. Thank you for your leadership and always there for the Mumpfields pic.twitter.com/FQj5PwzTtN

— Michelle Mumpfield (@MichelleMumpfi1) December 31, 2022
SPORTS NOW COLLEGE NETWORK
Penn State Defenders Adisa Isaac and Curtis Jacobs Undecided On NFL
Smeltzer: Juice Scruggs Could be Right, Penn State Could be a Playoff Team Next Season
Bock: Midseason Awards and Grades for West Virginia Basketball