The Frank Walker Law/PSN Daily Notebook- January 9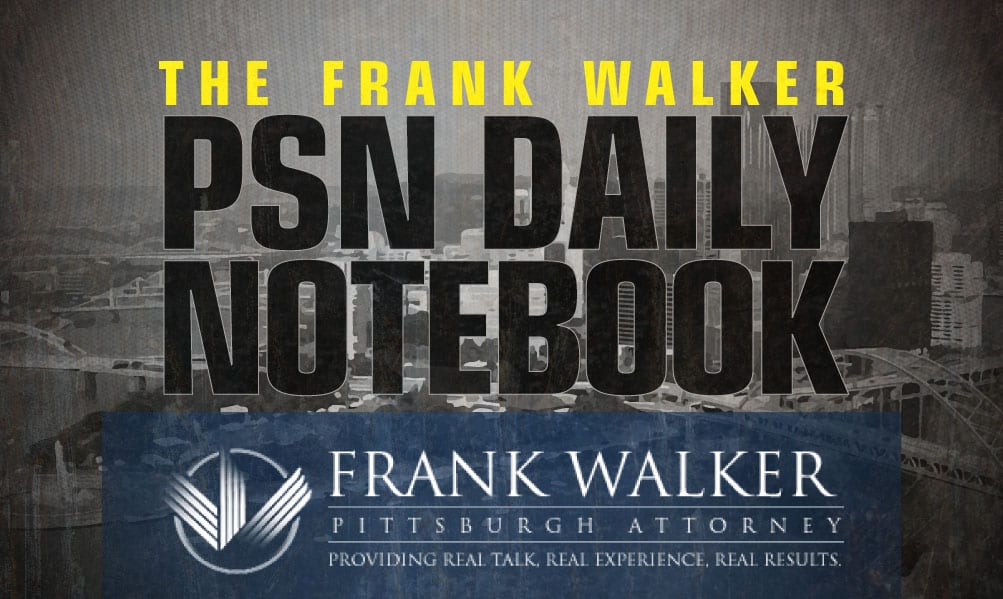 The PSN Daily Notebook is sponsored by Frank Walker, one of Pittsburgh and West Virginia's most respected criminal defense and injury lawyers. Mr. Walker has offices in Pittsburgh and Morgantown and has been named one of Top 100 National Trial Lawyers and is rated a perfect 10.0 Superb by Avvo for ethics, experience and results. To reach Mr. Walker, you can call 412-532-6805 or go to his website frankwalkerlaw.com. For real talk, real experience and real results, contact Frank Walker Law.
Update (3:32 PM)-
Pitt WR Jared Wayne is a big-time playmaker that is headed to Orlando to play in the 2023 Hula Bowl in Orlando. @jwayne_5 @Pitt_FB @DraftDiamonds are found at the #HulaBowl pic.twitter.com/u9NHZDVmqc

— Hula Bowl (@Hula_Bowl) January 9, 2023
Update (12:33 PM)-
POLL ALERT: Houston back at No. 1 in men's AP Top 25, Kansas, Purdue next; Tennessee cracks top five, Kansas State jumps in at No. 11 and Big East adds two more teams to rankings.

Full poll: https://t.co/ZJG5mgWZhI pic.twitter.com/AGoFqNt2jZ

— AP Top 25 (@AP_Top25) January 9, 2023
Update (10:27 AM)-
**It's looking as though Duke will be without starting guard Jeremy Roach for Wednesday's matchup against Pitt. Roach is averaging 11.9 points per game and shooting 32.3% from 3-point range.
On Monday AM, @JonScheyer reiterated that it's "unlikely" Jeremy Roach (toe) will be available Wednesday night against Pitt.

— Stephen Wiseman (@stevewisemanNC) January 9, 2023
Update (8:12 AM)-
**Former Pitt tight end Kyi Wright has decided on a new football home, as he's committed to play for James Madison. It's interesting that the head coach of James Madison is Curt Cignetti, the brother of Pitt offensive coordinator Frank Cignetti.