The Frank Walker Law/PSN Daily Notebook- January 11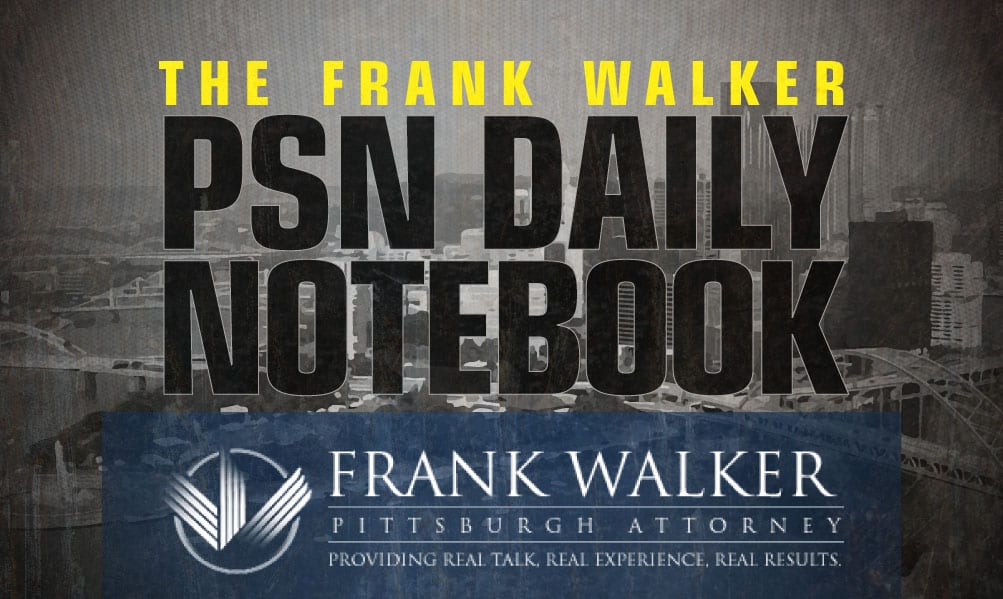 The PSN Daily Notebook is sponsored by Frank Walker, one of Pittsburgh and West Virginia's most respected criminal defense and injury lawyers. Mr. Walker has offices in Pittsburgh and Morgantown and has been named one of Top 100 National Trial Lawyers and is rated a perfect 10.0 Superb by Avvo for ethics, experience and results. To reach Mr. Walker, you can call 412-532-6805 or go to his website frankwalkerlaw.com. For real talk, real experience and real results, contact Frank Walker Law.
Update (5:30 PM)- 
**Pitt extended an offer to 2026 WR/DB Jardon Stringer today. Stringer (a 6-foot-2, 180-pounder from LaGrange High in LaGrange, Georgia) picked up his first offer from Archie Collins and Pitt.
I am truly #BLESSED TO RECEIVE MY 1ST ⭕️FFER FROM @Pitt_FB AFTER RECEIVING WR MVP at HOLIDAY @HOTLISTCAMPS & BALLERSCHOICE1 #H2P @ARCHIECOLLINS_ @CoachMIL1 @EnloeClemons THANK YOU!@BigBlueRecruits @MattNapier9 @JeremyO_Johnson @lukewinstel@SWiltfong247 @adamgorney#COACHMIL pic.twitter.com/AyOgOZDWqx

— jardon stringer (@jardonstriger9) January 11, 2023
Update (12:21 PM)-
🔜 Support Damar Hamlin

Pitt and @Nike have collaborated on this special shirt that will go on sale next week at these locations!

» https://t.co/GPRlvyivf6
» The Pitt Shop
» Rally House
» Dick's Sporting Goods

Proceeds will go to @ChasingMs_ 3️⃣#H2P » @HamlinIsland pic.twitter.com/N6tQ2G37Aa

— Pitt Football (@Pitt_FB) January 11, 2023

Update (11:39 AM)-
Michael Behonick played a large part as an assistant for Pitt Men's Soccer, serving as assistant coach for Jay Vidovich for his seven years here and making the program one of the best in the country. https://t.co/osI0eyuqFH

— Dominic Campbell (@DOMISMONEY) January 11, 2023
Update (11:36 AM)-
An amazing Damar Hamlin update. ❤️💙 pic.twitter.com/GyP2uDQry0

— Buffalo Bills (@BuffaloBills) January 11, 2023
Update (10:05 AM)-
There won't be any local men's home games for nearly 2 weeks, as all 3 teams are on the road until the 21st.

Pitt – Duke, GT, Louisville
Duquesne – Richmond (L), St. Joe's, St. Bona
RMU – Oakland, Detroit Mercy, Milwaukee, Green Bay

How well these teams do here will be telling.

— Tristan Freeman (@hoopsnut351) January 11, 2023
Update (9:41 AM)-
**Pitt football has extended an offer to 2025 athlete Kainoa Winston from Montgomery Village, Maryland. Winston (6'0″, 180-pounds) is also an accomplished sprinter. Winston also holds an offer from Maryland.
6.50 55m dash first indoor meet of the season!! pic.twitter.com/q59Vl1CBzA

— Kelvin Kainoa Winston (@KainoaWinston) December 11, 2022