The Frank Walker Law/PSN Daily Notebook- January 12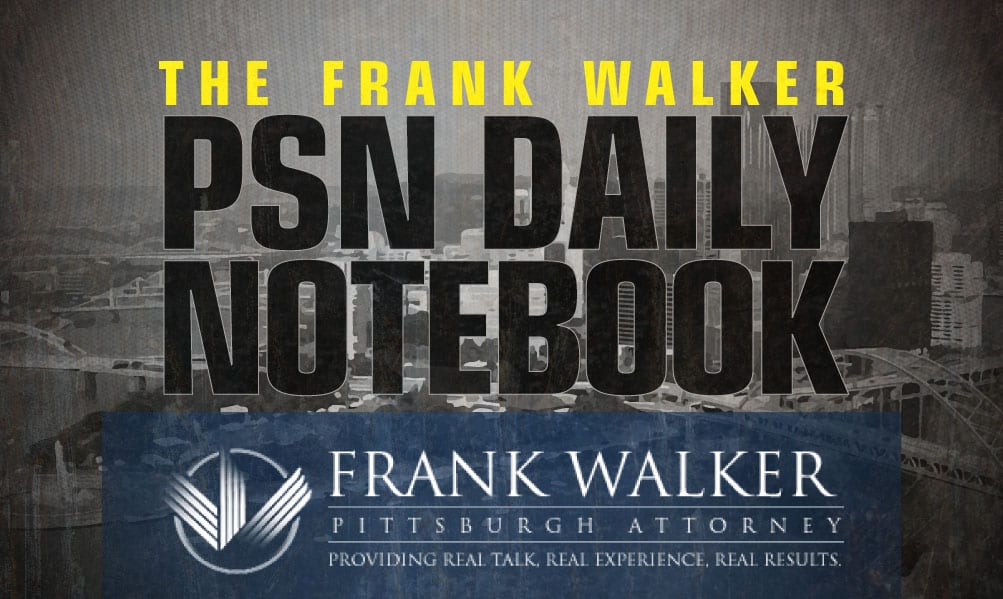 The PSN Daily Notebook is sponsored by Frank Walker, one of Pittsburgh and West Virginia's most respected criminal defense and injury lawyers. Mr. Walker has offices in Pittsburgh and Morgantown and has been named one of Top 100 National Trial Lawyers and is rated a perfect 10.0 Superb by Avvo for ethics, experience and results. To reach Mr. Walker, you can call 412-532-6805 or go to his website frankwalkerlaw.com. For real talk, real experience and real results, contact Frank Walker Law.
Update (3:49 PM)-
Waldrum will stay with the Panthers for the next five seasons.

Pitt made their first ever ACC Tournament and NCAA Tournament in 2022, making it to the Sweet 16 https://t.co/KEF8TdZaaA

— Dominic Campbell (@DOMISMONEY) January 12, 2023
Update (3:27 PM)- 
**Pine-Richland 2024 3-star offensive lineman Ryan Cory received an offer today from Miami, Fla. Cory (6'4", 290) also holds offers from Pitt, West Virginia, Cincinnati, Kansas State, Kentucky, Louisville, Maryland, UConn and Oregon.
Ryan Cory

• IOL – DL // Ht. 6'4 Wt. 290 // 2024
• 1st Team All Conference
• WPIAL and STATE Champions
• If you have time, watch the whole thing.

Full Junior Season Highlights ⬇️⬇️⬇️https://t.co/Ylum4mCiXs

— Ryan Cory (@RyanCory15) December 19, 2022
Update (3:19 PM)-
#Pitt offers talented 2024 athlete Shaw 'Showtime' Terry from The Avalon School in Gaithersburg, MD. #H2P 🔵🟡 https://t.co/YlkQWkHT5o

— Harry G. Psaros (@PittGuru) January 12, 2023
Update (1:48 PM)- 
**Congrats to former Pitt great Hank Poteat for his new job with Iowa State.
10-year NFL career and success as a coach! Excited to add @PoteatCoach as our new cornerbacks coach!https://t.co/eqTZwG1Yxv

🌪️🚨🌪️ pic.twitter.com/ylD0ZHhYw5

— Cyclone Football (@CycloneFB) January 12, 2023
Update (1:39 PM)- 
**Congrats to Mt. Lebanon 2024 linebacker/running back Beckham Dee for receiving an offer from Toledo, which is his first D-1 offer.
Junior year full season highlightshttps://t.co/N6gmFlkZ6q pic.twitter.com/FvubQOgtH0

— Beckham Dee (@BeckhamDee9) November 15, 2022
Update (9:08 AM)- 
**Former Pitt running back Vincent Davis makes Mike Farrell's list.
Transfer Portal: Top 5 Available Running Backs (1/12) https://t.co/4uMFZ7ErqQ

— Mike Farrell (@mfarrellsports) January 12, 2023