The Frank Walker Law/PSN Daily Notebook- January 14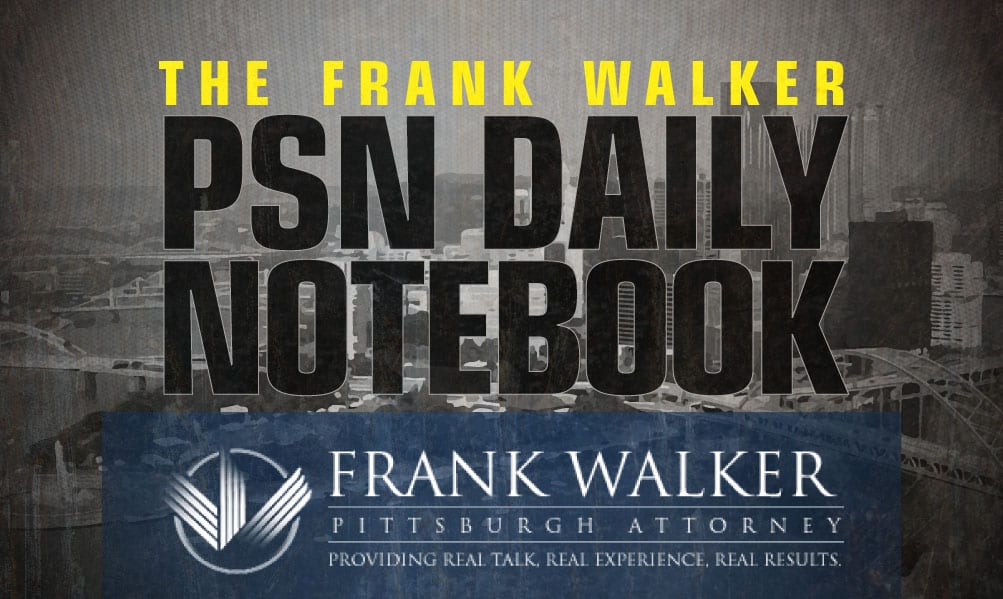 The PSN Daily Notebook is sponsored by Frank Walker, one of Pittsburgh and West Virginia's most respected criminal defense and injury lawyers. Mr. Walker has offices in Pittsburgh and Morgantown and has been named one of Top 100 National Trial Lawyers and is rated a perfect 10.0 Superb by Avvo for ethics, experience and results. To reach Mr. Walker, you can call 412-532-6805 or go to his website frankwalkerlaw.com. For real talk, real experience and real results, contact Frank Walker Law.
Update (7:05 PM)-
Pittsburgh commit Carlton Carrington finished with 42 points, 6 rebounds and 7 assist in a win here at the St. James MLK Classic.

— Dushawn London (@DushawnLondon1) January 15, 2023
Update (3:19 PM)-
**Pitt football extends an offer today to 2025 4-star offensive tackle Jaelyne Matthews from Tom Rivers North High School in Tom Rivers, New Jersey. Matthews (6'6″, 300-pounds) received the news from Tiquan Underwood. Along with Pitt, Matthews holds offers from Boston College, Cincinnati, Georgia, Louisville, Maryland, Miami, Nebraska, Ohio State, Penn State, Rutgers, Syracuse, Tennessee, Texas A&M, Vanderbilt and West Virginia.
Check out my full season film !!! @RivalsFriedman @RivalsRichie @BrianDohn247 @Mansell247 https://t.co/OI92YjJ9He

— Jaelyne Matthews (@JaelyneMatthew3) January 8, 2023
Update (7:25 AM)- 
**Congrats to Central Catholic 2025 athlete Xxavier Thomas for earning an offer to Akron. This is big for Thomas because it's his first D-1 offer. Xxavier is the younger brother of Indianapolis Colts safety Rodney Thomas.
After a great conversation with @CoachFess Im excited to say I've received my first D1 offer from Akron University @Nrenna @Coach_TBell @210ths @PCC_FOOTBALL @wpialsportsnews pic.twitter.com/L2kVlzQN2W

— Xxavier Thomas (@Xxavier_Thomas) January 13, 2023