The Frank Walker Law/PSN Daily Notebook- January 18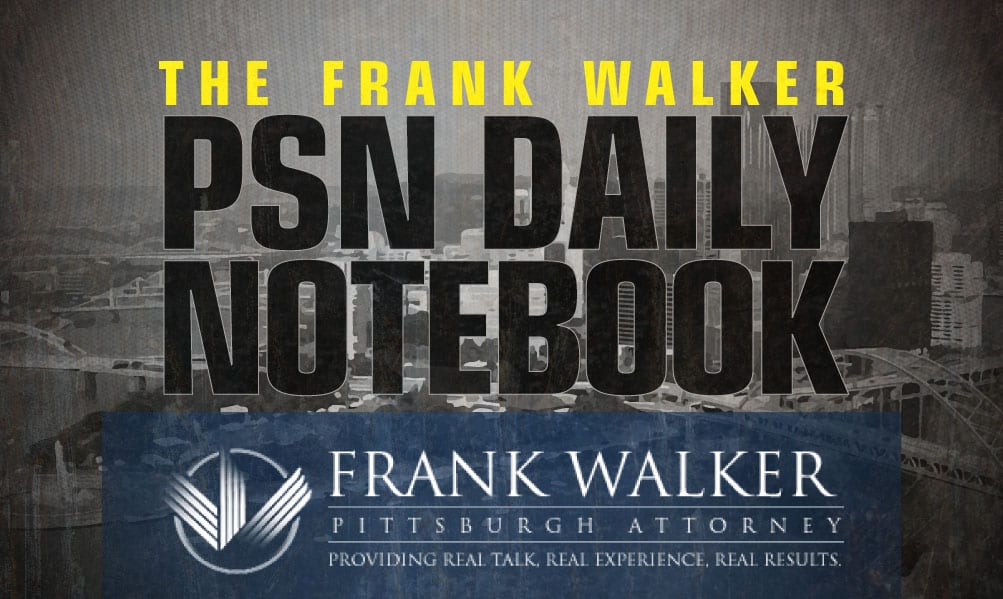 The PSN Daily Notebook is sponsored by Frank Walker, one of Pittsburgh and West Virginia's most respected criminal defense and injury lawyers. Mr. Walker has offices in Pittsburgh and Morgantown and has been named one of Top 100 National Trial Lawyers and is rated a perfect 10.0 Superb by Avvo for ethics, experience and results. To reach Mr. Walker, you can call 412-532-6805 or go to his website frankwalkerlaw.com. For real talk, real experience and real results, contact Frank Walker Law.
Update (7:20 PM)-
Source: Pat Narduzzi paid a visit to Aliquippa high school this afternoon. He's supposedly returning this evening for the Quips' basketball game. Aliquippa standouts Cam Lindsey (2024 LB) and Tikey Hayes (2025 RB) both have offers from the Panthers.

— Noah Hiles (@_NoahHiles) January 18, 2023
Update (3:33 PM)-
It's always a great day when @CoachDuzzPittFB @Kzovko and @Pitt_FB stop by to see us @MarsHSFootball. Great to have the Panthers in the house!! #H2P pic.twitter.com/vtxqcOXtL6

— Coach Eric Kasperowicz (@CoachKasper) January 18, 2023
Update (11:18 AM)-
NEW: Longtime Rival Duquesne Visits RC Wednesday

Wednesday's game will add another chapter to this historic rivalry and is a big game in the standings.

Can the #Bonnies improve to 4-2 in conference play, thus climbing up to 4th in the A10?

For @A10Talk:https://t.co/D1onAyyH1A

— Jack Milko (@jack_milko) January 18, 2023
Update (11:01 AM)-
**The latest offer for Bishop Canevin 2024 athlete Jason Cross comes from Toledo. Cross also holds Power Five offers from Penn State and West Virginia.
Blessed to receive another Division 1 Offer From Toledo University @ToledoFB! @CoachRossWatson @210ths @RivalsFriedman@PRZPAvic @PrepRedzonePA @EdOBrienCFB @wpialsportsnews @Coach_Rich4 #AGTG #GoRockets pic.twitter.com/utwvWKz0Cu

— Jᴀsᴏɴ Cʀᴏss 2️⃣. ✞ (@JasonCrossJr) January 18, 2023
Update (9:55 AM)-
**A second offer to a player from Monarch High School in Fort Lauderdale, as this one goes to 2025 6'3″ athlete Samari Reed. This is a big one for Reed, because it's his first Power Five offer. Yesterday, he received his first D-1 offer, which came from Florida Atlantic. Charlie Partridge gave the news to Reed.
25' WR 6'3 185lbs Samari Reed @ReedSamari Monarch HS, led the state with a 47.2 KR average, very explosive, and sudden, outstanding hands, effortless route runner, good blocker, Kid is a GameChanger period! https://t.co/mYG9W3rvTk @Coach_Grisham

— The Unsilent Majority (@JackSwain100) November 23, 2022
Update (9:45 AM)-
**First offer of the day for Pitt goes to a big-time freshman, 2026 wide receiver Jabari Brady from Monarch High School in Fort Lauderdale, Florida. Brady (6'3″, 190-pounds) already holds offers from Arkansas, Florida State, Georgia, Louisville, Maryland, Oregon, Penn State and Texas A&M. Brady received the offer from Charlie Partridge.
Blessed To Receive An Offer From University Of Pittsburgh @CoachPartridge @JerryRecruiting @CSS_TRAINING @Rivals @JesseAnderson05 pic.twitter.com/lRj15116bU

— Jabari Brady (@_jbrady1) January 18, 2023
Update (9:38 AM)-
The @seniorbowl will name #Bears OC Luke Getsy the head coach of the American team and #Raiders DC Patrick Graham the head coach of the National team, per source.

— Tom Pelissero (@TomPelissero) January 18, 2023
SPORTS NOW COLLEGE NETWORK
Penn State QB Drew Allar has 10th-Highest Heisman Trophy Odds
Asti: Promoting Chad Scott to OC Actually Makes Sense for West Virginia Football