The Frank Walker Law/PSN Daily Notebook- September 4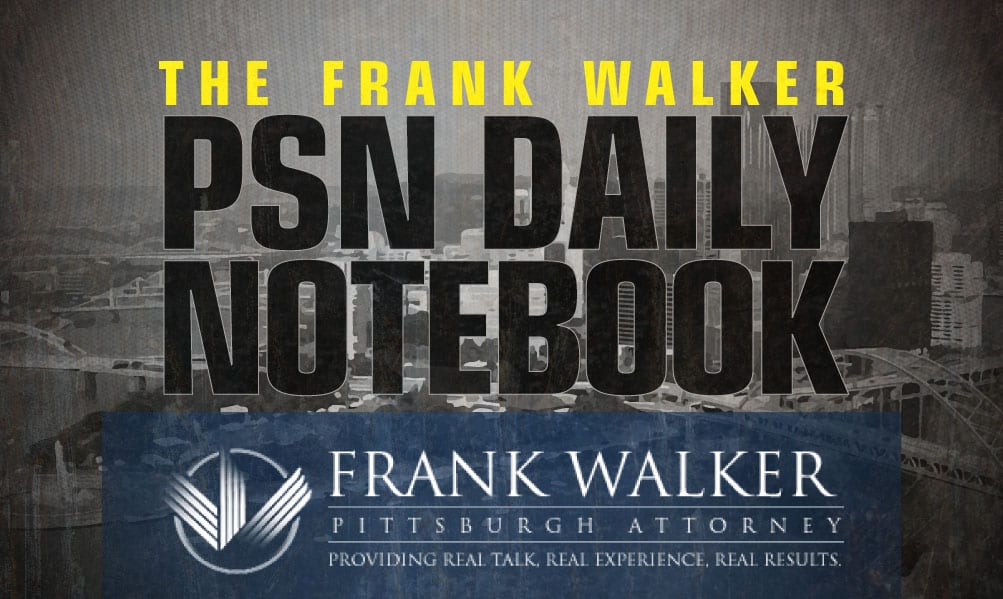 The PSN Daily Notebook is sponsored by Frank Walker, one of Pittsburgh and West Virginia's most respected criminal defense and injury lawyers. Mr. Walker has offices in Pittsburgh and Morgantown and has been named one of Top 100 National Trial Lawyers and is rated a perfect 10.0 Superb by Avvo for ethics, experience and results. To reach Mr. Walker, you can call 412-532-6805 or go to his website frankwalkerlaw.com. For real talk, real experience and real results, contact Frank Walker Law.
Update (2:17 PM)- 
Two WPIAL alum getting it done on the practice field, making their teams better 💪

– Belle Vernon's Devin Whitlock 🟩🟨
– Char Valley's Abe Ibrahim🟥🟦

Great scout team players turn into great football players 💯📈 https://t.co/6QPvCDNV7M

— WPIAL Insider (@WPIAL_Insider) September 4, 2023
Update (1:37 PM)- 
𝗣𝗥𝗜𝗠𝗘 𝗣𝗘𝗥𝗙𝗢𝗥𝗠𝗘𝗥

Ayden Garnes has been named an @NECFootball Prime Performer for Week 1 ‼️

📰 https://t.co/NUmhMIIejx#GoDukes pic.twitter.com/ytxAxbC07n

— Duquesne Football (@DuqFB) September 4, 2023
Update (1:31 PM)- 
**Congrats to Central Valley 2026 OL/DL Brendan Alexander for receiving his first D-1 offer. The 14-year old is already 6'4", 270-pounds.
All glory to God! After a conversation with @CoachTerryPSU I've been Blessed to receive an offer from Penn State University!! #WeAre @CoachTrautFB @wpialsportsnews @PA_TodaySports @CoachLyonsCVfb @PennStateFball @coachjfranklin @PRZPAvic #WeAre pic.twitter.com/SzQVDswu4Z

— Brendan Alexander (@BrendanAlex50) September 4, 2023
Update (1:05 PM)- 
**Aliquippa 2025 4-star RB Tiqwai Hayes will release his Top 8 tomorrow.
Top 8 tomorrow at 3pm‼️‼️‼️ pic.twitter.com/sZC3BaTbP9

— ✊🏽tikey✊🏽 (@Tiqwaihayes) September 4, 2023

Update (12:48 PM)-
Cincinnati depth chart. Don't believe I see any changes from last week. pic.twitter.com/swI356QiyM

— Karl Ludwig (@LudwigKarl8) September 4, 2023

Update (11:55 AM)-
Longest active streaks of scoring 35+ in a game:

FSU, 7
UGA, 5
Penn St, 4
JMU, 4
Pitt, 3
Tulsa, 3
Bama, 3
ND, 3
USC, 3

— 💫🅰️♈️🆔 (@ADavidHaleJoint) September 4, 2023

Update (8:24 AM)-
It's past the time to start publicly recognizing @Coach_Manalac as the tremendous ball coach he is. Developing great LBs here… #H2P #WeNotMe https://t.co/xRgWovqNZh

— Charlie Partridge (@CoachPartridge) September 4, 2023