The Frank Walker Law/PSN Daily Notebook- September 5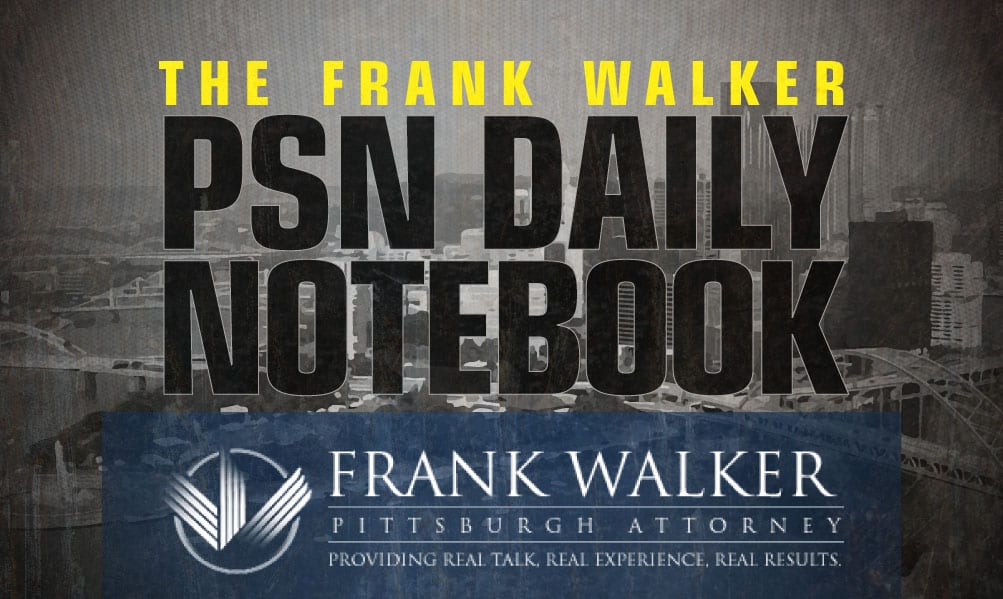 The PSN Daily Notebook is sponsored by Frank Walker, one of Pittsburgh and West Virginia's most respected criminal defense and injury lawyers. Mr. Walker has offices in Pittsburgh and Morgantown and has been named one of Top 100 National Trial Lawyers and is rated a perfect 10.0 Superb by Avvo for ethics, experience and results. To reach Mr. Walker, you can call 412-532-6805 or go to his website frankwalkerlaw.com. For real talk, real experience and real results, contact Frank Walker Law.
Update (5;30 p.m.)-
The Cincinnati Bengals worked out former Pitt defensive lineman Habakkuk Baldonado on Tuesday. Baldonado signed a free agent contract with the New York Giants, but they waived him last Tuesday.
Baldonado played for four seasons for Pitt from 2019-22. He played in 36 games, made 99 tackles, 48 solo, 21.5 tackles for loss and 15.0 sacks. His best season came in 2021, as he made 41 tackles, 25 solo, 12.0 tackles for loss and 9.0 sacks en route to Pitt winning their first ever ACC Championship.
#Bengals worked out Habakkuk Baldonado, Zach Gentry (signed), Garrett Nelson (signed), Jimmy Phillips, Rezjohn Wright

— Aaron Wilson (@AaronWilson_NFL) September 5, 2023
Update (4:01 PM)-
We will be holding walk-on tryouts on Wednesday September 20th, at 5 PM, at Charles L. Cost Field.

Applications will be accepted until September 14th at 5 PM!

Please complete this form if you are interested!

🔗: https://t.co/CzzAq06tVN#H2P pic.twitter.com/dDi7YKIFiy

— Pitt Baseball (@Pitt_BASE) September 5, 2023
Update (12:51 PM)-
Field Pass 🎥 Pitt 45, Wofford 7#H2P » #BAM » #WeNotMe pic.twitter.com/8sVGdO66Vj

— Pitt Football (@Pitt_FB) September 5, 2023
Update (12:37 PM)- 
ACC QBR in Week 1:

94.7: Jordan Travis, Florida State

88.0: Grant Wells, Virginia Tech
87.0: Drake Maye, North Carolina
85.4: Riley Leonard, Duke

75.8: Haynes King, Georgia Tech
73.9: Phil Jurkovec, Pitt
71.5: Brennan Armstrong, NC State
70.1: Garrett Shrader, Syracuse

64.8:…

— parker fleming (@statsowar) September 5, 2023
What an amazing bunch of guys. Lunch and smiles with some great families. Sounds like a quality Labor Day to me… https://t.co/fPRU0jST3o

— Jeff Goldberg (@goldbergja33) September 4, 2023
Update (12:20 PM)-
My Week 2 bowl projections. @CFBPlayoff: Georgia-Washington, Michigan-Florida State; Orange: Penn State-UNC; Cotton: Texas-Oregon; Fiesta: Alabama-USC; Peach: Ohio State-Tulane; Sun: Colorado-Duke; Music City: Texas A&M-Illinois; Las Vegas: Iowa-UCLAhttps://t.co/zTmQurTgIU pic.twitter.com/esBhJqC0ay

— Brett McMurphy (@Brett_McMurphy) September 5, 2023
Update (12:05 PM)-
**Pitt football will be getting a visit this Saturday from 2025 quarterback Bjorn Jurgensen (6'2″, 165) from Dr. Phillips High School in Orlando, Florida. Jurgensen received the invite from Panthers offensive coordinator Frank Cignetti. Jurgensen is waiting for his first D-1 offer.
Update (8:42 AM)-
ACC power rankings, Week 1
1. Florida State 👀
2. North Carolina 🍿
3. Duke 1️⃣9️⃣8️⃣9️⃣
4. Pitt 🙂
5. Miami 😤
6. Louisville 😅
7. Virginia Tech 🤴
8. NC State 🧐
9. Syracuse 😬
10. Wake 🪄
11. Georgia Tech 🥺
12. Clemson 🤯
13. Virginia 🕊️
14. BC 😳

— Andrea Adelson (@aadelsonESPN) September 5, 2023
Update (8:30 AM)-
Big congrats to @kennypickett10 on being named a captain!! 🎱#H2P #Pitt2ThePros #HereWeGo pic.twitter.com/JSB4iRAYfE

— Pat Narduzzi (@CoachDuzzPittFB) September 4, 2023