The Frank Walker Law/PSN Daily Notebook- September 7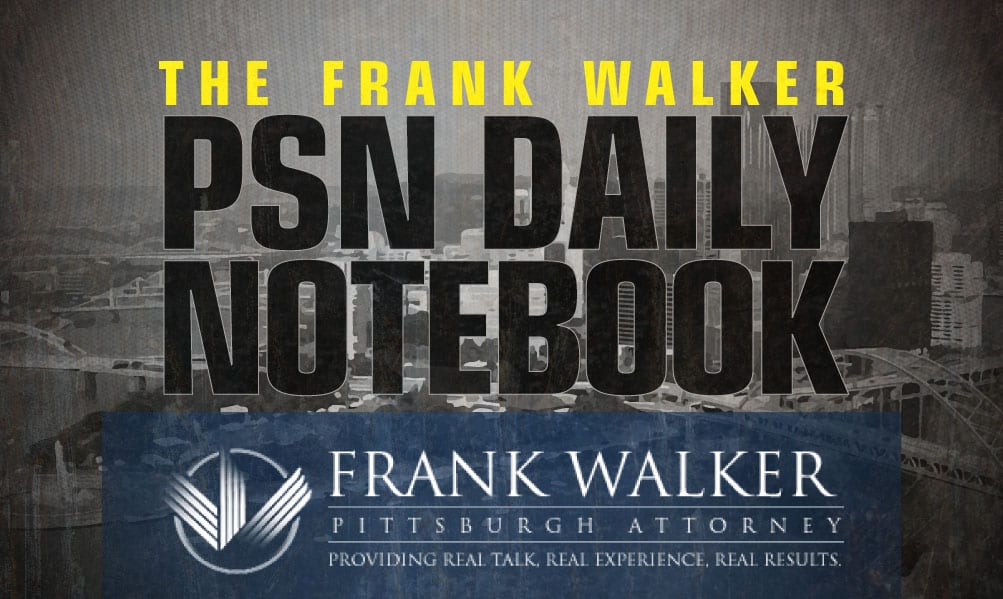 The PSN Daily Notebook is sponsored by Frank Walker, one of Pittsburgh and West Virginia's most respected criminal defense and injury lawyers. Mr. Walker has offices in Pittsburgh and Morgantown and has been named one of Top 100 National Trial Lawyers and is rated a perfect 10.0 Superb by Avvo for ethics, experience and results. To reach Mr. Walker, you can call 412-532-6805 or go to his website frankwalkerlaw.com. For real talk, real experience and real results, contact Frank Walker Law.
Update (1:53 PM)-
Too good not to share 🤩#H2P pic.twitter.com/JfTodt2Vj9

— Pitt Women's Soccer (@Pitt_WSOC) September 7, 2023
Update (12:14 PM)-
Really big blow for the GT defense … https://t.co/pDhpzjiOvv

— Andrea Adelson (@aadelsonESPN) September 7, 2023
Update (11:57 AM)-
*After being out the last couple of weeks due to an injury, could former Pitt star Calijah Kancey be ready for Week 1?
Calijah Kancey, Ke'Shawn Vaughn practice with Bucs Thursday. https://t.co/UQWkEMwWho

— ProFootballTalk (@ProFootballTalk) September 7, 2023
Update (11:46 AM)-
Back in the 'Burgh 💪

We are thrilled to welcome back former All-Region and All-ACC Pitcher @mattgilbertson_ as our Director of Player Development!

🔗: https://t.co/TWbzXX0k6E#H2P pic.twitter.com/av7XUXhicP

— Pitt Baseball (@Pitt_BASE) September 7, 2023
Update (11:41 AM)-
"It means a lot. I'm happy to be from Pittsburgh and be part of this program."

Dayon Hayes joined ACC PM and talked about the 2023 schedule, his pride in playing for Pitt, training with Aaron Donald and more.@DayonHayes00@MarkPacker@TaylorTannebaum#H2P » @ACCNetwork pic.twitter.com/ehcJVdzxij

— Pitt Football (@Pitt_FB) September 7, 2023
Update (11:28 AM)-
**For this game this Saturday against Cincinnati, Pitt will receive an unofficial visit from 2025 3-star offensive lineman Jake Cook from Westerville, Ohio. Cook (6'5″, 295-pounds) is waiting for his first Power 5 offer but holds offers from Akron, Ball State, Bowling Green, Central Michigan, Eastern Michigan, Marshall, UMass, Miami Ohio, Toledo, UNLV, Western Michigan and UMass.
42-0 great team win last night! 0 pressures 0 sacks so far this season! ⁦@Jacksonville8⁩ ⁦@Marcus_Ray29⁩ ⁦@AllenTrieu ⁦@Rivals_Clint⁩ ⁦⁦@JaredLuginbill⁩ https://t.co/2JrwhCuVRJ

— Jake Cook (@CookJake52) September 2, 2023