The Frank Walker Law/PSN Daily Notebook: September 13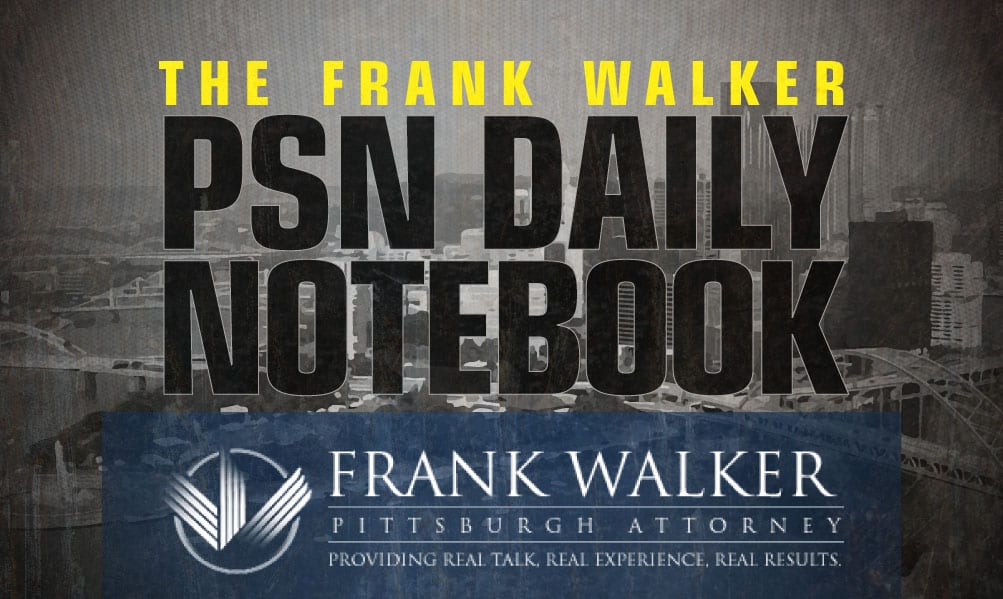 The PSN Daily Notebook is sponsored by Frank Walker, one of Pittsburgh and West Virginia's most respected criminal defense and injury lawyers. Mr. Walker has offices in Pittsburgh and Morgantown and has been named one of Top 100 National Trial Lawyers and is rated a perfect 10.0 Superb by Avvo for ethics, experience and results. To reach Mr. Walker, you can call 412-532-6805 or go to his website frankwalkerlaw.com. For real talk, real experience and real results, contact Frank Walker Law.
Update (12:47 PM)-
Jets S Jordan Whitehead is the AFC's defensive player of the week. https://t.co/poPvsL5VN8

— ProFootballTalk (@ProFootballTalk) September 13, 2023

Update (11:34 AM)-
**Lincoln Park 2025 5-star guard Meleek Thomas has had a couple visitors the past two days.
Kansas St is in for ⭐️⭐️⭐️⭐️⭐️ Meleek Thomas'25 @ThomasMeleek of @LPHighSchoolMBB & @NY_Lightning . #EMAW

Kentucky's John Calipari was in on Monday. #BBN pic.twitter.com/RBHbvZwvHm

— 𝒜𝓃𝒹𝓇ℯ𝓌 𝒮𝓁𝒶𝓉ℯ𝓇 (@Andrew__Slater) September 13, 2023
Update (11:19 AM)-
The class of 2026 in the WPIAL will be the best recruiting class since 2016📈

Playmakers are everywhere you look, and the class is DEEP‼️

The Class of 2027 is already starting to have legitimate star power with freshman leading some teams.

The Future is exciting in Western PA

— WPIAL Insider (@WPIAL_Insider) September 13, 2023
Update (11:08 AM)-
**This morning, Seton LaSalle freshman athlete Khalil Taylor received an offer from Akron. This becomes Taylor's second D-1 offer, with the first coming from UNLV.
Tape in. Major player film just dropped. @KhalilTaylor08 https://t.co/oX8JVstnim

— Evolve (@Evolve2tenths) September 11, 2023
Update (10:58 AM)-
**Pitt football extends an offer this morning to 2025 4-star wide receiver Eugene Hilton, Jr. from Zionsville, Indiana. Hilton (6'1″, 185-pounds) received the news from Pitt wide receiver coach Tiquan Underwood. Along with Pitt, Hilton also holds offers from Wisconsin, Western Michigan, West Virginia, Toledo, Purdue, Ole Miss, Miami (OH), Miami, Louisville, Kentucky, Indiana, Florida International, Central Michigan and Appalachian State.
Check out weeks 1-4 highlights @hudl https://t.co/lpnDZZ2Yox #hudl

— Eugene Hilton Jr (@EugeneHiltonJr) September 10, 2023
Update (10:45 AM)-
Episode 316: It's time to talk about one of the best rivalries in college football — The Backyard Brawl!! 🥊

Former @Pitt_FB QB & current radio analyst @pittbostick joins us to break it all down!

Watch now: https://t.co/M0U2GKKOi5 pic.twitter.com/JGP3i6ma9a

— Kelly Gramlich (@kellygramlich) September 13, 2023
Update (9:16 AM)- 
Not many QUARTERBACKS can make this throw w/ this accuracy in a clean pocket, let alone under pressure (defender in face & another free backside) @JulesDugger02 knows the blitz is coming but he doesn't panic. Stays cool & adapts, changing the throwing platform for a strike.💰 pic.twitter.com/2sy23UbZ4O

— Mike McMahon (@michaelemcmahon) September 13, 2023