Pat Narduzzi Still Searching for Signature Pitt Victory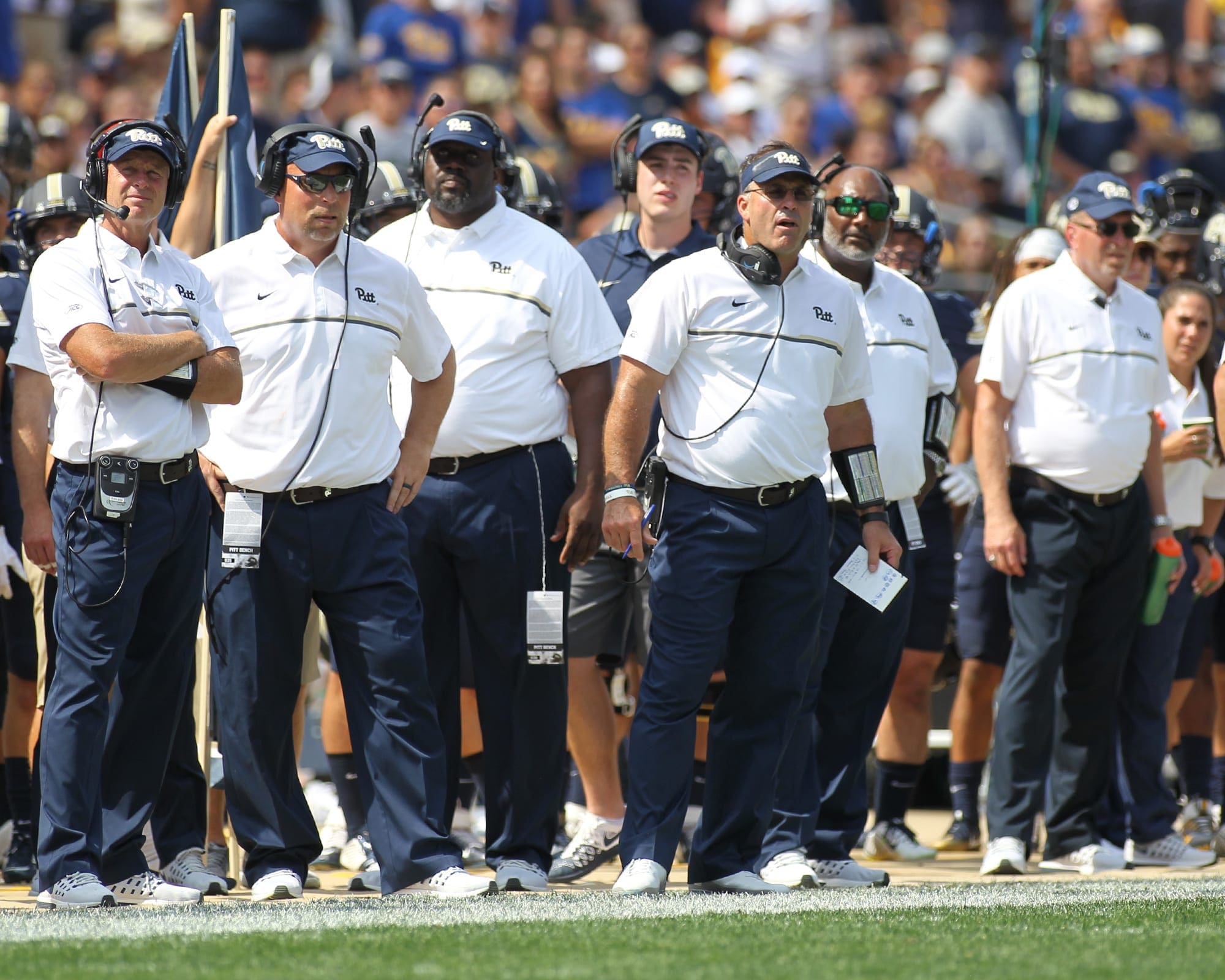 After beating Ohio State at home Saturday, James Franklin now has something Pat Narduzzi doesn't.
A signature conference win.
Narduzzi does have a win over Franklin and Penn State earlier this year. And that stands as Narduzzi's best victory of his still short era as Pitt coach. It's been enough to buy a lot of good will from Pitt fans.
But one has to wonder, how long before Panther fans really start calling for something that Franklin's Nittany Lions did Saturday night: upset a quality conference opponent.
And let's face it, if Pitt is ever going to get the ACC championship that's exactly what it will need to happen. Because it'll be a while before Pitt enters a season as the favorite to get to the ACC title game. And that's been Narduzzi's stated goal … even beyond beating Penn State.
The Nittany Lions needed this. A bit of a malaise had fallen over that program in the weeks since that Pitt game. They were throttled by Michigan. And aside from that, there were three uninspiring and/or unimpressive victories against Temple, Maryland, and Minnesota. The only topic of conversation surrounding Penn State football during those weeks, was largely criticism from the rest of the country for its decision to honor Joe Paterno's first year as coach.
But now, for PSU fans, this season can be defined by this win more than anything else. That's assuming the Lions take care of business the rest of the way and win at least four of their five remaining Big Ten games, which they'll be favored to do.
Contrary to what Pitt fans wanted, this result bolsters the Nittany Lion stance that the Pitt result/rivalry is secondary to what they accomplish in conference (or, more importantly, in division) against Michigan and Ohio State.
In two weeks, Pitt does have a chance to replicate what PSU just did. They can go to Clemson and upset the 4th ranked Tigers. Sound impossible? Maybe. But it's no less difficult than what Penn State just pulled off against Ohio State, especially considering Urban Meyer's road record.
At some point it has to happen for Narduzzi. Because you know he's not going to go through his whole Pitt coaching career without being upset.
Narduzzi's teams in his first two years have managed to avoid the toe-stubbing, season defining out of nowhere loss. Although, Miami last year wasn't great. That's something his predecessors haven't been able to do. But that has been balanced out so far by as of yet not coming up with a win that the team wasn't expecting to get going into the game.
This year, such a victory may be necessary to win the ACC Coastal. North Carolina will be favored to win each of its four remaining games (Georgia Tech, at Duke, Citadel, North Carolina State). So a win over Clemson would be necessary to keep pace, with additional help needed.
Aside from the raw wins/losses and placement in the standings, the less tangible angle of enthusiasm and energy around the program remains in play. Pitt's win over Penn State is enough to give most Panther fans a warm fuzzy for most of this year. But the payoff may amount to nothing more than another mid-lower tier bowl.
Penn State's victory over Ohio State may result in them being no worse than second place in the Big Ten East. It has also shifted attention so that its fans base that can actually focus on football again, instead of trying to figure out how much of it's Sandusky/Paterno tainted past it should be allowed to celebrate.
Under Narduzzi so far for Pitt, things are going … OK. Fine. Pretty well. Eventually though, he'll need to do what Franklin's Lions did Saturday night to make things seem better than that.
And oh by the way, anyone see West Virginia is in the top 10?