The Frank Walker Law/PSN Daily Notebook: April 9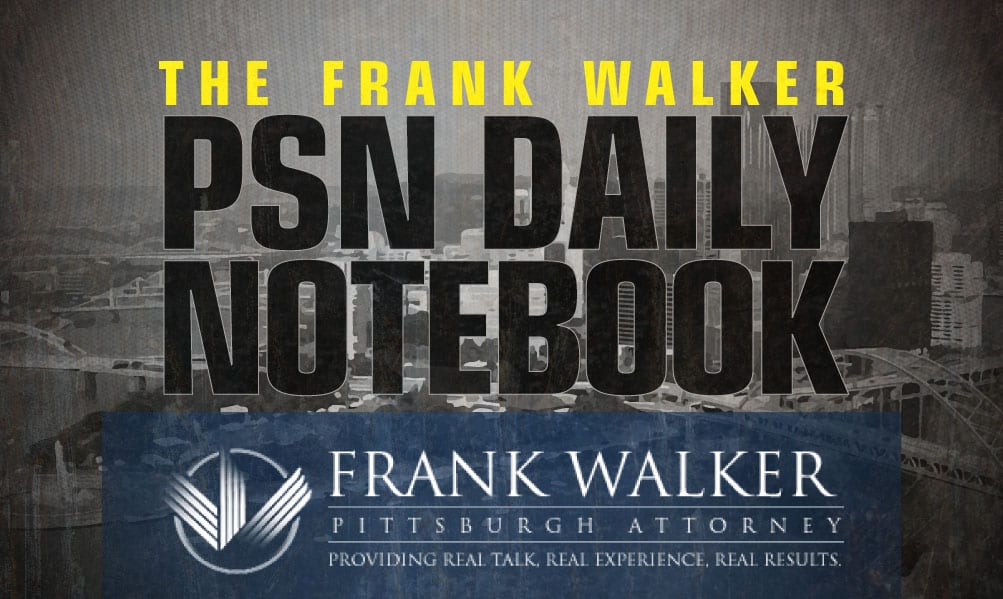 The PSN Daily Notebook is sponsored by Frank Walker, one of Pittsburgh and West Virginia's most respected criminal defense and injury lawyers. Mr. Walker has offices in Pittsburgh and Morgantown and has been named one of Top 100 National Trial Lawyers and is rated a perfect 10.0 Superb by Avvo for ethics, experience and results. To reach Mr. Walker, you can call 412-532-6805 or go to his website frankwalkerlaw.com. For real talk, real experience and real results, contact Frank Walker Law.
Update (9:19 PM)- 
**Tonight, Brennan Marion extends an offer to 2023 4-star athlete Dakota Patterson (6'4", 200) from Corbin, Kentucky. Patterson is rated the #1 junior in Kentucky and the #76 overall athlete in the Class of 2023.
Update (9:03 PM)-
SMU has landed Marcus and Michael Weathers, per source.

Marcus averaged 15.3 PTS, 7.5 REB, 1.5 AST, 48% FG at Duquesne.

Michael averaged 16.5 PTS. 5.2 REB, 3.5 AST, 47.8% FG at Texas Southern.

— Tipton Edits (@TiptonEdits) April 9, 2021
Update (8:54 PM)- 
**Archie Collins and Pitt extend an offer to 2023 OL Dylan Senda (6'5", 285) from Divine Child High School in Dearborn, Michigan. Senda holds offers from Cincinnati, Kentucky, Louisville, Marshall, Maryland, Michigan State, Syracuse and West Virginia.
Update (4:47 PM)-
Future @Pitt_FB DL (Western PA Talent): @ElliotDonald3, @NahkiJohnson, @HayesDayon, @DorienFord_21, @seanfitz50. Hoping to add @FearbryTyreese in near future. pic.twitter.com/MnHJO2qm4k

— Pittsburgh Sports Now (@PghSportsNow) April 9, 2021
Update (4:08 PM)-
**Pitt extends an offer this afternoon to safety Kaleb Spencer from Life Christian Academy in Virginia. Spencer got the news from Brennan Marion. This was his first D-1 offer. Originally, Spencer was part of the Class of 2022 but announced yesterday, that he's reclassifying to the Class of 2023.
Sad to see it end but next year going to be a murda scene🏈🙌-1st team all district c/o2022 – https://t.co/GGAwygpYRg

— Kaleb Spencer (@KalebSpencer8) November 21, 2019
Update (1:08 PM)-
ESPN's Todd McShay has Patrick Jones II as a mid-late second round pick. He lists Rashad Weaver and Jaylen Twyman as having third round value. pic.twitter.com/Ib7Sfnb0Kc

— Amanda Godsey (@AmandaFGodsey) April 9, 2021
update (12:03 PM)-
New Panthers x New Numbers#H2P pic.twitter.com/OJUpZDeHhL

— Pitt Football (@Pitt_FB) April 9, 2021
Update (11:47 AM)-
**Freshman running back Bryan Jackson II from McKinney, Texas received an offer this morning from Brennan Marion and Pitt. Jackson (6'0″, 200) also holds an offer from Utah.
Update (10:21 AM)-
This transferring all over the place is going to destroy our great game.The @NCAA should think twice before officially making it that players can transfer w/o sitting 1 yr. The CHAOS going on is SICKENING! Only should allow players to transfer w/o sitting when a coach leaves.

— Dick Vitale (@DickieV) April 9, 2021

Update (9:56 AM)-
Former #Terps WR DJ Turner solidified himself as a legitimate #NFLDraft prospect thanks to a strong 2020 season at Pitt. "I've always had to prove a lot of people wrong," Turner said. "The team that drafts me will get a versatile playmaker." https://t.co/BOJXEyB79X

— PressBox (@PressBoxOnline) April 4, 2021

Update (7:09 AM)-
Super Bowl Champ @jwhite_333 having fun with us at practice today! Proud of you! Hometown Hero!!! #H2P pic.twitter.com/FRYsLZTHn0

— Coach Marion (@BrennanMarion4) April 8, 2021