The Frank Walker Law/PSN Daily Notebook: August 15-16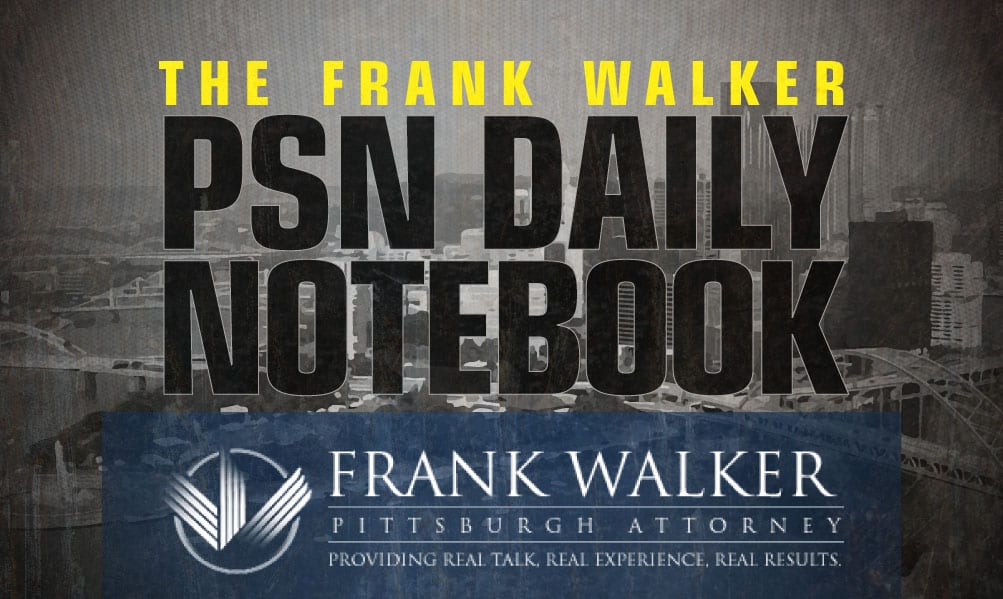 The PSN Daily Notebook is sponsored by Frank Walker, one of Pittsburgh and West Virginia's most respected criminal defense and injury lawyers. Mr. Walker has offices in Pittsburgh and Morgantown and has been named one of Top 100 National Trial Lawyers and is rated a perfect 10.0 Superb by Avvo for ethics, experience and results. To reach Mr. Walker, you can call 412-532-6805 or go to his website frankwalkerlaw.com. For real talk, real experience and real results, contact Frank Walker Law.
UPDATE (10:17 PM)-
FIU WR coach & ex-UF WR Aubrey Hill died today at 48 after battling cancer, FIU coach Butch Davis said. "One of the greatest men I've ever been around" Davis said. "Classy, loved by his players, always had a smile, was upbeat & positive. He made huge impact on so many young men"

— Brett McMurphy (@Brett_McMurphy) August 16, 2020
UPDATE (7:12 PM)- 
**Former Pitt WR coach under Dave Wannstedt, Aubrey Hill has passed away. Cause of death has not been determined.
RIP Coach Aubrey Hill! This was my guy man! This one really stings! Praying for his family and the @FIUFootball family! Fly high coach! 🕊 pic.twitter.com/NDp5hgp3Kz

— IG: @SleeperAthletes (@SleeperAth1etes) August 16, 2020

UPDATE (7:04 PM)-
Penn State parents have now sent their own letter opposing the Big Ten's cancellation of the fall football season. The Big Ten is a dumpster fire. https://t.co/i3zXsdnPEM

— Clay Travis (@ClayTravis) August 16, 2020
UPDATE (3:01 PM)- 
**Jeff Capel and Pitt extend an offer to 2023 point guard Robert Dillingham from Charlotte, North Carolina. Dillingham (6'1", 160) also holds offers from SMU, Ole Miss, South Florida, Wichita State and Winthrop.
UPDATE (9:41 AM)-
It was too soon for the Big Ten and Pac-12 to cancel their seasons, and they should un-cancel them if this new saliva test is a true gamechanger (by @sportsrapport) https://t.co/AUqN5v77eg

— OutKick (@Outkick) August 16, 2020
UPDATE (8:51 AM)- 
**Robert Morris football offers 2021 DL Oki Hautau from Palma High, California.
It's official!🔥 @RMUFootball @AlaimaloNick pic.twitter.com/hNofj19DV6

— Oki Hautau (@OkiHautau1) August 16, 2020
— Oki Hautau (@OkiHautau1) December 14, 2019
UPDATE (8:44 AM)- 
**Georgia 3-star DB Javon Bullard announces that he'll be making his decision Monday at 8:30. Archie Collins and Pitt have been recruiting Bullard for awhile but Georgia could be the team to beat.
Committing on Monday @ 8:30 😅

— Javon Bullard ♛ (@cravejaaye) August 15, 2020
UPDATE (8:31 AM)-
I can't wait to get up there 💯😂‼️ https://t.co/PQ2DV2bph2

— Derrveron (bobby) maxwell-black (@DerrveronM1) August 15, 2020
UPDATE (8:21 AM)- 
**Philadelphia 2022 4-star DE Keon Wylie announces a Top 16.
Top 16!!!🙌🏾 Recruitment still Opem!! pic.twitter.com/XUwrpEthTP

— Keon Wylie (@KeonWylie) August 15, 2020
UPDATE (8:17 AM)- 
**Congrats to Beaver 2021 basketball star Emma Pavelek for committing to the US Naval Academy.
https://twitter.com/emmapavelek/status/1294673116996804613?s=21
UPDATE (8:15 AM)-
Kiski School will adopt bubble strategy to play sports https://t.co/pXGDD1Ixpj @KiskiAthletics #HSSN

— TribLive HSSN (@TribLiveHSSN) August 16, 2020
UPDATE (8:11 AM)-
2022 Jalen Hood-Schifino with the huge bucket at the end to give CP3 the win vs. Team Charlotte. Fantastic game with a ton of talent!!!#PhenomSummerHavoc pic.twitter.com/32sSfp3rwN

— Patrick O'Brien (@POBScout) August 16, 2020
Jalen Hood-Schifino top 10 player in the nation in the class of 2022 scores the winning basket vs his former team(Team Charlotte UAA) pic.twitter.com/nVaGLpxBky

— Rankings_report_east (@EastRankings) August 16, 2020
SATURDAY
UPDATE (8:48 AM)-
Boom Reeves and Alex Griggs helled Vincentian win WPIAL title last season before school closed. Both have decided to attend First Love for their final year. https://t.co/Nib6ttu5Q5

— Mike White (@mwhiteburgh) August 15, 2020